TyTy Washington says his breakout game is still on the way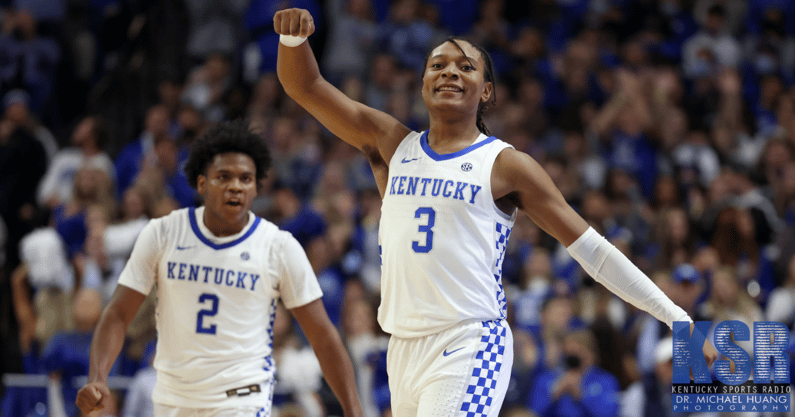 TyTy Washington played his best game as a Kentucky Wildcat on Friday night, but he says the best is still to come.
The freshman point guard posted a career-high 20 points on 8-15 shooting in UK's 77-59 win over the Ohio Bobcats inside of Rupp Arena. He added 11 rebounds as well, outperforming the nation's top board-getter in Oscar Tshiebwe, who still finished with 10 in limited minutes. Washington also added five assists, one steal, and one block in his season-high 37 minutes.
Washington hit arguably the biggest shot of the evening, too; a 3-pointer that allowed Kentucky to finally push its lead ahead.
With just a 52-48 advantage for the 'Cats with under 12 minutes left in regulation, Washington delivered the dagger. Tshiebwe snarred a rebound, immediately pushed it to Sahvir Wheeler, who eventually missed a good look at the rim. Tshiebwe, as he is known to do, was right there waiting for the chance to attack the glass, but he missed two layups of his own. After the ball bounced around, Davion Mintz whipped a pass to a wide-open Washington.
Bang.
He wasted no time pumping up the Rupp Arena crowd, either.
"Big players step up in big moments like that," Washington said after the game.
Washington finding his groove
TyTy Washington has steadily improved in each of his four games wearing a Kentucky uniform. The former 5-star recruit started off rough, shooting 3-14 for just nine points in a high-profile loss against Duke. But he followed it up with 10 points on 5-10 shooting in the win over Robert Morris; then another 16 points on 7-12 shooting to help beat Mount St. Mary's.
He's been primed for a breakout performance the last game or so, and many thought a showdown against a solid Ohio squad would be the perfect opportunity. And while it might seem like it was a breakout on the surface, Washington knows he's only scratching the surface of his potential.
"I wouldn't say it's my coming out party. I feel like I still have a foot or two to come out," Washington said. "It was fun. I was more comfortable. If I just keep believing in myself, staying in the gym, knowing that I got the coaches trusting me and the players trusting me, everything is gonna play out just how I want it to. With two starters missing it was just my opportunity to step up and do what the team needed."
One of the two starters he's referring to would be Tshiebwe, who played 65 seconds in the first half due to foul trouble. Kentucky's only true center appeared on the court for just 20 minutes. The other starter would be point guard Sahvir Wheeler, who was also tagged with two fouls before the halftime break and forced to sit.
That doesn't even account for the absences of Jacob Toppin and Lance Ware, who were out once again with minor injuries. Kentucky was down a ton of rotational players for multiple reasons, so Washington knew he needed to step up.
20 points is one thing for a scoring guard like Washington, but 11 rebounds is impressive. He had one more board than Tshiebwe, which effectively makes him The Machine now, at least for one game.