TyTy Washington's uncle, Tru, earns MVP honors at Pangos AA Camp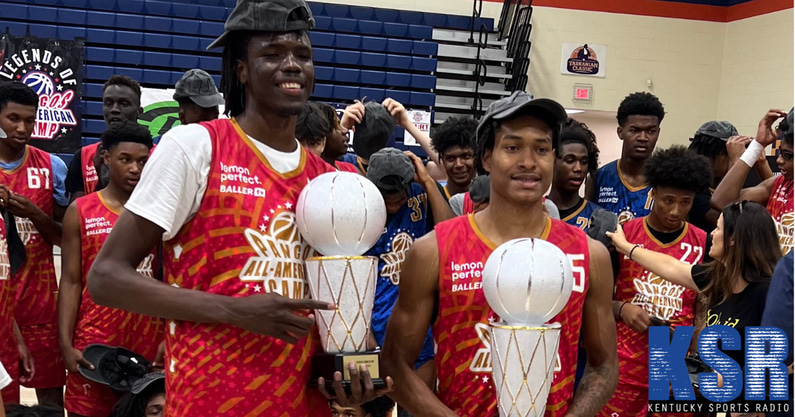 TyTy Washington's uncle earned co-MVP honors at the 2022 Pangos All-American Camp Top 30 Cream of the Crop Game in Las Vegas this week. It came following a 24-point performance on 11-13 shooting and 2-3 from three to go with six rebounds, four assists and zero turnovers in the prestigious event's All-Star game.
The 6-foot-3 guard out of Arizona holds offers from — wait, TyTy Washington's uncle?
That's right, TyTy Washington's younger uncle, separated by two years. The former Kentucky standout enters the 2022 NBA Draft at 20 years old, while Tru Washington goes into his senior year of high school at 18.
"His dad had him when he was young, that's what happened," the four-star guard told KSR. "It's hard to explain, so we just say we're brothers."
Despite the age gap — 22 years to be exact — TyTy Washington's father, Tyrone, is actually Tru's brother. And make no mistake about it, the two share brotherly love, a unique combination of deep support and high expectations. Tyrone wants and expects the best out of his 18-year-old brother, who is currently pushing for high-major Division I opportunities in 2023.
Those sky-high expectations were made clear following Tru's 25-point, 12-rebound, three-assist, two-block effort Monday afternoon, a game in which he finished 10-17 shooting overall and 2-3 from three. When asked about his brother's standout performance, Tyrone said he left points on the floor that could've turned a good game into a great one.
"Still missed four layups," he told KSR. "That was the difference of 25 points and 33."
It's typical postgame banter from his brother, says Tru. No matter what he does or how he plays, he knows Tyrone will be waiting there with a critique or three.
"It's always tough love," Tru said of Tyrone. "He always knocks me, but I know it's all love at the end of the day. I can have a great game, and he'll tell me what I did bad. Next game I always look toward fixing that. I fix it, then he comes up with something else. I can never do anything right (laughs), but it's all love. He just wants to see me be great."
That's just life with the Washingtons, a basketball family through and through.
"Everything is a competition with what we do, playing basketball," Tru told KSR. "Around the house, we like to play around. Everything we do is like that. A lot of one-on-one games."
As for Tru's other "brother" — really his nephew — TyTy is set to hear his name called in the NBA Draft later this month. Workouts are underway, visiting the Oklahoma City Thunder last week and the New York Knicks on Monday. Talking with Tyrone, along with numerous NBA scouts in attendance, the former Wildcat is sitting firmly in the lottery range and could jump into the top 10 — teams such as San Antonio (No. 9) and Washington (No. 10) are interested.
Tru sees his older nephew as an inspiration for his own personal basketball journey.
"Seeing him get better, the things that he got, it's made me realize I can be the same thing," he told KSR. "I've just got to work the same way he worked. He just pushes, he just works, it's where we came from. We have a chip on our shoulder to go harder."
TyTy is doing his best to push Tru that direction, as well, going out of his way to show support as a mentor and friend.
"He texted me yesterday, saw I had 25 and said, 'Keep working, keep doing your thing. Good things are going to come,'" Tru said. "And the same to him too. He's going city to city, working out for NBA teams, going to the draft. It's great."
That doesn't stop Tru from poking fun at their official family titles, embracing the uncle role and throwing it in TyTy's face from time to time.
"When we were on the same team freshman year, I'd score against him (in practice) and be like, 'Yeah nephew!' and things like that. I haven't gotten to play him recently because he's been out of town and stuff, but it's all love."
Tru may have the family role advantage, but TyTy has gotten the best of his younger uncle in one-on-one matchups over the years.
"Probably Ty (has more head-to-head wins)," he said. "I can get him now, though (laughs)."
TyTy's college career is now over, finishing his lone season at Kentucky averaging 12.5 points, 3.9 assists, 3.5 rebounds and 1.3 steals in 29.2 minutes per contest, shooting 45.1% from the field, 35.0% from three and 75.0% from the line. He's a projected lottery pick and is seen as an early contributor and future starter on an NBA roster.
Now it's Tru's time to figure out his own path.
Washington picked up early offers from Arizona State, DePaul, Georgia, IUPUI, LSU, Nevada, Pepperdine, Portland, Portland State, TCU, Texas Tech, UC-Santa Barbara and UNLV. His most recent run of offers, though, came last summer, with things slowing down a bit in recent months. He's since heard from Mississippi State and California-Berkeley, the two newest programs on his radar.
The 6-foot-3 guard hopes his recent performances on the Nike EYBL circuit — he earned Third-Team All-Event honors in Louisville last weekend — and at the 2022 Pangos All-American Camp — he finished as a top-five scorer in the event before earning co-MVP honors in the All-Star game — will help get the ball rolling on his recruitment again.
"I'm just taking my time right now. Me playing in the EYBL, it's going to make my name even bigger," he told KSR. "Me going out, doing my thing, coaches can see that I'm out here doing what I'm supposed to be doing. They can tap back in or look at me now. There are a lot of top players here, and if I go out there and kill them, they should look at me and say I'm one of them."
He isn't the biggest, quickest, or most athletic player in his class, but Tru Washington is confident he'll outwork you. That's what separates his game from his peers: toughness and drive.
"I just let my game do the talking," he said. "Everyone can see it, you're going to see the numbers. You've got to show up and compete. They're five-stars, but we've all got to hoop at the end of the day."