Ugonna Kingsley checks in with Kentucky teammates, coaches from Nigeria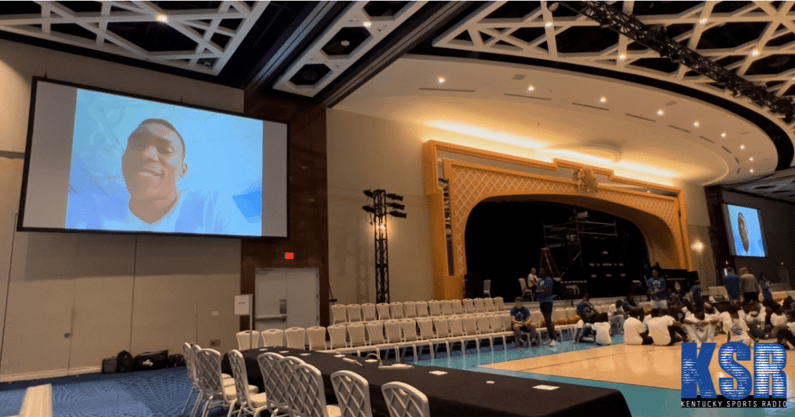 The Kentucky basketball team is one player short in the Bahamas. While the Wildcats are taking care of business on the hardwood, Ugonna Kingsley Onyenso is patiently waiting to join the team next week — August 20, to be exact.
Until then, Onyenso is back home in Nigeria. That doesn't mean he's not staying in touch with his future, though. In fact, the five-star center checked in with the Wildcats while they hosted a youth basketball camp Friday morning. With a few hundred kids in attendance, Onyenso joined via video to share some advice with campers and say hello to his team.
"Have fun playing basketball and enjoy the process," the freshman center told the young hoopers in attendance. "It's going to be difficult at times being a basketball player, but you need to go through the process and enjoy it. As difficult as it may be, just enjoy the process."
As for his own basketball journey, his next stop will be in Lexington, a move that's been a long time coming for the five-star prospect. Kentucky was his dream school growing up, and now, he's turned that dream into a reality.
"It was an exciting moment for me, you know?" Onyenso said. "Because I finally got to play for the school I've always wanted to play for at the University of Kentucky.
He's always wanted to play basketball at a high level, and now, he gets the chance to do it on the big stage at Kentucky. It's a perfect fit.
"My favorite part of playing basketball is getting to play at a high level," he added. "Competing against higher competition, challenging myself. I get joy out of working.
That starts August 20 when he officially makes it to campus. He wishes, though, he were with his teammates now competing in the Bahamas.
Instead, he hopes the Wildcats are enjoying themselves and making the most of the opportunity both on and off the floor.
"I wish I was there with them, coaching with them," Onyenso said. "We would have fun coaching them out there. I just want to tell them to have fun, help the kids learn and give them something to take home."
And a parting message to John Calipari?
"Coach Cal! I will see you soon, Coach!" Onyenso said. "I can't wait to get to work with you."
The standout shot-blocker will be on campus soon enough. Until then, the Wildcats have more business to take care of in paradise.