For former Wildcats, the NFL Draft will come alive on day three. This means that most if not all will enter the league as a late-round selection or undrafted free agent. Let's take a look at the Cats that will have an opportunity to play on Sundays:  
Josh Forrest
Rumored to be sick during the NFL Combine, Forrest's 4.91 forty-yard time added to his eleven bench press number equaled an unimpressive job interview. He bounced back on Pro Day by registering a 4.78-40, but questions still linger about upper body strength. Forrest's natural and fluid open field movements, high productivity, as well as his ability to play multiple linebacker positions are indicators of a future NFL special team's contributor. Projects as a late round selection to undrafted free agent.
---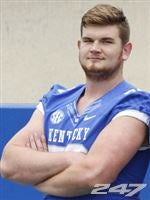 Jordan Swindle
Preseason rankings had Swindle listed as a later, midlevel selection. After moving from right to left tackle in his senior year, Jordan at times struggled vs. elite pass rushers. He's trending as of late while recently visiting interested teams. Like Forrest, late rounds to free agent.
---
AJ Stamps
Stamps was a surprise Combine invitee where he ran a 4.88 forty. Couple that with a midseason drop in production, and AJ is now considered to be an undrafted free agent. While certain to be signed by a NFL team, his camp performance is paramount.
---
Cory Johnson
One year of production and body frame questions limit Johnson's draft chances. However, CJ's knack to find the football and explosive pass rush have captured intrigued. Again, possible late round selection, most likely free agent.
---
Melvin Lewis
Darn shame that Melvin was injured during his senior campaign. Lewis was playing his way into the NFL Draft. Successful rehabilitation, high character, and off the chart team interviews will benefit as he looks to be a high priority, undrafted free agent.
---
Farrington Huguenin
As a likely free agent, Huguenin will attend a rookie camp where his work ethic, character, and consistency can be showcased.
---
Ryan Flannigan
The anomaly of the group, as a junior college transfer Flannigan arrived to campus late which limited his junior year impact. High hopes as a senior were dampened by an early shoulder injury. While production is in question, his measurables and athletic ability are not. Flannigan may have the biggest upside as he works his way from free agent to an NFL roster.   If days two and three are as dramatic as the first round, then we're in for one heck of a ride.