KSR's UK Basketball Season Preview: Nerlens Noel
To fully prepare for the 2012-13 basketball season, KSR conducted one-on-one interviews with each member of the Kentucky basketball team about their expectations for the team and what they would like to achieve individually. We'll release two interviews per day throughout the week. Up now: Nerlens Noel, the No. 1 ranked recruit from the 2012 class and UK's best hairdo in over a decade.
******** Following in Anthony Davis' footsteps wouldn't be an easy task for anyone. It's unfair, really. Davis had arguably the best college basketball season by anyone,  ever. But Kentucky's top recruit from its 2012 class, Nerlens Noel, will have to do his best this season to tune out the Davis comparisons and
play his own game
. It's something he thinks he'll be able to do, especially with the help of the game's greatest motivator, John Calipari. "I think I'll be able to do that easily," Noel said of what it'll be like
avoiding the Anthony Davis comparisons
. "Just focusing on this team and just playing my own game. I think Coach Cal really keeps his players focused on one thing, which is winning and playing hard." It's usually the point guards under Calipari who have to deal with the pressures of following a star player. It took months before fans realized Brandon Knight isn't John Wall, he's Brandon Knight. It might take a little while -- hopefully not long -- for fans to get used to seeing Noel out there instead of Anthony Davis. Davis was a once in a lifetime player; he won every award imaginable, including an NCAA title and an Olympic gold medal after he left UK. You won't see that again. With Davis' success out of sight and out of mind, Nerlens Noel still hopes to have a similar season as the unibrowed one. After all, it's the reason Noel committed to play at Kentucky over every other school in America. We asked him, "Why Kentucky?" and his answer was simple:
"The chance to win a championship,"
he said. Noel was in New Orleans for the Final Four when Kentucky defeated Kansas to win its eighth NCAA title, Calipari's first. He wasn't even sure where he'd attend school at the time, but he admitted to privately rooting for the Cats throughout the tournament. "Yeah, I was definitely pulling for them," he said with a smile. Noel committed to Kentucky on an ESPNU special a week after Kentucky's championship win in the Superdome. However, reports came out right before the show began that he would choose Georgetown, leaving UK fans in a nervous wreck in the minutes leading up to the announcement. But, in the end, it was a UK emblem shaved into the back of his head, which he plans to show off again at Big Blue Madness.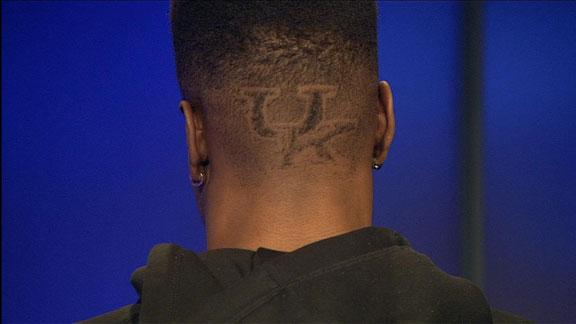 Noel said he
decided on Kentucky "a couple of days or a week"
before the public announcement. We're glad he did.  
Watch KSR's entire one-on-one interview with Nerlens Noel...
Other profiles: John Calipari, Julius Mays