UK Dad of the Day Wants Some Sunday Evening Notes
Good Sunday evening, friends. I hope you're relaxing on the couch after a fun Father's Day cookout or fantastic meal. In the spirit of the day, I wanted to give one last shoutout to my own dad, John, for bringing me up right to follow all things Cats. If he hadn't needed a game watching buddy back when I was growing up, I probably wouldn't be writing this post for you guys right now. Thanks, Dad. I hope you enjoyed your very loud card (it's about steak and therefore moos), and you better take us up on our offer to take you to a Titans game. They'll be better this year, promise. At the very least, they'll be more entertaining with Marcus Mariota at the helm. We're shaking things up a bit on the site, so
the night post you're used to seeing around this time will now go up in the mornings
. Yes, that means Matt's typical Sunday night post won't be on the site until 8 a.m. tomorrow, same for Monday, Tuesday, Wednesday, etc. We're making the change in hopes of preparing you for the news each morning instead of rehashing old news at night. It'll take some getting used to, but bear with us. That being said, before I start watching "True Detective 2" and "Ballers," let's run through a few notes to close the weekend... --- Obviously, the huge news of the day was notice that Jamal Murray will announce his decision Tuesday evening at 6 p.m. ET on ESPNU. Sonny Bairos, a "Canadian hoops connoisseur" (because Canadian hoops need to be appreciated like a fine wine), broke the news on Twitter and said
he believes Oregon is the leader for two reasons
: 1) Murray's father's friendship with Oregon assistant Mike Mennenga; and 2) Murray's friendship with former AAU teammate and Oregon forward Dillon Brooks.
According to a screenshot from Adam Zagoria
, Oregon senior forward Elgin Cook tweeted on Wednesday that Murray was the Ducks' "newest commit," another bad sign. For an elite basketball recruit like Murray, picking Kentucky over Oregon seems like a no-brainer to me. Over the past six years, John Calipari has proved he's by far the best coach in college basketball in putting players in the pros, and on Thursday night, SEVEN UK players could be drafted, the most by any school on one night. That's insane; however, so are some of the decisions we've seen in the 2015 recruiting class this season, so who knows. As Calipari says, Kentucky isn't for everyone, and maybe Murray doesn't want to live under that spotlight. For that reason, I'm going into Tuesday hopeful, but with low expectations.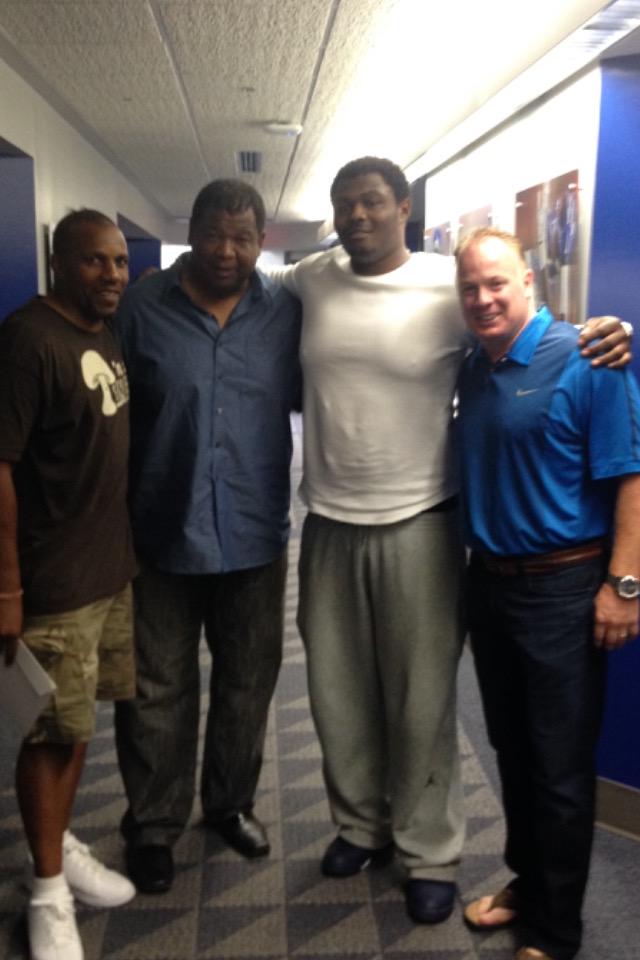 --- Unfortunately, the other big story of the weekend kind of got overshadowed because it happened on a Friday night, but there's no doubt that
Marcelys Jones' decision to transfer to Kentucky from Ohio State is HUGE for the program
. Sure, Jones will have to sit out a year, but picture him, Drake Jackson, Landon Young, George Asafo-Adjei, and potentially JuCo stud Tate Leavitt on the line in 2016. Patrick Towles and Drew Barker are probably already breathing a little easier. ---
Yesterday, I went to see "The Wolfpack,"
a documentary about seven children locked inside their New York City apartment by their paranoid father. Although a terrible movie to watch on Father's Day weekend, it was fascinating; because they were trapped inside all the time (one year, they weren't allowed out even once), the six brothers spent their childhood watching movies and reenacting them with homemade props and costumes. The filmmakers follow them as they slowly rebel against their dad and encounter the world outside their apartment, an exhilarating and terrifying experience, even for the viewer. I'm not sure if or when this movie will make it to Lexington or Louisville, but even if you have to wait until it's on Netflix, check it out. It'll definitely make you appreciate your father. --- Last night was a rare Saturday night at the house for me and my husband, so we spent the evening flipping between the US Open,
the 2014 UK/Louisville basketball game replay on ESPNU, and the 2014 UK/South Carolina football game replay on The SEC Network
. I walked into the room to see my husband watching the UK/UofL game and immediately cringed. I tried to sit and watch some of it, but I couldn't handle it. Over two months later, The Loss is still so depressing that it's tarnishing even my happiest memories of last season. That really sucks, because there are some GREAT memories. Unfortunately, I learned it's going to take me a while longer before I can relive them. In an interesting paradigm,
basketball's heartache is now becoming football's gain
,
for me at least. It was a million times easier to watch the football Cats upset Spurrier and the Gamecocks than the basketball Cats beat up on Louisville. Part of that is we're closer to football season, which brings inevitable optimism and excitement, but part of it is also me as a fan still needing to detach from basketball. I'm excited for next year--in fact, the little time I did spend watching the UK/UofL replay was spent focusing on Tyler Ulis--but The Loss still lingers, so much so that I'm going into next season keeping everything at arms' length. No more 40-0 dreams. No more do-or-die, no more crippling expectations. For Stoops 3.0 and the new basketball Cats, I'm just excited to see progress, even if it comes with a few losses. Winning at the level last year's team did was amazing, but the fall was rough. I, for one, am ready for a climb. --- Believe it or not,
the KSR Summer Tour starts TOMORROW in Prestonsburg
. Matt and Ryan will be at StoneCrest Golf Course (918 Clubhouse Drive) to kick things off and entertain you. If you can't make it, they'll also be in Paintsville and Columbia this week before Matt goes to New York for the NBA Draft. Here's the tour schedule: June 22: Prestonsburg — StoneCrest Golf Course June 23: Paintsville — Browns Auto Group of Paintsville June 24: Columbia — Anderson's Pizza June 25-26: New York City June 29: Shelbyville — Stonecrest Family Medicine June 30: Leitchfield — Future Designs July 1: Madisonville — Hudson Toyota July 2: Morgantown — Final Finish July 3: Hopkinsville — Holiday Inn July 6: Morganfield — Southern States July 7: Grayson — Simply The Best Bar & Grill July 8: Pikeville — Bank 253 July 9: Williamson — Appalachian Wireless at South Side Mall July 10: KY Speedway July 13: Cynthiana — Cynthiana County Club July 14: Whitley City — McCreary County Public Library July 15: London — Sleep Outfitters July 16-17: Peach Jam July 20: Whitesburg — Pine Mountain Grill July 21: Manchester — Clay County Middle School July 22: Somerset — Sleep Outfitters July 23: Harlan — Core Fitness July 24: Fort Wright — Dickmann's Sports Bar July 27: Campbellsville — Mr. Gatti's July 28: Owensboro — Don Moore GM Center July 29: Benton — Kennedy's Fan Shop July 30: Paducah — Buffalo Wild Wings July 31: Fancy Farm August 3: Bowling Green August 4: McKee August 5: Glasgow — Papa John's August 6: Jamestown — Jamestown Marina. August 7: Monticello — Conley Bottoms. August 10: Frankfort — Governor's Mansion August 11: Maysville — Laurel Oaks Golf Course August 12: Danville August 13: Lexington — All Sports at Fayette Mall August 14: Louisville Now pardon me while I go do this: