UK extended its non-conference win streak to 19, the longest active streak in the country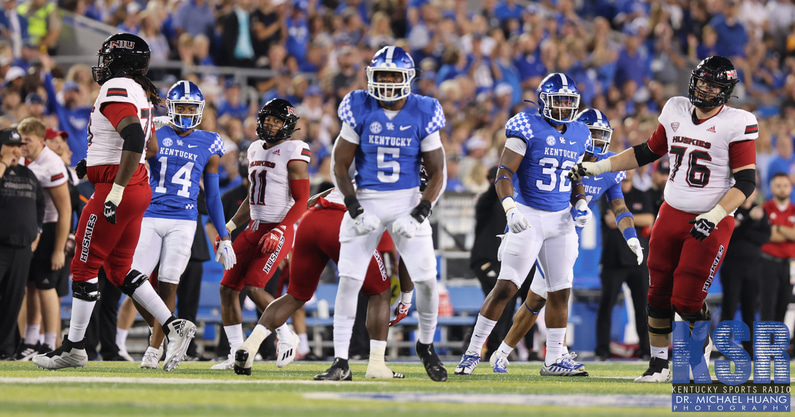 Kentucky didn't execute as well as Mark Stoops would've liked and the ending was a bit disappointing as Northern Illinois put up a late fight, but a win is a win and the Wildcats still have the longest active win streak in the country against non-conference opponents.
Now up to 19 wins in a row outside the Southeastern Conference, Kentucky hasn't lost a non-conference game since 2017 and the 19-game unbeaten streak is a school record for the program. (Thanks for sucking, Louisville.)
Additionally, Kentucky's 4-0 start to 2022 brings the current overall win streak to eight straight victories, now the fifth-longest win streak in school history. The Wildcats haven't dropped a game since Tennessee broke some hearts in Kroger Field in a shootout last October.
Non-conference wins (19)
2018: Central Michigan, Murray State, Middle Tennessee, Louisville, Penn State
2019: Toledo, Eastern Michigan, UT-Martin, Louisville, Virginia Tech
2020: NC State (COVID year)
2021: Louisiana-Monroe, Chattanooga, New Mexico State, Louisville, Iowa
2022: Miami-OH, Youngstown State, Northern Illinois
Current overall win streak (8)
2021: Vanderbilt, New Mexico State, Louisville, Iowa
2022: Miami-OH, Florida, Youngstown State, Northern Illinois
Chasing Clemson
With 10 straight wins, Clemson has the longest win streak in all of college football, but the Tigers almost lost to Wake Forest earlier today. If Wake Forest had taken down Clemson in overtime, Kentucky would have the longest overall win streak in the country at eight straight.
Next week, Clemson hosts No. 12 NC State while Kentucky travels to unbeaten Ole Miss.