UK Fans at the Peach Jam want some Afternoon Notes
Trae Young is the Best
Point. Blank. Period. He may not be ranked the highest, but there isn't a more entertaining player at the Peach Jam.  He started a little slow this morning, but when he got hot there was no stopping him.  He had abut 15 points in two minutes, hitting a fadeaway three in the corner and two from almost halfcourt, along with a few finesse finishes at the rim.
Cal's Position-Less Pitch
Cal always has the NBA pitch in his back pocket, but this year he's changing things up a little bit.  In a class with plenty of big athletes, he isn't trying to label them.  Instead, he's portraying them as position-less players, able to do multiple things for him at Kentucky.  DeAndre Ayton spoke of it yesterday; Kevin Knox mentioned it today.  For both players, UK remains high on their list.
Coach K is Copping Cal's Swagger
As soon as Cal left town, K mimicked his signature straddle move in between two courts.  Soon enough he'll be praised for inventing such an ingenious recruiting strategy.
Bill Self's Hairpiece was Excellent Today
I finally was close enough to catch a close-up of Self, but it was so flawless I couldn't even see the line that normally defines his piece.  You can't see it in the picture but it's there, just like Jeff Goodman.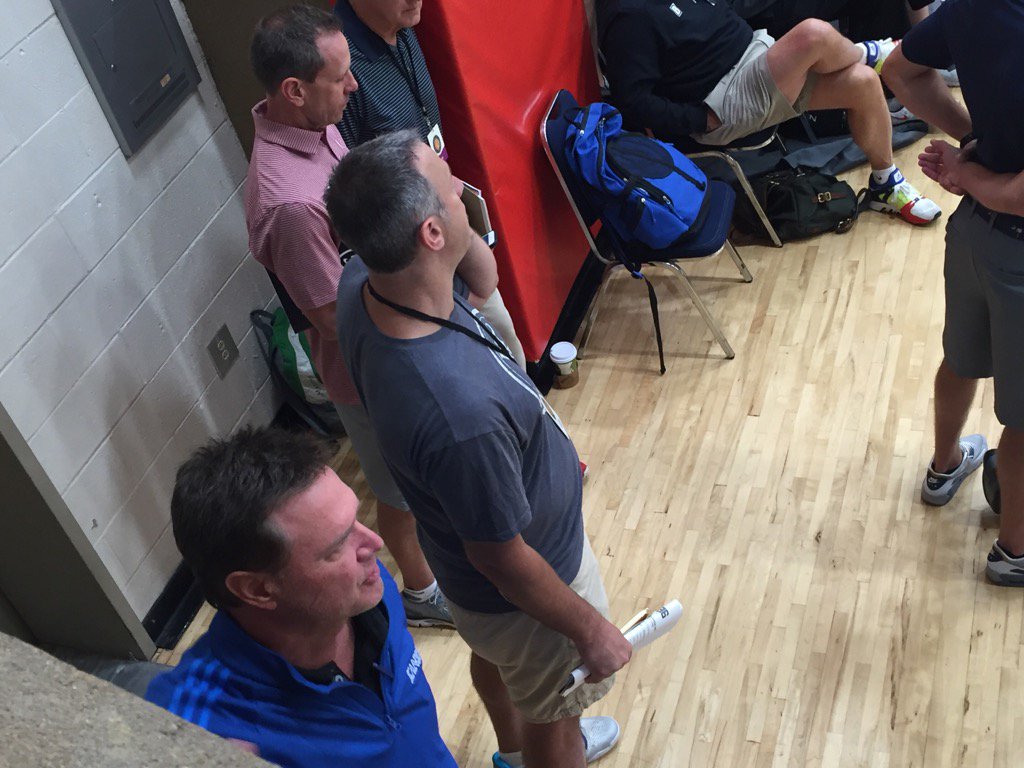 I Hit a Wall
All of this basketball in three days has my brain scrambling.  Hopefully it becomes unscrambled over the next three hours.