UK Fans of the Day want Leftovers from Two-A-Days
Who Has the Most Interceptions?
One person I spoke to said Chris Westry didn't allow a catch during the first day of camp.  He's not letting receivers catch passes, but that doesn't mean he's picking off passes. During an interview yesterday, Westry said that
Mike Edwards and Derrick Baity
probably have the most takeaways on the team.  When they heard their names around the corner, they had to stop what they were doing to make sure Westry was speaking the truth.
Kobie Walker is Emerging as a Pass Rushing Candidate
Drew mentioned it yesterday
, but it's worth reiterating because that's what coaches have done all week.  Before D.J. Eliot mentioned him yesterday, Mark Stoops was quick to praise him on Monday, hinting that he could be inserted at nickel to blitz. "He's a little bit of a tweener, but he's a very good rush guy. He's very active when he rushes. We need that," Stoops said.
Matt House's Voice is Long Gone
The first time I heard House speak, I knew he would never have a voice.  When I interviewed him for the first time yesterday, I had to fight back laughter so I could hear what he was saying.  You try: [audio mp3="http://kentuckysportsradio.com/wp-content/uploads/2016/08/Matt-House-Preseason.mp3"][/audio] I tried to turn up the volume, but you can only do so much.
Kash Daniel is Still Figuring Things Out
D.J. Eliot praised the true freshman's work ethic, but even though he arrived early, Daniel is still struggling to master his assignments and alignments.  That doesn't mean he won't play.  With his extreme physicality, there's no doubt in my mind he will play an important role in special teams.
The Cats Hosted Guest Speakers
During camp, Stoops hosts many speakers to enlighten his football team.  A regular has been Jason Cummins, "a guy who makes a big difference," Stoops described after the
leadership
trainer met with the team. Tonight they met with Elton Gumbel of 180 Communications to discuss the importance of
social media
and "protecting the brand."
Will Freshman Running Backs Play?
Eddie Gran said it's too soon to tell.  We often say you need at least three running backs in order to succeed in the SEC;
Gran needs five
.  He won't play five all the time, limiting to two or three depending on how they're performing, but Gran wants five to be ready in case of injury. A.J. Rose looks the part so far, but is still going through the process of learning the system and the nuances to his position.  Gran said the other freshman, Benny Snell, is making a push to play right away. "He's done a really good job of understanding what's going on in the offense, and he's shown that he can be physical," Gran said.
Charles Walker is the Team's Best Golfer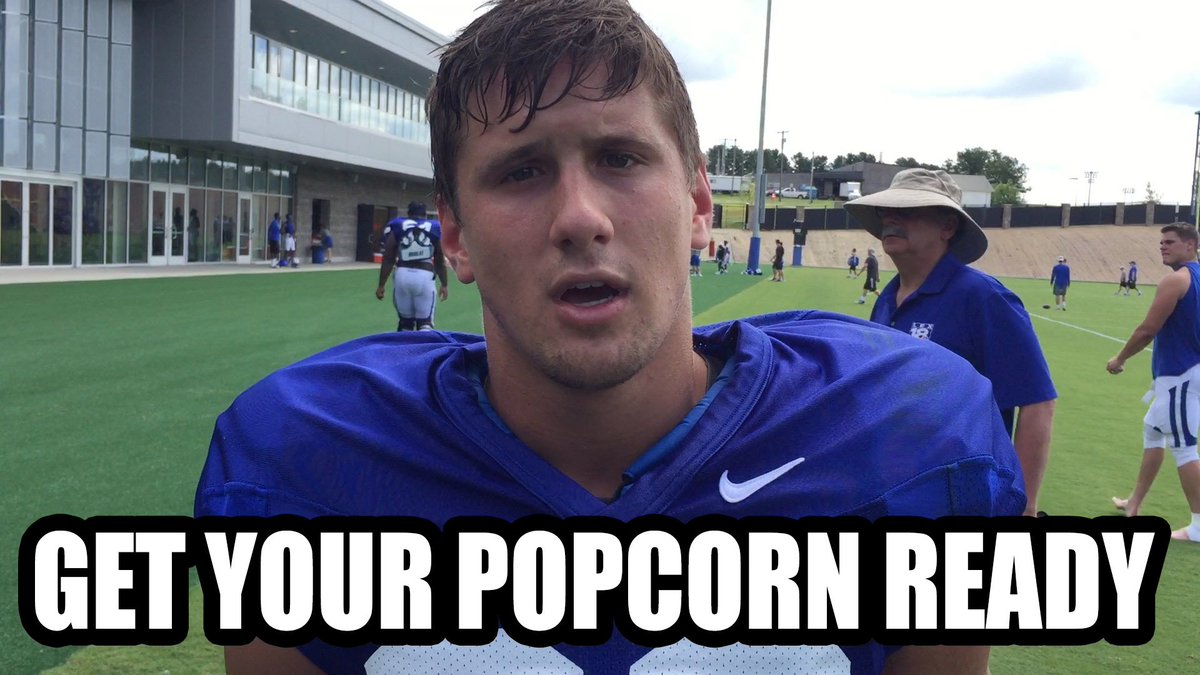 Not only is he a Heisman frontrunner, Charles Walker is a future member of the U.S. Ryder Cup team. When questioned, Drew Barker quickly proclaimed Walker as the best on the links.  Greg Hart and C.J. Conrad golf against one another often but, "We're both equally as bad," Hart said.