UK's Linebackers: Who's going to fill their shoes?
[caption id="" align="alignnone" width="497"]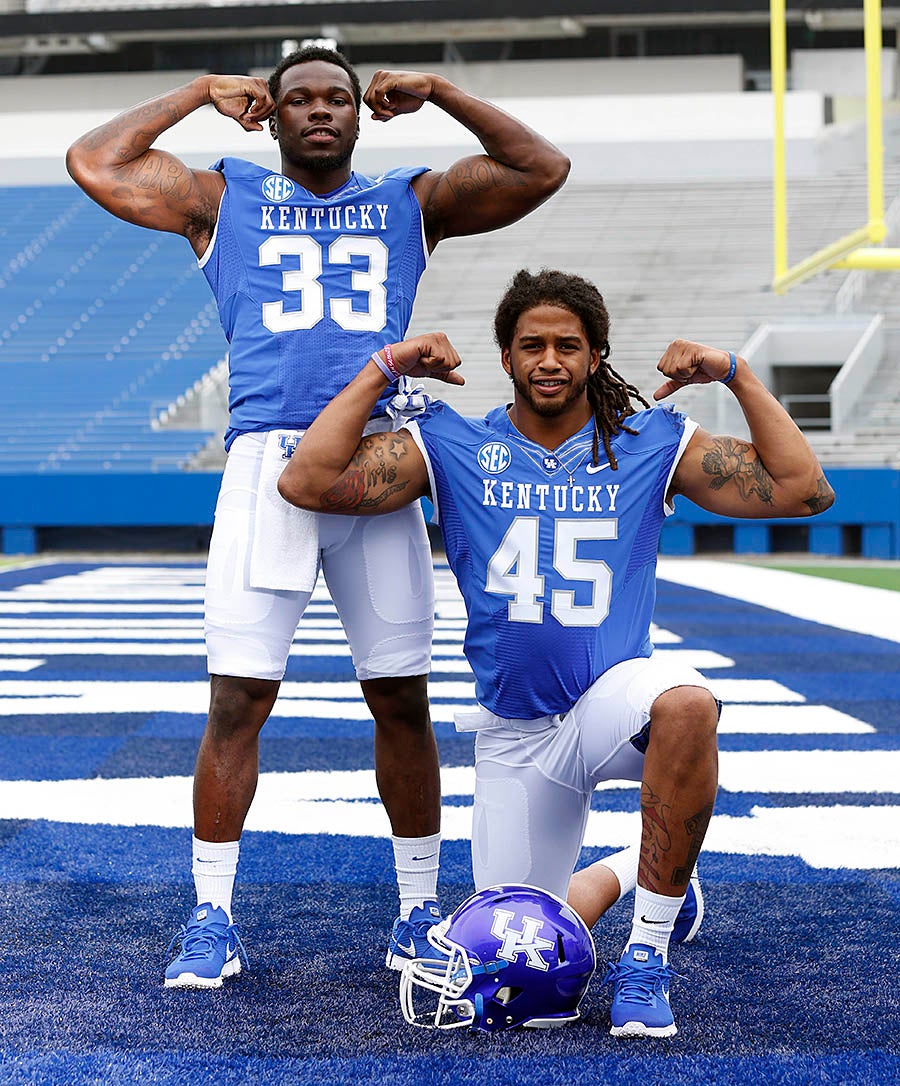 (Photo: Mark Zerof, 247Sports)[/caption] On top of being one of my all-time favorite George Jones songs, this phrase is now applicable to the Kentucky linebacker corps. One of if not the biggest concern going into 2015 was linebacker depth. Training camp has not been kind to DJ Eliot and Andy Buh's position groups. Leading off was outside linebacker Jason Hatcher's untimely suspension and Kobie Walker's lingering health issues that prevented him from practicing during fall camp. Later came Ryan Flannigan's shoulder injury then the Jordan Jones' illness that will sideline him for up to two weeks. Before today, I was hearing that Jordan Jones was potentially working his way into the starting lineup. Unfortunate circumstance for the true freshman from Youngstown, Ohio. I still feel he will be a special player before he departs Lexington. As I've stated many times,
UK's initial starting four LB's were a solid collection of diverse talent that I felt was an upgrade from years past
. This especially applied to the two inside players, Josh Forrest and Ryan Flannigan. On the outside, Jason Hatcher and Denzil Ware/Jabari Johnson constructed a serviceable and competitive unit. A time projection has not been given on Flannigan's shoulder recovery. However, we do know that Hatcher is out against Louisiana Lafayette and South Carolina. So, the question applies, who is going to fill their shoes? On the inside, senior Khalid Henderson will fill in for Ryan Flannigan. This is concerning. Henderson is a senior and has played a great deal of football. Film has shown that he lacks certain skills to efficiently make plays in space. He is a significant drop-off from Ryan Flannigan. Jason Hatcher's temporary loss is less concerning in terms of football, but more so in the locker room. His influence on young Denzil Ware, Alvonte Bell, Kengera Daniel, and others will need to be positive and uplifting. In reality, Denzil Ware will eventually be the better football player of the two. But Ware is young and inexperienced. Denzil Ware will be a star. But it's going to take time for him to develop. Does the current depth chart situation force Josh Allen to play immediately instead of redshirting to gain strength? Listed at 6'5", 210 lbs., Allen was the state of New Jersey's sack leader and a wonderful late signee. Nico Firios has been consistently mentioned as a potential inside backer replacement. He's another redshirt freshman but one with significant potential and upside. Dorian Hendrix hasn't been discussed in post-practice press conferences. I find that puzzling. IF UK is dedicated to the 3-4 defense, that scheme requires at a minimum of eight LB's that are game ready. I'm not sure UK has that many that are eligible or practicing right now. Adjustments will have to be made.
I expect the Nickel package to be heavily used
until Stoops and Eliot can figure out the personnel situations and or injured players return to action. The sky is not falling. Camp attrition is expected. Therefore, recruiting depth critical. Regardless, a razor thin position just became thinner. This is not a good development. When I wrote of the significance of the Hatcher suspension, some questioned my opinion and indicated I was being too hard on the junior. I am all for second and at times, third chances. Jason has to take full advantage of his two weeks off and motivate his teammates. His return is vital. I think I was fair.
Going into camp Kentucky could not afford linebacker attrition. That situation was worsened today.
Is the position salvageable? Absolutely. Quickly forgotten was that Josh Forrest was the SEC's fifth leading tackler in 2014. Young players will get their opportunity to validate recruiting stars. Jabari Johnson will provide stability. His role is now magnified. Legitimate personnel concerns exists. To say anything different wouldn't be fair and objective. I trust Stoops and company to make the proper adjustments. Truth is, these fixes need to happen in a hurry. We're less than three weeks from kick-off. Final note,
if the NCAA clears Courtney Love then my worry level would considerably drop.
From all Nutter Center accounts, Love is an elite player with professional work-ethic and maturity.