University of Kentucky suspends new member activities for fraternities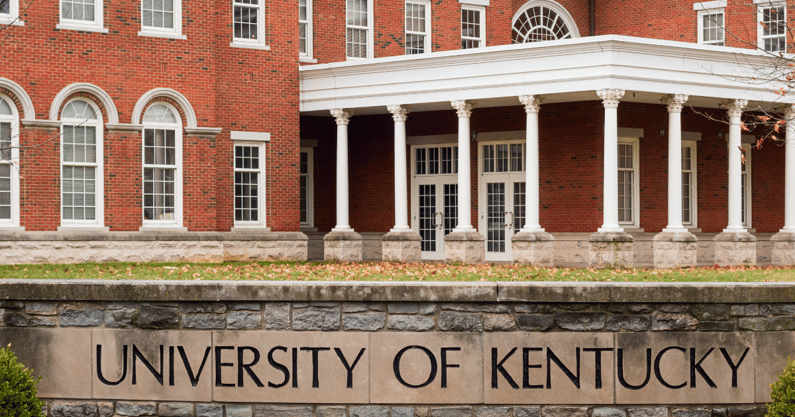 The University of Kentucky has suspended all activities for new members of Interfraternity Council (IFC) chapters indefinitely. The news comes following the death of 18-year-old student Thomas "Lofton" Hazelwood, who was found unresponsive at the FarmHouse Fraternity house on Monday.
The Fayette County Coroner's Office announced the cause of death is "presumed alcohol toxicity," though UK says investigations into Hazelwood's passing remain open.
In statements released by President Eli Capilouto and Vice President for Student Success Kirsten Turner on Thursday, the school announced new steps it was taking to "further ensure the health and well-being of our students" and "increase awareness and education" around hazing, alcohol use and bystander intervention.
"We want to take concrete steps to increase awareness and education about bystander intervention, hazing, alcohol use and education," said Turner. "We also want to underscore how serious these issues are — to our campus community and to your health, safety and well-being."
Among the steps the Dean of Students Office and Fraternity and Sorority Life (FSL) are taking immediately:
All new member activities in Interfraternity Council (IFC) chapters at UK are suspended indefinitely. That includes all social, educational and formal interactions between new and returning members of the organization or chapter. This also includes official or unofficial new member events hosted by a chapter.
We will implement additional training programs that will be required of all members — new and current  — that will focus on bystander intervention training and an additional course around hazing prevention and university expectations. 
"These are initial steps. We will continue to evaluate our training programs and Code of Student Conduct to ensure that our training requirements are as robust and effective as possible," Turner added. "We hope you will help us communicate the importance of these measures, as I know we all want the same thing — a campus that is safe, friends and fellow students who are protected and a learning and living environment that is rich and rewarding."
"These are first steps," Capilouto wrote, "but we believe they are important ones in communicating our obligations to our students and their responsibilities to each other and to our community."
The University of Kentucky announced Hazelwood's death Tuesday morning.
"The UK Police Department was called to the FarmHouse Fraternity at approximately 6:22 p.m. Monday evening regarding reports of an unresponsive student," the school announced. "The student was taken to UK HealthCare's Chandler Medical Center. Attempts to revive him were unsuccessful and he was pronounced as deceased early yesterday evening. Foul play is not suspected, but police are investigating the circumstances of his death.
"UK officials are offering support services to members of the fraternity as well as his family and classmates. The thoughts of the entire UK community are with his family and all those who knew the student."
The school later discussed the tragic passing as further details emerged.
"(Monday) night, our community suffered a tragic loss with the death of our student, Thomas "Lofton" Hazelwood," the University of Kentucky announced. "Lofton, as he was known, was 18 years old and from Henderson, Ky. He was an agricultural economics major. He lived in Lewis Hall and was a new member of his fraternity. He was involved in campus activities and, we know, loved by his family. In other words, he had all the promise of youth and the potential that comes with it.
"We have been in communication with his family and many of the students who knew and loved him. There aren't words adequate to convey what so many on our campus feel, the sense of loss and grief, sadness and emptiness. There just isn't. Words can't fill that void, nor will we try.
"However, what we can convey, and what we can do, is reach out with the support members of our community need during this time and in all the days ahead. That includes Lofton's family as they are members of our family — not simply today or tomorrow, but always."