5 Things About The Vanderbilt Commodores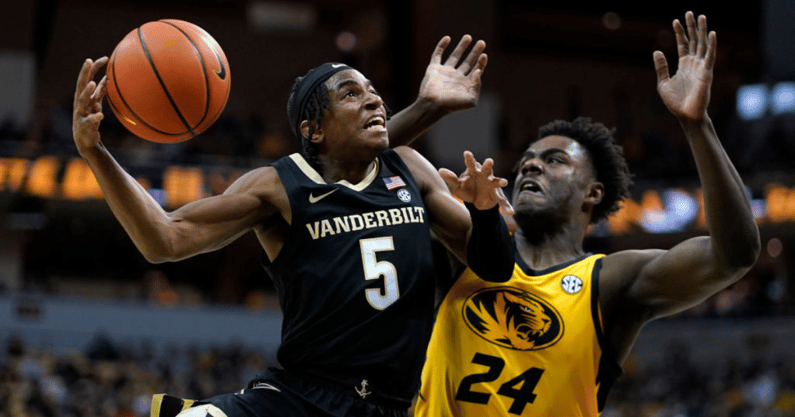 Tonight at 9 p.m. ET, Kentucky will look to extend its three-game winning streak vs. a Vanderbilt team that is 10-9 this season, 3-3 in SEC play. The Commodores are fresh off an 85-82 win over Georgia, beat Arkansas ten days ago, and are 7-4 at home this season, 2-1 against SEC foes; however, they'll be shorthanded tonight at Memorial Gym.
Brandon Ramsey will be by with a detailed scouting report in a little bit. As always, I'm going to get things rolling with the Cliffs Notes.
1. Leading scorer and rebounder is out
With Scotty Pippen Jr. off to the NBA, Liam Robbins is Vanderbilt's main man this year. The seven-footer leads the Commodores in scoring (13.2 PPG), rebounding (5.9 RPG), and blocks (2.9 BPG). He has over 1,000 career points and 276 career blocks, which ranks fourth among active Division I players. However, he injured his ankle in Vanderbilt's practice on Jan. 16 and is out four to six weeks.
Vandy will also be without freshman forward Lee Dort, who suffered a stress fracture in his foot. Dort was a reserve, averaging 2.1 points and 2.6 rebounds in 6.9 minutes per game this season. Without both Robbins and Dort, it could be a huge night for Oscar Tshiebwe, who had 30 points and 13 rebounds in Kentucky's last game in Nashville. Quentin Millora-Brown and Malik Dia will have their work cut out for them down low.
2. Series History
Kentucky leads the overall series vs. Vanderbilt 154-47 and has a 61-29 edge in Nashville. The recent series history is even more lopsided, with Kentucky winning 13 straight. John Calipari is 24-4 vs. the Commodores. In his fourth season at Vanderbilt, Jerry Stackhouse is 0-7 vs. the Cats. Vanderbilt's last win over Kentucky was on Feb. 27, 2016 in Nashville, when Matthew Fisher-Davis, Jeff Roberson, and Wade Baldwin IV beat the Cats 74-62 despite 33 points from Jamal Murray.
3. Impressive offense in SEC play
Vandy averages 73.2 points per game, but in SEC play, that number jumps to 80.3, thanks in large part to the 'Dores' 97-84 win over then-No. 15 Arkansas. Vanderbilt trailed at halftime 42-34 but scored 63 points in the second half to pull off the upset. The Razorbacks' recent skid aside, it was a big moment in Memorial Gym.
In the win over Georgia, five Commodores finished in double figures, led by senior guard Ezra Manjon, who came off the bench to score 19, 15 in the second half. Vandy's five leading scorers are all averaging 9.0 points per game or better, and junior guard Tyrin Lawrence is averaging 19.0 points and 4.7 rebounds over the last three games. Senior wing Jordan Wright is up to 14.0 points per game in SEC play.
4. Top 3 in the SEC in threes
With Robbins out, Vanderbilt will rely even more on the three. The 'Dores rank third in the SEC in three-point attempts (24.8) and makes (8.2). They made 10 threes in the wins over Arkansas and Georgia. Junior Myles Stute, who led the SEC in three-point shooting (43.2%) last year, leads Dores again with 48-110 (43.6%). This season, he has four or more three-pointers in six games, including seven in a win at Temple.
5. Energy Drink/Canned Coffee Night in Nashville
John Calipari likes to joke that whenever Kentucky goes on the road in the SEC, it's T-Shirt Night, Cup Night, Bat Night, etc. Tonight, it will be Energy Drink/Canned Coffee Night in Memorial Gym as we all brace for the late tip-off.
If you're going to the game and prefer booze to caffeine, get there early. It's $2 Tuesday, so popcorn will be $2 all game and beer will be $2 until five minutes into the first half. (Yes, you can even drink at Memorial Gym now.)