Vanderbilt leading scorer Liam Robbins out vs. Kentucky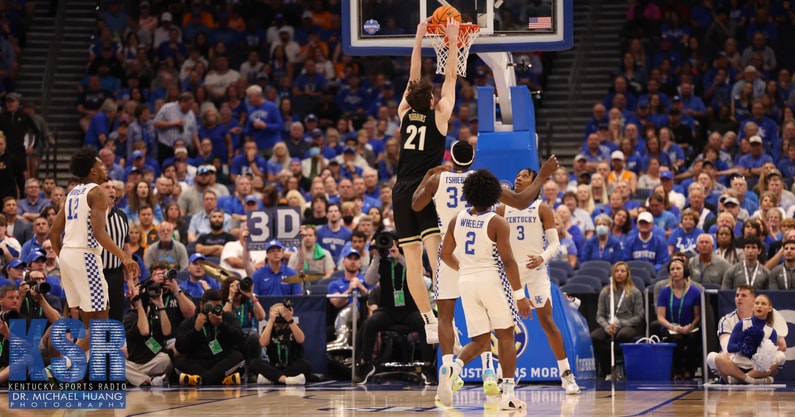 Kentucky will take on a Vanderbilt team that is missing its leading scorer and rebounder down in Nashville.
Liam Robbins, a transfer from Minnesota, sprained his ankle in practice last week and has missed two straight games for the Commodores. Officially ruled out 4-6 weeks due to the injury, the 7-foot senior out of Iowa will be forced to sit out vs. Kentucky and beyond.
Last suiting up vs. Arkansas on Jan. 14 — he finished with 14 points and three blocks in a 97-84 win — the fifth-year big man is averaging 13.2 points, 5.9 rebounds and 2.9 blocks per contest. The Commodores lost by 12 at home to Alabama (78-66) and defeated Georgia on the road by three (85-82) in his absence.
And that's not the only player missing for Vanderbilt — or even frontcourt player, for that matter.
6-foot-10 freshman Lee Dort, a consensus four-star prospect out of high school, is also out 4-6 weeks with a stress fracture in his foot. That leaves just two scholarship players down low for the Commodores to work with against Kentucky star center Oscar Tshiebwe, who was just named SEC Player of the Week on Monday.
In their absence? 6-foot-10 senior Quentin Millora-Brown and 6-foot-9 freshman Malik Dia. Neither are averaging over four points or four rebounds per contest.
How does Vanderbilt coach Jerry Stackhouse plan to move forward with his frontcourt as thin as it is? He said he liked the pieces he has to work with following his team's win at Georgia, adding that they will have to figure out how to score in different ways while still making an impact inside.
"Yeah, I mean, we've got other ways that we're going to be able to play. Still trying to get some baskets inside as well," Stackhouse said. "I think Malik [Dia] was great for us tonight (against the Bulldogs). I mean, he came in the second half, really set some screens. His ability to pop is really going to be able to, I think, cause some issues for some other teams to stretch them out a little more. We need paint points. So even if we're not posting we've still got to get our feet in the paint and drive. And I thought we left a lot of opportunities in the first half by not gathering and playing off two feet by jumping off one.
"And great opportunities– we convert those most times if we just slow down a little bit. But for the most part, I thought we're gonna find a way to get some points, we've just got to continue to do it on the defensive end."
Millora-Brown finished with seven points, 11 rebounds and two assists in 30 minutes at Georgia, while Dia added zero points, one rebound, two blocks, one turnover and three fouls in six minutes.
Friendly reminder: Tshiebwe went for a career-high 37 points and 24 rebounds against those same Bulldogs.
Now, Vandy's got versatile forwards that can play. 6-foot-7, 215-pound junior Myles Stute averages 10.2 points and 5.5 rebounds per contest. 6-foot-8, 215-pound freshman Colin Smith has had his moments, too, averaging 4.1 points and 3.1 rebounds. Among true bigs, though, the options are limited.
It'll be a guard-heavy day for the Commodores on Tuesday, with junior Tyrin Lawrence and senior Jordan Wright averaging 11.1 points apiece, senior Ezra Manjon adding 9.1 points, junior Trey Thomas with 6.9 points and freshman Noah Shelby with 4.7 points per contest.
Time for Oscar Tshiebwe to eat.