Veteran leadership leading to early team chemistry for Kentucky MBB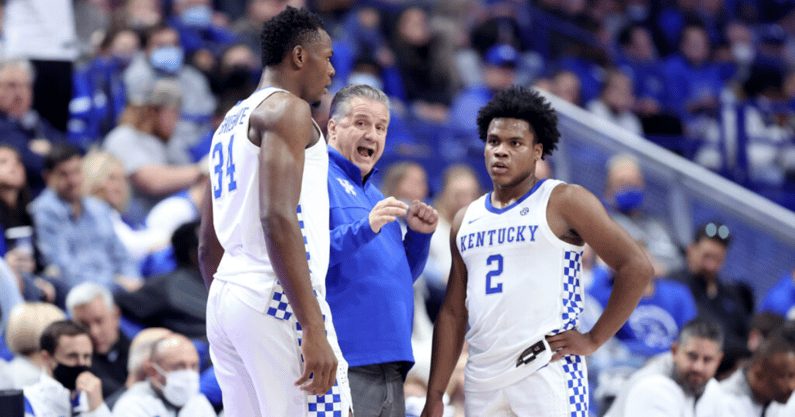 The 2021-22 Kentucky men's basketball team was easily the oldest group ever assembled in the John Calipari era. The 2022-23 season might not be as old when it comes to age, but it will be one of Calipari's most Wildcat-experienced squads during his tenure. Seven rotational players returned from last year's team, including the unanimous National Player of the Year, with a couple of them (Lance Ware and Jacob Toppin) entering their third full season in Lexington.
Having so much experience coming back hasn't been commonplace around the program since Cal's arrival — although it is beginning to form as a trend. But when two of the pieces back in the fold are point guard Sahvir Wheeler and center Oscar Tshiebwe, it provides an invaluable trait within this Kentucky team that previous ones can't claim: the team's two most important positions on the floor are filled by the team's biggest leaders.
"I think it definitely helps," Wheeler told the media on Friday about having so many players returning. "I just think having veteran guys like Oscar and myself, when they (teammates) make mistakes, just being able to be like 'hey man, it's good, you're good.' It's all part of the growing process and all part of learning and going into a new environment where you aren't totally comfortable, you're gonna make mistakes. Things are gonna happen that don't go your way. Us being that calming presence — it's happened to the best of us.
"I had games where I didn't play well and I had teammates who were older than me or even younger than me last year come by side like it's all good, it's okay. I feel like that's happened already with some of the workouts with guys might get a little frustrated, like bro it's new, it's completely new. You've never ran this hard, you've never worked this hard before in your life, it's all right, we're gonna be with you every step of the way. I think Oscar and I have done a really good job and continue to do that with the rest of our teammates, just picking each other up, lifting each other, empowering each other, to work hard and be the best versions of ourselves."
The players haven't even been together a full three weeks yet, but the team bonding process is on its way. That doesn't mean it won't always be smooth sailing though. Calipari still added three freshmen and a transfer from Illinois State in Antonio Reeves. The next several months will be key in bringing them along.
Which is why the upcoming Big Blue Bahamas trip in early August acts as an extra credit opportunity for this team, just as it did for the 2014-15 and 2018-19 squads, which reached the Final Four and Elite Eight, respectively. Kentucky will go head-to-head against professional competition in a true game setting months before the regular-season begins.
"I'm looking forward to the Bahamas trip not only because it's the Bahamas but just being able to play some games with a new group of guys who I think has a chance to be a really special group," Wheeler said.
The preseason games will be excellent for developing on-court chemistry, but the trip is just as important when it comes to enjoying each other's company.
"When that time comes for the Bahamas and we're not playing those games, we're definitely going to have fun, definitely gonna have some team-building stuff just so we can enjoy each other's company," Wheeler added. "Because it's a process. It's a long journey between now and March when tournament time comes. Just try to embrace each other, learn each other, and have fun along the way."
With veterans who lead by example in Wheeler, Tshiebwe, and others, Kentucky could very well have another talented tight-knit group heading into the new season.