Vince Marrow says Will Levis can be No. 1 pick, best first practice for UK in 10 years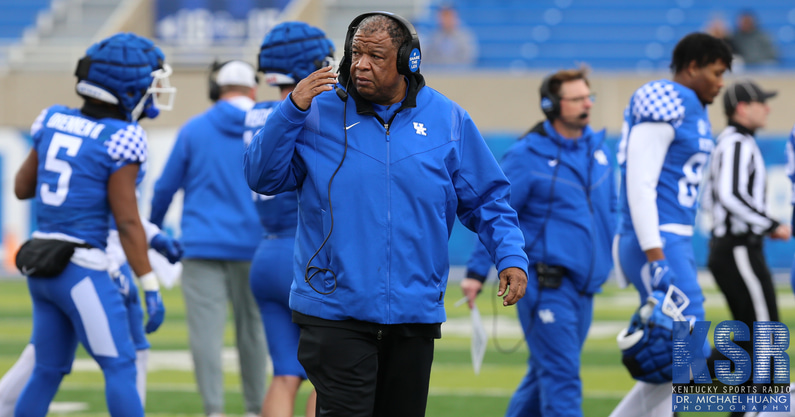 Kentucky associate head coach Vince Marrow isn't afraid to wear his confidence on his sleeve. That confidence was again put on full display during his appearance on Kentucky Sports Radio to open Football Media Day at Kroger Field on Wednesday.
During the 12-minute conversation with the KSR crew, Mark Stoops' right-hand man opened up about the first day of practice, Will Levis' potential, recruiting, NIL and his future as a play-caller, among other topics.
Miss the interview? We've got you covered. Check out the complete Q&A session with Marrow below.
---
How did the first practice of the fall go?
Coach Stoops said today — I don't know if he told you — but in our 10 years here, this was our best first day of practice we've had in 10 years. I think it's because we have veterans at every position, pretty much, except wide receiver. But I'll tell you, some young guys looked pretty good today.
How does the tight end room look?
The kid from Moeller, Josh Kattus, he's pretty good. He's really getting some reps. His dad played eight years in the NFL, he played at Michigan as a tight end. Rich (Scangarello) is a tight ends guy coming from the 49ers, he actually said that room is loaded, and it is. We did a really good job recruiting that room.
What is the difference between 10 years ago and now?
Really? You know me. The first time we got here — and not taking a shot at anybody — we had better looking guys when I was at Toledo. CJ Conrad's dad was here today and he said, 'Vince, the difference I see is the O-line and D-line are so huge now.' And that's the difference. We got beat, I don't remember who it was, but Mark (Stoops) came to my office on a Monday and was like, 'I want long guys. Long guys at every position.' Now, we look like an SEC team.
Are you confident with where things stand in recruiting?
I think what people need to understand, even when we weren't that good in '13 and '14, remember how we were way out early in recruiting guys, ranked No. 1 in the country at one point for about four weeks. Then we gradually went down, ended up being like No. 16. I think when you're winning, you're more concentrated on your culture, doing things in the building. You're still recruiting guys, but I knew — like right now, we're still not done. We have a couple more four-star guys committing.
When we weren't good, we prayed every month we'd be able to hold on to guys. Now with our culture, we're winning, and you've got guys at other places now contacting me about de-committing from other places.
Is NIL where you'd like it to be? Or moving in the right direction?
I don't know man. Like, I always have faith that Mitch (Barnhart) is doing the right thing, Rachel Baker, all of those people were on board. I just think it had to get to the point where it was clear enough with what was actually allowed to happen. So I feel good with where we're at. I think we're going in the right direction.
I know this, I feel good as a recruiting coordinator with where we're going. We can't talk about NIL deals with recruits, but the people dealing with that, once they get here, I feel good that our administration is behind us.
After serving as OC in Kentucky's bowl win vs. NC State, does he have play-calling in his future?
Nah, because I'm gonna be honest, I've got a lot of stuff I do here. I'm one-and-done, like Coach Cal recruited me. I'm telling you, dude, that's some pressure being a coordinator. You've got to deal with Mark Stoops. Like, we're cool, but it was different that day and that game. You remember, we started off with a nice drive, went down and got a field goal. Second or third drive. He was very good until things started getting (tight), then he tried to tell me to focus on this and that. I'm like, nah, I'm good with just one time.
Kentucky's recruiting reach is expanding. Is that a point of emphasis?
Because our brand is getting (bigger). I think we're picking it up more in the North. It's the same message that we have for the kids in Ohio and Michigan, 'If you don't go to Michigan, if you don't go to Ohio State, come and play in the SEC. You're still a four-star guy, come and play in the best conference.' Now you're starting to see guys from New Jersey, Tennessee, Pennsylvania, we're branching our brand.
But like Stoops always says, do not get it twisted, Kentucky and Ohio will still be our home base of where we go recruit.
What do you think about people saying Kentucky doesn't deserve to be picked second in the SEC East?
I really don't — I'm gonna tell you why I don't like it. Because I like when people talk smack on us and keep us down. But if you look at reality, I mean, we have beaten all those teams and we do have one of the best quarterbacks coming back in the country.
How excited are you for Will Levis?
Man, I just watched him throw, he threw to Barion (Brown). Dude, he can be the first pick in the draft. No later than No. 10. I think this kid, he can make a lot of throws, he's big, he's physical, he can run. Look at the two other guys, the guy at Ohio State, the guy at Alabama, they're good. It's just, he looks bigger than them. The ball comes out (better). What makes Will such a good player is he's such a great leader. Everything is 110 (percent). Sometimes when Liam (Coen) was here, we'd be like, 'Dude, slow down.' Any little thing, he gets hyped about. The scouts love him.
Are you worried about the praise and hype Kentucky has gotten this offseason? There's not as much bulletin board material.
I just think the one that gets me going, and I just love the media — not the media here, but the media in the South. They've just gotta keep picking this one team. I'm not going to say their name, but dude, every year it gets us going when we see that. We do have a good team, this is our tenth year. This SEC Mike guy kind of pissed me off. Earlier he had us as the third-best team overall in the SEC, then we get to (SEC) Media Day and we're like fifth in the East. I mean, what the hell happened? We didn't play any games, we didn't lose anybody. I was digging SEC Mike because that's a nice name, but I gotta meet that dude.
I will say this. A lot of our players, we have leaders on our team. They see and hear all of the noise, people giving us credit. It just makes us — hey, you better go work hard. We were there before trying to hunt and get to this spot. People are going to be coming for us.
How excited are you for the first home game at Kroger Field?
At night, too. I think you're going to see some young talent that's gonna be good. You're gonna see a quarterback that I believe is the best in the country. We're ready. I would like to see, as we go further and further about (the flooding in) Eastern Kentucky, maybe we do something for that? I really like what Coach Cal and them did last night (at Rupp Arena). It's going to be hyped, man. I hope it's sold out because it's going to be a really, really good show this year.
---