Wake Up, Gameday is Finally Here
[caption id="attachment_206023" align="alignnone" width="770"]
Chet White | UK Athletics
[/caption] Congratulations Big Blue Nation, you made it.  Football is finally here.  After an agonizingly long offseason, in about nine hours it will once again be football time in the bluegrass. The opening game presents challenges similar to last year's opener against Lafayette.  Their non-Power Five opponent is coming off a nine-win season with plenty of offensive weapons. What makes this game different is the man orchestrating the opponent's offense was on Kentucky's sideline last season. The Shannon Dawson storyline has been downplayed by the coaches, but Matt Elam couldn't resist earlier this week.  "(Last year) 
In practice, I felt like the defense always got the best of him."  
There will be plenty of pressure on Elam's defensive line to replicate last year's success in practice.  Nick Mullen's averaged more than 300 yards passing per game and running back Ito Smith rushed for more than 1,200 yards last year.  There is no doubt Kentucky will be put to the test to start the season. We've talked about it enough.  I'm getting too anxious thinking about all of the possibilities in play.  Will the Drew Barker era come out hot or cold?  Will Gran's running game be better than we've ever seen?  Has Lamar Thomas taught the receivers to catch? I can't handle it anymore.  Luckily the weather will be beautiful all day.  Here's what you can do around Commonwealth Stadium today.
3:30 -- The KSR Pregame Show begins at the RV Lot.
5:15 -- The Cat Walk
5:30-7:00 -- The Jordan English Band concert near Gate 12
5:30 -- Christi Thomas and Freddie Maggard take over the UK Radio Network
~6:00 -- The team makes its walk from the training center to CWS
Remember the Cat Walk is extended this year all the way to the Football Training Facility.  At the end of the road is also where you'll find the new pregame concert stage.  You can listen to music and enjoy food from a pair of food trucks before cheering on the Cats as they walk from the Training Facility to Commonwealth Stadium. Remember that before the KSR Pregame Show begins, get your football fix by
listening to the KSR Football Podcast
on your drive toward the tailgate lots.  If you still have questions about what's going on,
this should do the trick
.
Today's Uniform Combination
Matte is the new black.  The Cats will start the season in traditional blue and white with the matte twist on top. [caption id="" align="alignnone" width="492"]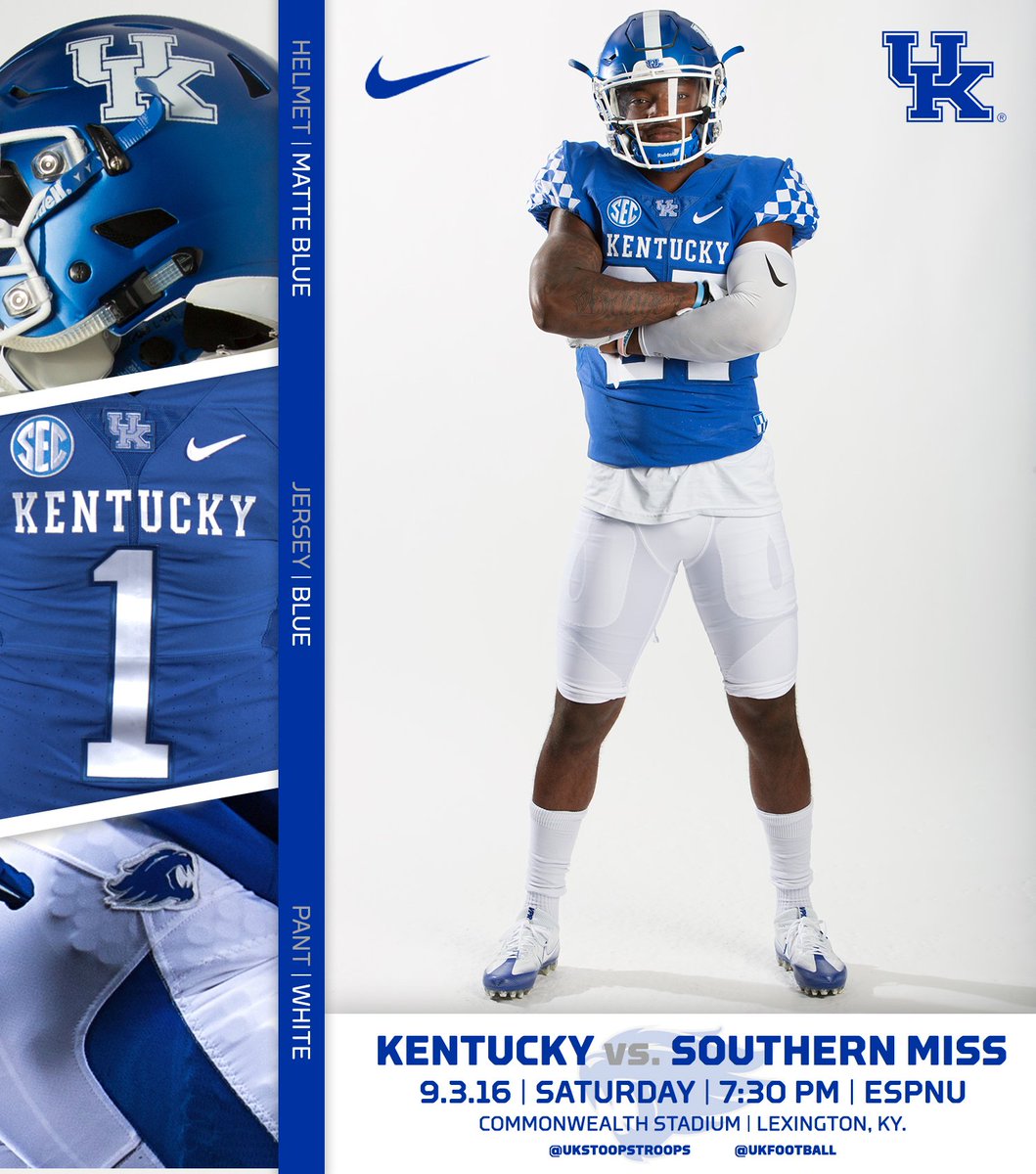 @UKStoopsTroops
[/caption]
All the X's and O's You Need to Know
Freddie Maggard has only stopped typing to watch more film on Southern Miss.  If you feel the need for more knowledge, Freddie has you covered.
How Kentucky Beats Southern Miss
Jimmies and Joes:
Kentucky
and
Southern Miss
Scouting the Southern Miss Offense
One-on-One Matchups:
Elam vs. Tom
,
Miggins vs. Freeman
Not Excited? This will do the trick
If the KY Wildcats TV didn't do the trick,
Al Pacino will get you to fight for every inch in life
.
Friday Night Football Scores
Paintsville 40, Pikeville 28
Trinity 45, Lafayette 7
Ballard 25, DeSales 10
Scott County 42, Highlands 33
Bowling Green 31, St. X 10
Danville 43, Boyle County 15
Tyler is excited, very excited. https://twitter.com/MrsTylerKSR/status/772036242984857601
Red, White and Boom Continues
Eric Church rocked Whitaker Bank Ballpark last night.  I know that not everyone will be clawing to get into Commonwealth but I know some people will lose their minds to see Jason Aldean tonight.  Hopefully you'll hold off until tomorrow to see Drew's favorites, Florida Georgia Line.  For tickets and a complete schedule,
click here
.
Don't Forget to Play Gameday Bingo 
Today's College Football Schedule
It will be the best opening weekend in the history of college football.  Use this scoreboard to follow along all day.