Wakeup for UK's SEC Network Takeover
[caption id="" align="alignnone" width="641"]
Robert Willett | ZUMA Press
[/caption] It's a great day to be a fan of the Kentucky Wildcats if you have the SEC Network.  Beginning last night at midnight, the network is All Cats Everything.  For 24 hours, it's exclusively UK programming, primarily great games from the past. Hurry, change the channel NOW!  You just missed seeing John Wall's Cats defeat North Carolina, but there's still time to catch "Couch to Yeast," which started at 8:30.  Here are are some of the best games to look forward to today:
10:30: UK vs. LSU Basketball 1994, "The Mardi Gras Miracle"
2:30:  UK vs. UNC Basketball 2011, "Davis Blocks Henson"
6:00: UK vs. LSU Football 2007, "Stevie Gets Loose...Again vs. #1 LSU"
8:00: UK vs. Kansas Basketball, 2012 National Championship
10:00: UK vs. Tennesse Basketball 2009, "Jodie's 54"
The schedule in its entirety:
Prayers to the Family of Boom Williams
Just before the Kentucky contingency arrived at SEC Media Days, Boom Williams released an ambiguous Tweet that had many worried.  His teammates shared their support publicly.  Yesterday we discovered what was troubling Boom.  His younger sister has passed away.  This season's work we'll be for her, "I know she watchin over me." The Williams family has the prayers and condolences from the entire KSR family.
Mark Stoops went through the ESPN Car Wash
Expect to see articles from ESPN.com on Stoops' Cats coming soon.  He was on a variety of radio and TV shows, but the one that stood out was his interview on the Sportscenter set.  He was asked, "Is 2016 Bowl or bust?"
"I've been hesitant to talk about that the past couple of years, cause I didn't know if we were quite ready for that.  I do feel like we have the pieces in place this year, I really do.  I have a lot of confidence in what our team have done.  We've put the work in.  I feel great with the coaching staff.  It's time."
Watch the entire interview
here
.
Danny Trevathan Threw out the Cubs' First Pitch
The new Chicago Bear has been welcomed into the Windy City with open arms. [caption id="" align="alignnone" width="1200"]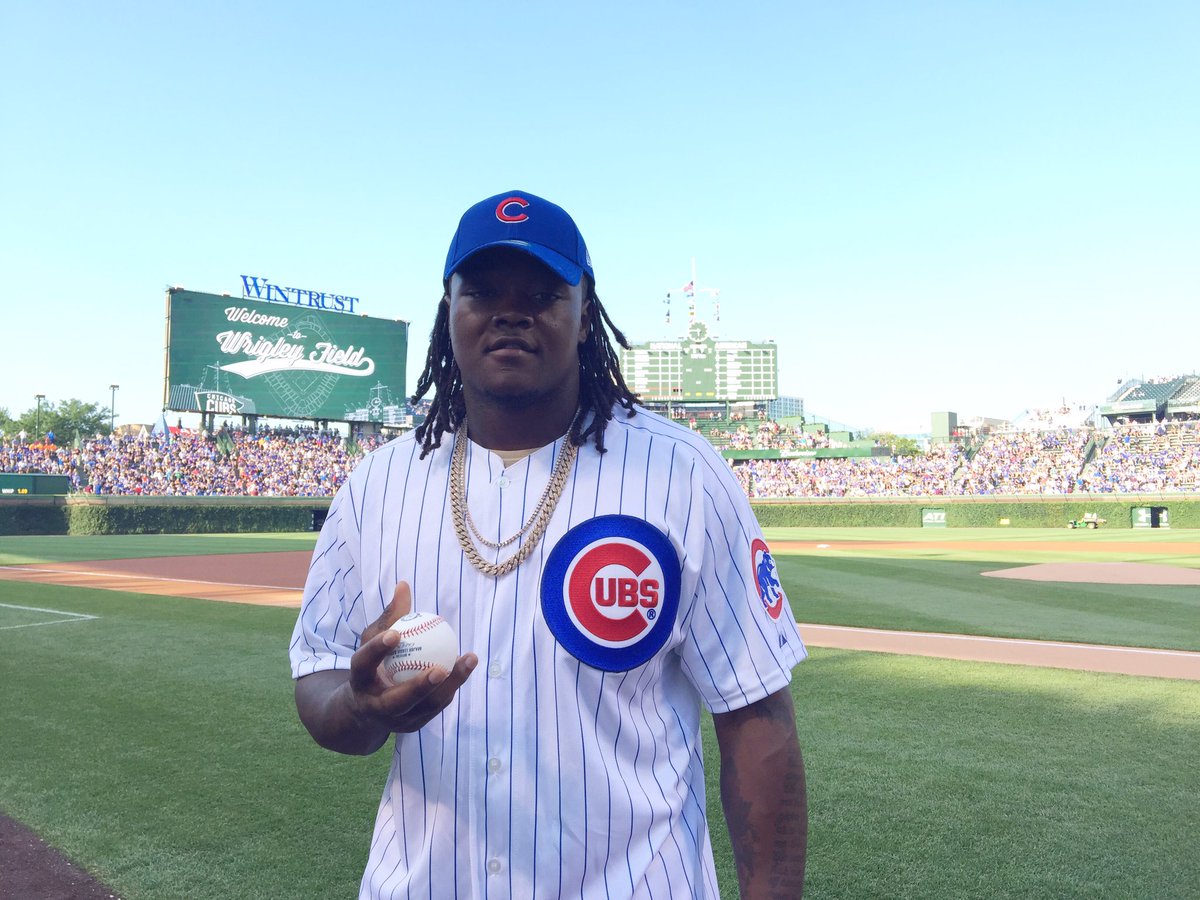 @Cubs
[/caption]
Team USA Training Camp Continues
DeMarcus Cousins continues to shine at the training camp, but there wasn't much news yesterday from the other UK guys participating with the Select Team, except for this little snippet from Devin Booker.  After spending time guarding Klay Thompson in 5-on-5, he explained what hopes to learn from this experience.
"I'm just here trying to be a sponge with all the great coaches.  There's a lot of legends in this building," Booker said.  "Everything they say, I'm listening in detail.  Hopefully I can put all of that stuff together and implement it into my own game, learn from it and become a great player."
Drake Rocked Kentucky Blue at the University of Texas
I'm sure De'Aaron Fox was pleased to see Drake repressing the BBN at his home state's school.
So I met this the 6️⃣🙏🏾 today pic.twitter.com/fcTP6yuYwu

– K-(Uno)(Dos) (@KLR_doce) July 19, 2016
New Episodes Coming for Two YUGE Shows
First to all of my fellow
Game of Thrones
' fans, our fears were confirmed earlier this week.  For season seven, the series will only be seven episodes long instead of the usual ten.  Even worse, it won't begin until the dead of summer, later than their normal post-Final Four start time. A show that might have had more temporary popularity was the Emmy-nominated Netflix original documentary,
Making a Murderer
.  If you haven't seen it yet, you're about six months behind.  
The creators of Making a Murderer announced they're making new episodes
focused on Steve Avery and Brendan Dassey as they go through the post-conviction process.  It has not been announced when the new episodes will be released. It was a fantastic, revealing documentary that placed a bright light on the criminal justice system's flaws, but adding more episodes is probably a bad move.  What more of the story can you tell?  Even though curiosity will force me to watch them, I know that they will do nothing but make me sad.
KSR Continues its Coverage in Cleveland
There will be an appearance from Kentucky Convention Delegate Drew Franklin that you don't want to miss.