Wan'Dale Robinson "felt fine" at South Carolina. "I felt 100 percent."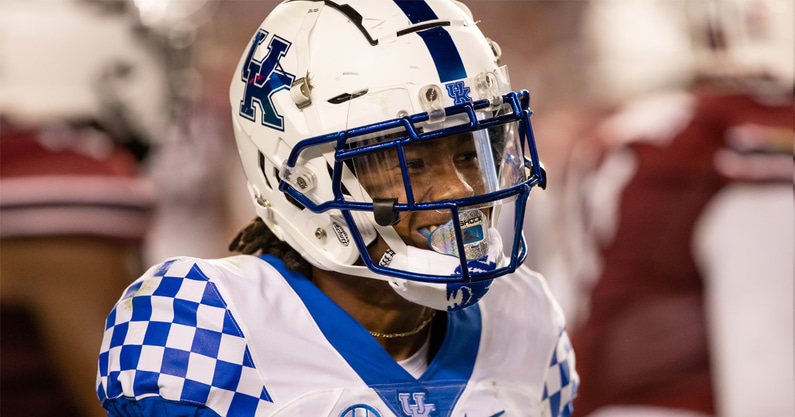 The Kentucky Football rumor mill went crazy late last Friday night with speculation of a Wan'Dale Robinson hamstring injury. There was chatter on message boards and social media that Robinson could miss the South Carolina game, a rumor that sent many fans into a panic 24 hours before kickoff.
It wasn't until Robinson showed up in full pads for pregame warm-ups that it was completely clear he was good to go. A crisis averted, Robinson caught seven passes on the Gamecocks to extend his lead in receiving yards in the Southeastern Conference.
Looking back, the rumored hamstring complications did exist, but Robinson's availability was never in question. His quarterback, Will Levis, said after the game, "We knew he was going to play. There wasn't a question about his health or anything. He's a tough guy… With the amount of targets he gets, how he plays, he's going to get banged up, as are a lot of guys on the team… Glad he was able to go out there and play a good game."
Robinson was not available for questions following the win, but he did address the injury to KSR's "Pin It Deep" podcast with Max Duffy and Miles Butler. Kentucky's star wide receiver used his off-day to chat with the guys about several football topics, beginning with his health going into Florida Week.
Robinson said of his hammy, "I don't think it will be a lingering problem. I was just a little tight and just didn't feel all the way there; just wanted to make sure I was taking all of the precautions that I needed to to make sure that I was good on Saturday. I felt fine, I felt 100 percent."
And his status for this coming Saturday with the Gators in town?
"I promise you, unless something's broken, I'll be out there playing."