Wan'Dale Robinson on Will Levis: "We have his back. He knows that."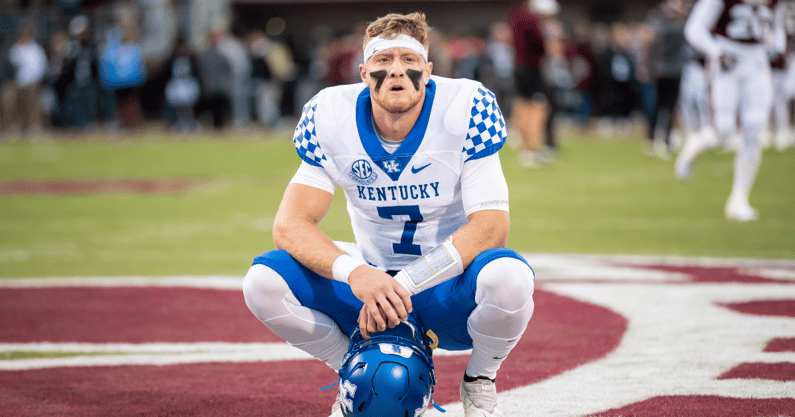 Will Levis had a bad night. Throwing for 150 yards on 17-28 passing to go with one touchdown and three interceptions, the junior quarterback was out of sorts from the opening kickoff and never seemed to recover.
The first came on the team's opening drive, a short-armed misfire on a deep ball to Wan'Dale Robinson. He then tossed another at the goal line down 14-10 with just nine seconds to go before half after Kentucky had gotten the ball down to the MSU 14. Levis then closed things out with a game-sealing pick late in the third quarter, one that led to a Mississippi State score to put the Bulldogs up 21 points going into the fourth.
Beyond the turnovers, he also flat-out missed on other incompletions. He missed Josh Ali on an easy pitch-and-catch for a score down the right sideline and threw behind receivers all evening. Ball placement was off, velocity was inconsistent and footwork was poor. Levis just didn't play well, no other way to spin it.
"He was definitely not comfortable," Mark Stoops said after the 31-17 loss in Starkville. "They do a nice job of mixing things up. I thought he went back to pressing, rushing some things. He was forcing the issue right from the start of the game. It's not just him. We didn't play good anywhere."
Levis accounted for three of the team's four turnovers on the night. Chris Rodriguez's third-quarter fumble made up the other. When you turn the ball over four times in a hostile environment against a coach like Mike Leach, you're going to lose.
"We had four turnovers," said Stoops. "When you turn the ball over like that against an offense like this on the road, you've got no shot."
While Levis' struggles were clear, his teammates remain confident in his abilities down the stretch. They're going to give him his time to regroup and let him know they believe in him.
And then it's time to get back to work on Monday.
"I'm going to give him his time to regroup and do his thing," said junior receiver Wan'Dale Robinson. "I know how I am after games like this, I don't really want to be talked to, things like that. Letting him do his thing, and then once Monday comes around, letting him know we have his back. He knows that.
"We've all got his back and we're going to do whatever we need to do to make sure he's better and we're all better."
Entering the bye week, Levis had back-to-back standout performances against LSU and Georgia, with the former being his best game as a Wildcat. We've seen the Penn State transfer make plays all season long.
Tonight, those plays just weren't there. Time to regroup and return to form against Tennessee next week.