Wan'Dale Robinson: "We know we didn't live up to our standards"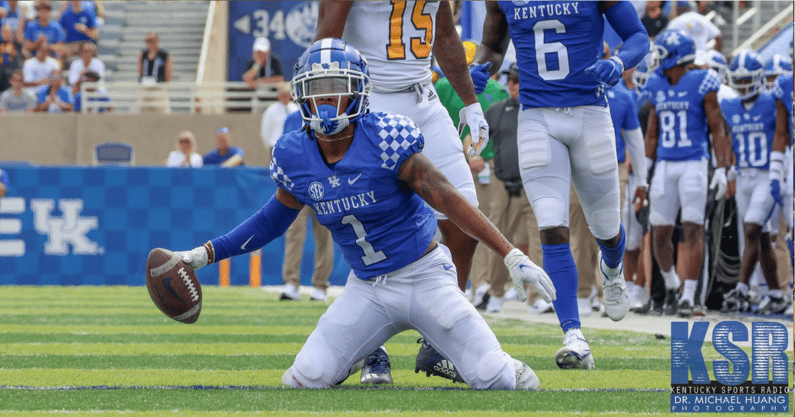 Was yesterday a wake-up call for Kentucky football? A reminder that they're still not quite at the level of play that the BBN is somehow anticipating this season? I mean yeah, probably. You can't walk away from a five-point victory over a team that was playing spring football in the year 2021 and feel overly comfortable with it. The coaches know that, Wan'Dale Robinson knows that, the people running concessions who can't even watch the game know that.
Lost within the hoopla and ruckus the fanbase was making on the internet yesterday was an indication of a very serious culture shift in Lexington. Does Kentucky football now have standards?
Wan'Dale expects more
Wan'Dale was still his usual electric self on Saturday, going over 100 yards for the third straight game to lead the 'Cats. That's what we're coming to expect from the home-state star after only a short time on campus, and it's refreshing to hear a leader voice their opinion about it.
"We won the game, but we know we can play better," Robinson said after the game. "Everybody knows that and we know we didn't live up to our standard… we just have to lock in at the level of standard that we have."
Signs of life were still there for the offense throughout the game–that wasn't the issue. And before we go blaming Eddie Gran for trying to sabotage another offensive performance in his first day back just because he didn't get to have Wan'Dale on his team, let's take a step back. We don't know that to be true (yet…).
Kentucky will be just fine
It was just a sloppy day of football for the Wildcats honestly. It's football, stuff like that happens. Penalties, drops, missed tackling, etc. were all vital parts to creating this mediocre performance. Underestimating a team and looking ahead on the schedule is a totally real and valid concern. Not to say that's what happened at Kroger Field on Saturday, but it's entirely possible.
I really wouldn't use the Sept. 19, Noon kickoff game against FCS Tennessee-Chattanooga football as a litmus test for what this team is. Would it have been way cooler if they absolutely stomped them and easily covered? Sure would've pal. It's really not that big of a deal though. Now if they lose to South Carolina next week, then this entire point becomes moot because they were just exposing early flaws in that case.
We don't like to believe that here, however–we stand with our star wide receiver. If they have standards of what they should be putting out on the field, let's let them show us.