Wan'Dale Robinson's impact helped Kentucky land 4-star WR Anthony Brown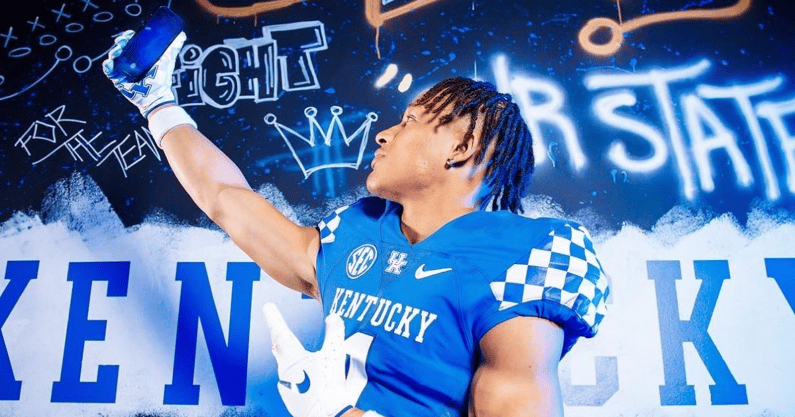 On Saturday, Kentucky football received a commitment from wide receiver Anthony Brown, the second four-star pass-catcher to choose the Wildcats from the 2023 class. Up until a couple of years ago, that was a feat the program had never once accomplished in the Internet era. But now it's becoming a trend. Kentucky landed Dekel Crowdus and Chris Lewis in 2021 before snagging Barion Brown and Dane Key in 2022.
Prior to Mark Stoops' arrival in Lexington, recruiting at this level felt borderline impossible. Even just five years ago — halfway through his tenure as head coach — the idea of bringing multiple four-star talents on offense from one class felt like a dream. Now, it's almost expected, and there are a couple of people, in particular, over the past couple of years who have helped give Kentucky's new-aged offense a good name.
Former offensive coordinator Liam Coen and current quarterback Will Levis immediately come to mind. Without those two pushing Kentucky into a modern, pro-style offense, the program would still be viewed as a rush-only, defense-heavy team. But no one player has made a bigger impact on recruiting than Wan'Dale Robinson, who was taken No. 43 overall by the New York Giants in the 2022 NFL Draft.
Robinson set plenty of records during his lone season at Kentucky after transferring from Nebraska. Some would argue that the Wildcats were too dependent on Robinson's exceptional playmaking, but he proved to the world that you can come to Kentucky and thrive as a wide receiver — an undersized wide receiver, at that.
Even though Coen has moved onto greener pastures with the Los Angeles Rams, Kentucky continues to haul in top-tier playmakers from the high school ranks. Barion Brown stated before he arrived at UK that he wants to bring the same energy to Kroger Field that Robinson did. Anthony Brown took it a step further, mentioning just how important Robinson's impact on the field in 2021 was in making his own college decision.
"I think (Robinson) was a big influence on my decision because it's proof in the pudding that I can do the same things he did in our offense and make it to the NFL," Brown told KSR following his announcement on Saturday.
Brown, like Robinson, is considered an undersized wide-out. He's listed anywhere from 5-foot-9 to 5-foot-10, weighing around 165 pounds — not exactly elite size. But Brown possesses similar intangibles to what made Robinson so dangerous with the ball in his hands. They're both incredibly versatile.
"I'm dynamic. You can play me outside, you can play me on the inside," Brown told KSR. "I'm good with the ball in my hands. I can take you deep, things like that."
In the same way that Kentucky likely doesn't land Dane Key without Liam Coen, the 'Cats likely don't land Anthony Brown without the on-field impact of Wan'Dale Robinson.