Warren Central, Bowling Green advance to 4th Region championship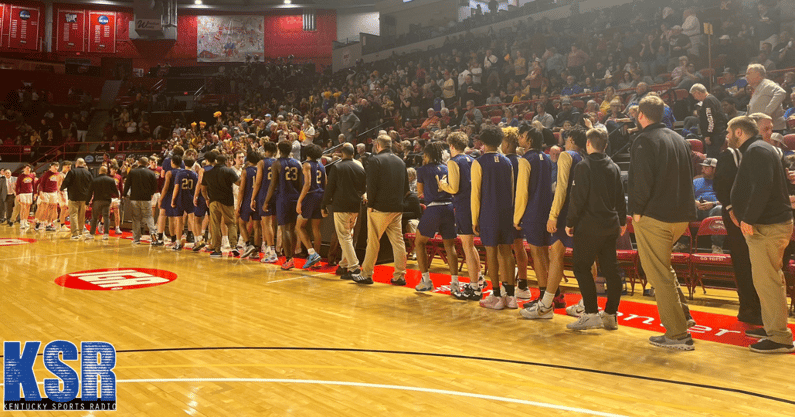 It's no surprise that the top two teams in Region 4 will be vying for not only the championship trophy, but also for their spot in the Sweet 16.
The No. 15 Bowling Green Purples survived a close 51-46 matchup against Barren County while No. 1 Warren Central completely dominated Warren East 81-45 in the 4th Region semifinals on Monday night. These two teams were predicted to meet again in the championship, and now they are, which will make it their fourth time competing against each other this season.
Survive and Advance
Bowling Green's matchup against Barren County was anything but a "gimme." The Purples had to be on their toes all night in order to punch their ticket to the championship.
6'8 junior Mason Ritter led the Purples with 18 points, 10 boards, six blocks and shot 66% from the floor. This has been a super dependable guy all season long, but especially in this stretch. Bowling Green's offense has really clicked with Ritter being fed as much as possible.
Junior MJ Wardlow has been the Purples leader and facilitator. He's the guy that everyone looks on to lead, which he does by setting an example. He tallied 14 points, seven rebounds and two assists.
Deuce Bailey is another young buck who contributes a lot to the Purples' success. He got in foul trouble early, ending the first half with three, creating the need for other guards to step up.
So, What Happened?
The first quarter was all Purples. Coming out scoring, Bowling Green got an early lead thanks to Ritter and Wardlow. Momentum was on their side and shots were falling, so Bowling Green was able to close the first quarter up 17-7.
Feeling the pressure, Barren County stepped on the gas during the second quarter. Everyone in the region is well aware of the talent within this Bowling Green program. Giving them a much bigger lead would harm the chance to come back after a slow first quarter.
Barren County, led by senior Eli Brooks, scored 12 in the second quarter, which put them in a better comeback position. The Trojans closed the first half trailing 24-19.
Momentum Changes
Disappointed after closing the first half leading by just five points, Bowling Green took off in the third quarter to get themselves back in a comfortable position. Players such as Luke Idlett and Trevy Barber were able to give some good minutes coming off the bench, contributing to the Purples' 18-10 third-quarter advantage.
Barren County wasn't just going to back down that easy, though. Their heart for the game and will shined through during their fourth-quarter efforts as they outscored the Purples 17-9. But their efforts still fell short as the Purples closed out a 51-46 victory.
"In these tournaments, you gotta find ways to win basketball games," Bowling Green head coach DG Sherrill said. "I thought we dug deep. We asked our lead dogs to get in there and make some big plays for us down the stretch, and as [Ritter and Wardlow] have done all year long they showed up when we needed them to."
What's New for Warren Central?
The answer is nothing. All season long, the Dragons have steamrolled over Region 4 competition, and Monday night was no different.
The typical guys did what they typically do and gave top-ranked Warren Central a huge lead from the jump. Kade Unseld led with 20 points, Chappelle Whitney had 16 and Darmarion Walkup tallied 15.
After closing the first half up 47-21, the Dragons stretched their lead even further, which allowed almost every player to come off the bench and get minutes, letting Coach Unseld's top six get off their legs.
"It means a lot, because we go against them in practice," said junior guard Kade Unseld. "When they get in there and make plays, it just makes us even happier for them."
Senior Omari Glover has been locked in all postseason. He has been a great contributor to the Dragons, not only because of the stats he puts up, but also because of his focus and drive to make it to back to Rupp Arena. He says he will be locked in until "we win a state championship."
The Moment of Truth
Will Warren Central punch their return ticket to the Sweet 16? Will Bowling Green get their first win over Warren Central this season and claim the 4th Region title? The moment of truth is Tuesday in E.A. Diddle Arena at 6 p.m. You won't want to miss this awesome night of hoops.