No. 1 Warren Central wins again, advances to 4th Region semifinal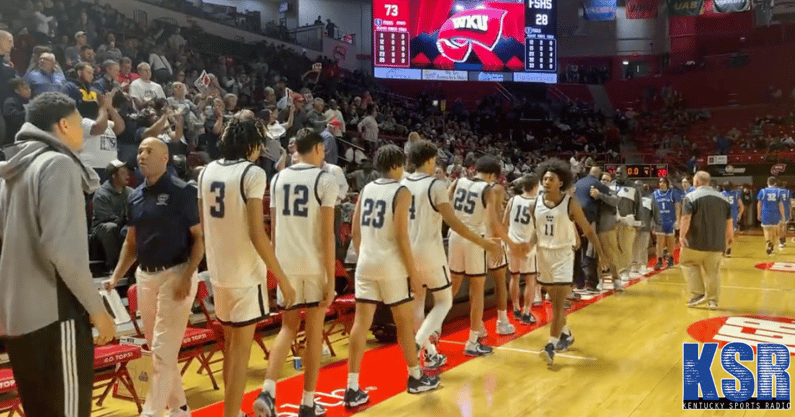 It seems that simply nothing can get the in way of Warren Central and a return trip to Rupp Arena.
In the first round of the 4th Region boys basketball tournament on Wednesday, the Dragons annihilated Franklin-Simpson. The 13th District runner-up got outscored by 45 points in the 73-28 one-and-done loss. The stakes are even higher now as every game in the state determines who advances and who will be eliminated.
If you are a Dragons fan, this was a super fun game to watch. After getting a comfortable lead over the Wildcats, the guys were just out there having fun. When you're controlling the tempo, you can start having fun with your style of play.
There were a couple of alley-oops and dunk attempts, most of which were contested with fouls. There were a lot of takeaways after this decisive win, but the clearest one of all: Warren Central (30-1) is not playing around.
Cool, Calm, Collected
"We already know how to play here, we played here last year," Senior guard Damarion Walkup said after the win. "We know how to do this."
Pure hard work and talent were on display for all to see on Wednesday night. Warren Central is just undeniably disciplined, athletic and above all, ready.
Walkup led the pack with 19 points, Chappelle Whitney had 16 and Izayiah Villafuerte followed with 12. These guys put on an incredible performance, along with the likes of Omari Glover and Kade Unseld. Stats don't lie, but when you get to see this team in person, there are tons of players that contribute to the Dragons' success that you just can't put on a stat sheet.
"Omari Glover, you know, he just does what he does," Warren Central head coach William Unseld said. "I tell people all the time, when you come to watch him, he's not going to make one great play. But when you look at the stat sheet he's gonna have seven rebounds, seven assists, two or three steals. He's that guy. He's the glue guy."
Pure Dominance from Warren Central
The Dragons outscored Franklin-Simpson 18-9 in the first quarter, and really put their foot on the gas in the second quarter, blitzing the Wildcats 19-2.
This game was just an inevitable win for the Dragons. When you have 6'3, 6'4, and 6'5 vets going up against smaller and younger opponents, the outcome is predictable.
After becoming a little too comfortable in the third quarter and giving up some points, the Dragons got right back to work, outscoring the Wildcats 21-3 in the fourth quarter alone. It can be difficult to stay disciplined in games that you know you're going to win. Despite this, Warren Central stayed locked until the very end.
"It's just having that dog mentality to just kill 'em at the end of the day," Villafuerte said.
The No. 1 team in the state has displayed that mentality all season long. The Dragons will return to play next week in the region semifinals, where they will take on Warren East in an effort to advance to the 4th Region championship on March 7.