Warriors release statement confirming Boogie's injury
[caption id="attachment_260384" align="alignnone" width="2250"]
(Kyle Terada-USA TODAY Sports)
[/caption] The Golden State Warriors released a statement Tuesday afternoon to confirm the worst:
DeMarcus Cousins suffered a torn left quadriceps muscle and he is out indefinitely.
"He will begin rehabilitation immediately," it says.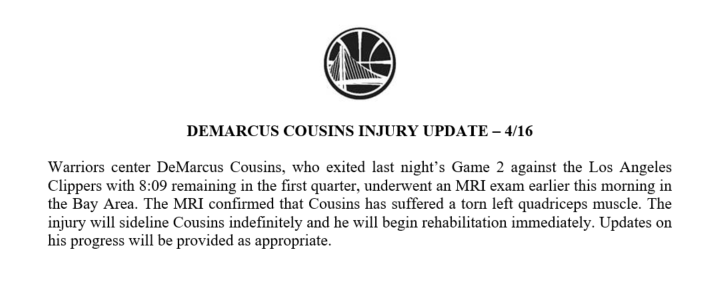 Cousins was only two games into his first ever NBA Playoffs in a year in which he was out to prove he deserved a big contract. He gambled on himself this season, only to go down with yet another injury. The Resurgence is delayed but not done.