Was This The "Best Week Ever" in Non-Collegiate Sports?
  Here at KSR,
we're all pretty used to griping about the off-season.
Without Kentucky games to keep us entertained, we pounce upon any speck of recruiting news, amuse ourselves with hypothetical "what if the 2010 and 2012 teams played each other" types of scenarios, and spend way too much time overanalyzing all the athletes' and recruits' Tweets. Last summer, we at least had the Olympics to occupy our minds and give us a team to root for; this summer, however, there was a big fat NADA on the sports horizon.  
This week, however, blessed us with some truly great achievements in sports-
and all in the traditionally BOOOO-RING season too. Could it be the "best week ever" in non-collegiate sports? Let's take a look back at the week that was and what made it so great:  
Sunday, June 16: Justin Rose wins the U.S. Open. 
Everyone's favorite underdog, Phil Mickelson, once again let the Open slip through his hands as Justin Rose won his first major and became the first Englishman to win the U.S. Open in 43 years. A strong back nine sealed the victory for Rose, but the most memorable moment of the tournament will end up being the moment after Rose finished the course (above), when he looked up to the sky in honor of his father who passed away when Rose was only 21. The win gives Rose, ranked in the top ten and a four-time winner on the PGA Tour, a great case for being seen as one of the best golfers in the world.  
Monday, June 17: Bruins beat Blackhawks 2-0 in Game 3 of Stanley Cup Finals. 
Although this game wasn't as action-packed as the first two games of the series (which both went to overtime), the Bruins' offense put on a clinic for the Hawks, outshooting the home team 35-28 and comfortably avoiding another overtime. Tukka Rask, Boston's goalie, earned the shutout.  
Tuesday, June 18: Miami Heat beat Spurs 103-100 (OT) in Game 6 of the NBA Finals. 
The Spurs looked like they had the championship in the bag, leading the Heat by thirteen points late in the third quarter and by five with 28 seconds left in regulation. However, Miami refused to back down, going on a 6-1 run capped off by a Ray Allen three-pointer at the buzzer to force overtime. Lebron James had a triple-double (32 points, 11 assists, 10 rebounds), most of which occurred in the second half when his team needed him to step up the most, further strengthening his position in the pantheon of basketball greats.  
US Men's Soccer beats Honduras 1-0 in World Cup Qualifier
. Forward Jozy Altidore scored the only goal the men would need- his fourth goal in four straight games, only the sixth player to do that in U.S. soccer history. More importantly, the win put USA right on top of their Hexagonal match pool for World Cup Qualifying. Yeah, I had to look that up myself- basically, there are six teams from the CONCACAF conference (the international soccer conference for North America, Caribbean, and Central America), and they play double round-robin style for three teams to make the World Cup. ANYWAY. This win by Team USA puts them in great shape to make the World Cup in Brazil next year. Anyone want to go with me?  
Wednesday, June 19: Blackhawks beat Bruins 6-5 (OT) in Game 4 of the Stanley Cup Finals. 
If you haven't been watching this series because you claim to be "not that into hockey," you're doing yourself a real disservice. The first two games went to overtime, as did the fourth game, and overtime hockey is one of the most adrenaline-raising events I've ever watched in my life (and yes, that includes Kentucky basketball games). The two teams traded goals back and forth in a thriller that featured sometimes sloppy, high-powered offense- something the Hawks have been conspicuously missing thus far in the series- and Hawks defenseman Brent Seabrook nabbed the game winner with just under ten minutes left in the first overtime. Tied at 2-2, the series returned to Chicago tonight starting at 8 pm EST- and the only prediction I'm willing to make about the outcome? Yup, overtime.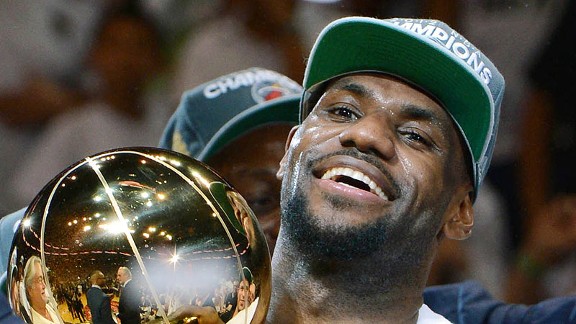 Thursday, June 20: Heat beat Spurs 95-88 to win the NBA Championship. 
There's no need for flowery prose here. Lebron James played like a Grown Ass Man and claimed what was his, leading the Heat to their second consecutive title by scoring 37 points with 12 rebounds. Dwyane Wade also had a double-double, with 23 points and 10 rebounds, and over on the Spurs side, Tim Duncan scored roughly half his age with 24 points and 12 rebounds. The championship itself is nearly lost in the chatter about Lebron "rising to the occasion" to take his team on his back en route to a trophy and a second straight NBA Finals MVP award (he's in good company too- the only other NBA players to achieve two straight titles and MVP awards are Bill Russell and Michael Jordan). Viewers got to see a historic sports achievement, hear David Stern pronounce the Heat "champeens," and take solace in the fact that even Drake gets rejected from locker rooms sometimes (Lebron was apparently in a "no new friends" mood).  
And on Friday, the sports gods rested.
Game 5 of the Stanley Cup is currently in progress, and as I write this ahead of time, I'm going to be watching the game at my favorite pizza place with my parents, hopefully playing my mom's suggested drinking game entitled "Take a Drink Every Time Someone Gets Slammed Into The Wall." But even without knowing the outcome of Saturday's Game 5, I think the evidence is pretty clear that
this has been the best overall calendar week of sports since college football and basketball have ended.
Any suggestions of what week might top this one? Leave them in the comments section. And go Hawks.  
@KristenGeilKSR