Washington, Collins are the only two Wildcats in SI's NBA Mock Draft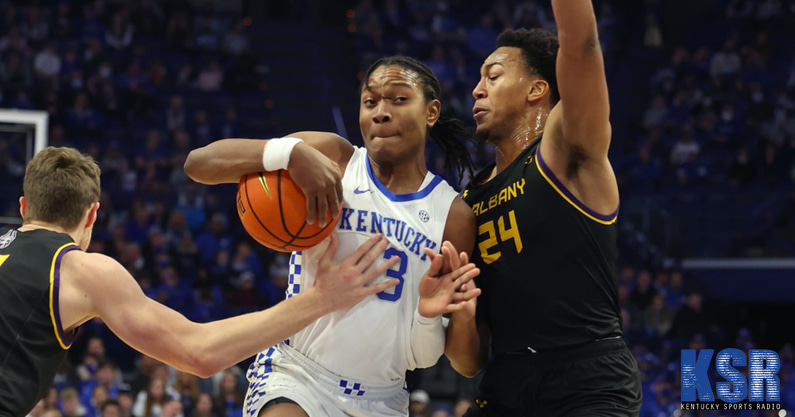 Kentucky Basketball has two NBA Draft prospects on this year's team, according to SI's NBA mock draft. Sports Illustrated updated its projection for the 2022 NBA Draft and John Calipari has one freshman in the first round and another in the second. No other Wildcat made the list.
Now for the two. Up first, TyTy Washington is Calipari's draft night date as the only first-round projection. SI's Jeremy Woo has him slotted just outside the lottery at No. 16 to Cleveland. Read Woo's analysis of Washington and the pick:
16. Cavaliers: Ty Ty Washington, G, Kentucky

Height: 6′ 3″ | Weight: 200 | Age: 19 | Freshman

After entering the season with lottery hype, Washington has been fairly effective as a playmaker for Kentucky but has some key areas for improvement that will determine where he actually lands in the draft. He has a good frame for a combo guard, a shifty handle that allows him to beat defenders into the paint, and upside as a secondary creator who can space the floor without being a major defensive liability. He's a talented midrange scorer, but doesn't get to the rim quite enough and has had some ball security issues going into the paint. His jumper is workable but sort of a push shot, and a bit inconsistent from three-point range. He hasn't been all that impactful defensively, but communicates well and isn't a lost cause.

Basically, Washington has looked like a freshman so far. It may not take too much for a good team to clean up the issues and get more out of him. If he adjusts his diet of shots to cut out the tough attempts and be a bit more efficient, while proving he can make teammates better, it will bolster his case.

Sports Illustrated
Joining Washington on SI's NBA mock draft, Daimion Collins is off to Minnesota with the No. 43 pick, a second-round selection.
Paolo Banchero is the No. 1 overall pick, followed by Auburn's Jabari Smith behind him and Chet Holmgren running third.
See all of the projected picks in SI's NBA mock draft.