WATCH: John Calipari's Postgame Press Conference following Kentucky-Arkansas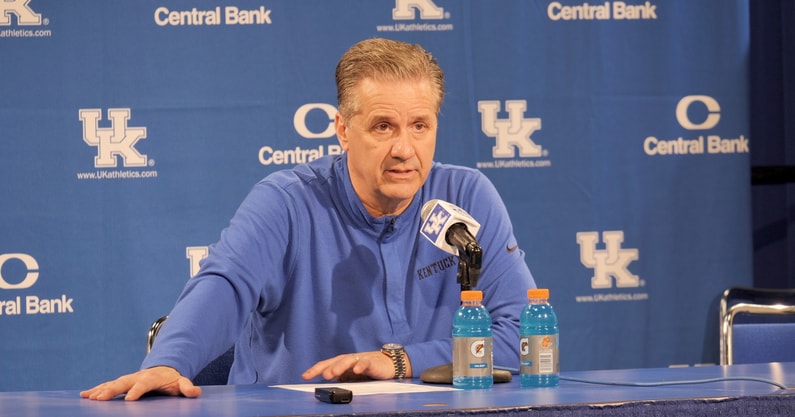 We got five minutes with John Calipari in his postgame press conference and then one of his usual three postgame radio segments after the Kentucky Wildcats suffered a disappointing loss to Arkansas in Rupp Arena in the final Tuesday night game of the 2022-23 regular season. With lots to explain about all that went wrong in a game that saw Kentucky outplayed and out-toughed in its own gym, Calipari pointed to Sahvir Wheeler's absence as a reason behind the turnovers and trying to get Oscar Tshiebwe going as the reason Daimion Collins didn't get a longer look after a great first half.
To hear those answers and others, hit play below for Calipari's comments, if you want.
It's a bad night so we won't blame you if you sit this one out. Still, Go Cats.
John Calipari's Kentucky-Arkansas Postgame Press Conference
Subscribe to the KSR YouTube Channel for press conferences, interviews, original shows, fan features, and exclusive content.
Transcript
JOHN CALIPARI: Give Arkansas credit. They were physical, they drove the ball. Our rim protection was awful. I can't get guys to body up and do this stuff, and they did a great job of bodying up us. The blocks were not like out of — they just jumped with two hands, they bodied up, and if you threw it into their arms, it was a block. We've just got to do it. That's why I went with Daimion (Collins) a little bit. I thought he was good again today. 
You could see Sahvir (Wheeler). We had 15 turns. We've been averaging 10, 11 turns, but playing Cason (Wallace) as much as we did, we struggled with it. 
But they shot 72 percent in the second half. Come on. You're not going to win a game if they're shooting 72 percent. We tried some zone. We did some different things. We switched. They got downhill, and just no one in there wanted to body up, which is what they did to us. But we'll learn. 
They were way better than us today. We've just got to figure it out, and we've got a day off and we'll come back and go. 
Yes? 
Q. Oscar (Tshiebwe), seven points, seven rebounds, just six shots. What did they do to take away his opportunities in there, and what did you see from him? 
JOHN CALIPARI: Well, there was one point I said we're throwing it to him every time, and we were trying to get it into him. I thought he worked at times, and other times they were getting around the post. They trapped him or they just bodied him. I was doing some stuff to let him get some jump shots, to just get him going, and he's got to be better for us, and he will be. He will be. 
Q. With Oscar struggling in the second half, the way Daimion played in the first half, why not more Daimion down the stretch? 
JOHN CALIPARI: You know, you as a coach, you go with what got you there, and I wanted to — it was a bigger picture for Oscar than just this game. It was like, let's get him going just to get him right. 
Q. John, their shooting in the second half, do you think it was more of what they did or what you didn't do? 
JOHN CALIPARI: It was both. I mean, they made shots, now. We did all the right things, and all of a sudden they make a shot at the shot clock and it goes down, or a three. They played well, and we weren't defensively — come on, we're a pretty good defensive team. We weren't tonight. We just weren't. 
Q. As competitive as the first half was, how surprised were you the way you opened the first minute? 
JOHN CALIPARI: I was just so disappointed. Turnover, turnover, dunk, layup. I'm looking around, I've got to call a timeout a minute into the half, and literally like, come on, how did you lose that, how did you not get that ball. 
But you know, that's why I said, okay, here we are, let's fight our way back. We did some good things and got it close, seven and six and five, but the game was a physical game. If you weren't ready for that, you were going to get knocked off point. 
Q. Coach, you had a career high from Chris Livingston tonight. Most of those came in the first half. What did they do to get him off track of what he was doing there in the first half in the second half? 
JOHN CALIPARI: They crowded the court a little bit on him. He missed some shots. He had shots in the second half, and he missed some of them, but he did good. The kid is getting better and better and more confident. He mixes it up, and that's all I can ask. 
He's got the reason this happened tonight. He was one of the bright spots. 
Q. How do you play around CJ (Fredrick) and kind of get him going and things like that? 
JOHN CALIPARI: He had rib problems today. His ribs were bothering him, and the only thing I keep saying is as the ball is coming to you, you've got to have your feet moving so you can catch and shoot it. If you're flatfooted, you're having to ball fake every time. So, we need him to get some of those shots up. But his ribs were — he's another one that probably should not have played, and you could see that he was hurting the whole time, but he was giving everything he had.