WATCH: Keaten Wade prepares to team up with Barion Brown in All-American Bowl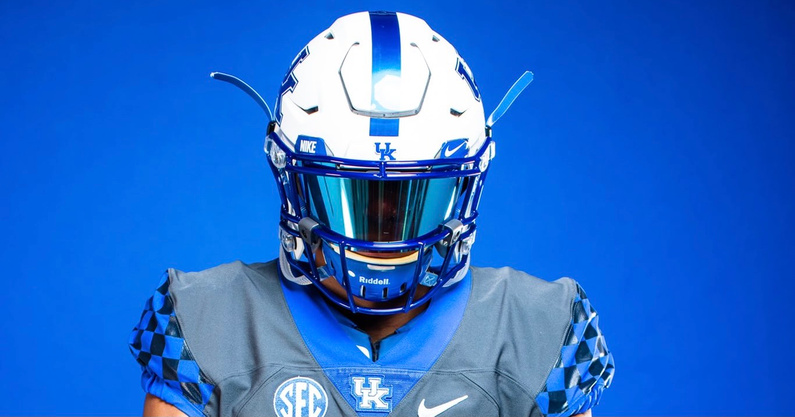 Paint the All-American Bowl blue. This year's game in San Antonio will feature a distinct Kentucky flavor. Two UK commits will be playing the prep football showcase, Keaten Wade and Barion Brown.
Earlier this week Wade was the star of the NBC Sports' YouTube show, 'Road to the Dome.' The 20-minute virtual episodes highlight players across the country. They were in Tennessee when Wade put on his All-American Bowl jersey for the first time.
"I'd like to think Adidas and the All-American Bowl for giving me this once in a lifetime opportunity and I can't wait to get down to San Antonio to showcase my skills," Wade said.
The featured interview from the program, Wade discussed his relationship with another UK commit (and not his twin brother, Destin). The outside linebacker is excited to spend more time with his future teammate, even though Brown will be playing on the other side of the line of scrimmage.
"It means more connection with him, getting on the right track until we go up to Kentucky next year. I'm just glad I get to share this experience with him too," said Wade.
"Barion, he's my friend. He's an exceptional athlete. But I feel like we don't get enough praise for the athletes that are in Tennessee. We just know that we can compete with the best there is."
Brown, Keaten and Destin Wade are all finalists for the Tennessee Titans Mr. Football Award. The winner will be announced Tuesday.
Before they potentially collect individual hardware, the Wades are playing for the biggest trophy in the state of Tennessee. Tonight they will put a 25-game win streak on the line when Summit High takes on undefeated Oakland in the Tennessee 6A state championship.
*** There may actually be three future Cats in the All-American Bowl. Kiyaunta Goodwin committed to the event in November of 2020, but I am unsure if he will still play in the game before beginning class at Kentucky.