WATCH: Coen, Levis, Fortner Preview Mississippi State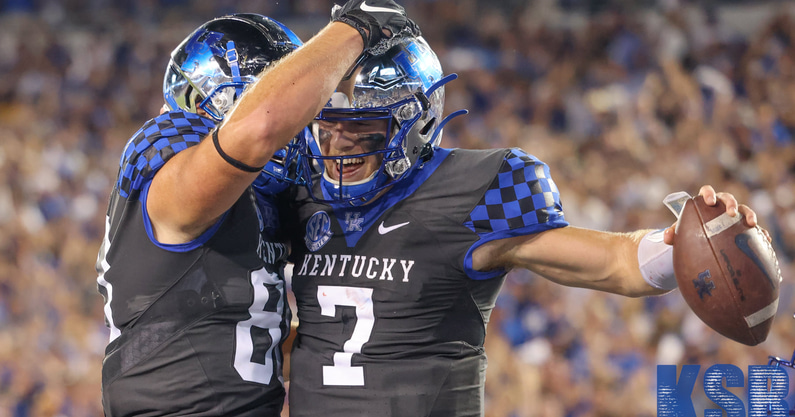 The Kentucky offense is preparing to enter a hostile environment at Mississippi State.
The Wildcats had a bye week to reflect on their performance at Georgia. Even though their two touchdowns doubled what the Georgia defense previously allowed, UK's previously dominant rushing attack was non-existent. That must change Saturday at Miss. State, but it won't be a picnic either. The Bulldogs allow just 92.6 yards per game on the ground.
"They can create some chaos in the backfield," said offensive coordinator Liam Coen. "It'll be one of those games of attrition where we have to stay patient with the run game. Might hit a couple things for TFLs based on their structure, but if we stay the course and really wide some of that stuff up, we have a chance in the run game."
Progress for Levis
If the run game isn't working well, Will Levis has shown signs of improvement over the last two games. To take the next step, Coen thinks Levis simply needs to see more looks for opposing defenses in live situations.
"There's still a point for him that these are a lot of new situations that he's been put in and I think he's doing an unbelievable job right now," said Coen. "It's continuing to manage the game, but I think like you said, you saw him take a little bit of a step in terms of being a quarterback last week and that's where we're trying to get him to: being a true quarterback. Yes, he's athletic. Yes, he can run. But for us to have success we need to continue to have him play like he did last week."
Levis believes the key to his success is being more comfortable while facing pressure from opponents. "And just being smart with the football," he said. Levis is "itching to get back out there" against Miss. State after sitting on the sideline for a week.
Fortner's Humility
Luke Fortner has received more and more praise this season. Ahead of the Miss. State game the super senior was named to the Rimington Award watch list. Never one to pat himself on the back, when asked how the position change to center helped his draft stock, he credited his teammates.
"I think it's helped a lot," he said. "One of the other things that helped is getting DK back, getting Dare, Eli, Kenny, they've played really well. It's hard to speak about how much that helps me look. When you play next to guys who are really good, you look really good. I give credit to them. They've made us as an offensive line better and it just helps me."