WATCH: Mark Stoops after Kentucky's loss at South Carolina
Mark Stoops was crushed after Kentucky Football's 17-14 loss at South Carolina. His team had chance after chance to change the game's outcome, but the Wildcats couldn't capitalize in the big moments.
"I've been doing this a long time in this league and at Kentucky, and that's about–it's a very difficult loss for us right there," he said in his opening remarks. "I feel very disappointed for our players that we didn't do a better job of putting them in a position to be successful."
Stoops pointed to critical penalties and turnovers, and one second-half drive, as the key factors behind the bad loss, saying, "It's not a very good recipe to beat anybody on the road."
To hear those comments and more, watch the entire 10-minute conversation from Williams-Brice Stadium.
Mark Stoops at South Carolina
Got thoughts? Continue the conversation on KSBoard, the KSR Message Board. New members can try 1 month for $1.
---
More Kentucky News and Views on the KSR YouTube Channel
Kentucky Sports Radio has expanded its coverage of the Wildcats in the most ridiculous manner possible on our YouTube Channel. Here you will be able to find interviews with coaches and players, as well as commentary from the KSR crew. From Rapid Reactions following big events to our lengthy lineup of live shows, subscribe to the KSR YouTube Channel to stay up to date on everything happening around the Big Blue Nation.
Monday: Mark Stoops Press Conference & Rapid Reaction
Monday, 8 PM: KSR Football Podcast
Tuesday evening: Interviews with Liam Coen and the offense
Tuesday, 8 PM: Sources Say
Wednesday, 1 PM: Stoops' comments from the SEC Teleconference
Wednesday evening: Interviews with Brad White and the defense
Wednesday, 8 PM: 11 Personnel
Thursday Afternoon: Pigskin Preview
Thursday evening: Final comments from Stoops after practice
Thursday, 8 PM: Point Kentucky, KSR's new Volleyball Show
Friday night: Kroger KSR Game of the Week recap, highlights
Saturday: Postgame Press Conferences, Interviews, Rapid Reaction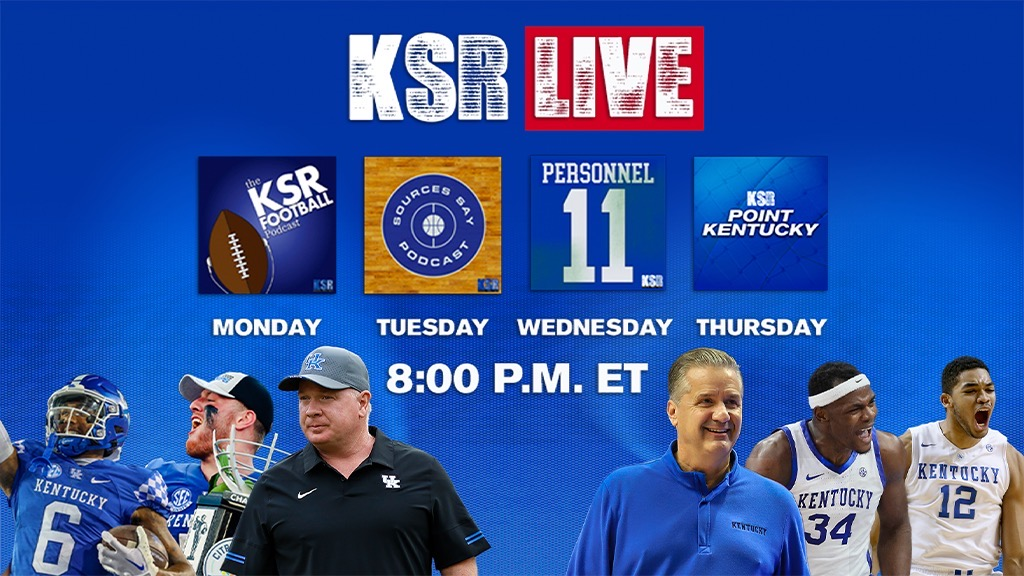 Discuss This Article
Comments have moved.
Join the conversation and talk about this article and all things Kentucky Sports in the new KSR Message Board.
KSBoard