WATCH: Mark Stoops recaps Kentucky's spring scrimmage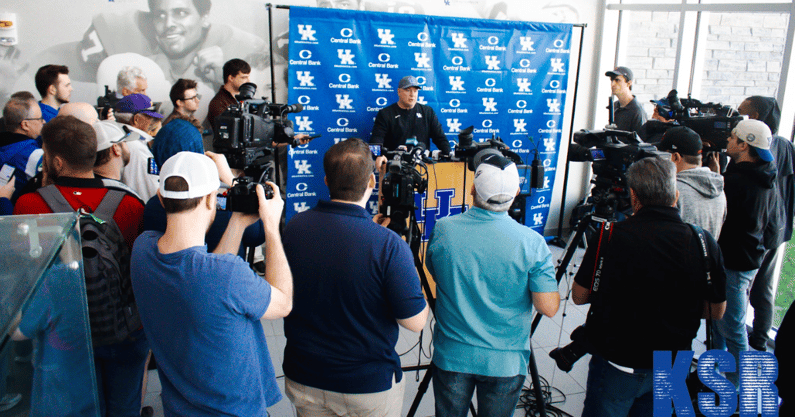 Kentucky head coach Mark Stoops was not a happy man last weekend. That tune changed following Kentucky's scrimmage in front of fans on Saturday. However, the weather certainly impacted things.
With winds registering at 25 mph to start practice with gusts coming in at a faster rate of speed, throwing the ball and kicking the ball was somewhat difficult on Saturday. That limited what could be accomplished in spring practice No. 9.
"Pretty tough day to see exactly what we have with that wind blowing the way it was. That makes it difficult to get the ball down the field," Stoops told reporters. "Get some completions. I thought we started fast. I thought Devin [Leary] looked good on the RPOs, quick game."
The weather made things somewhat difficult, but the defense made numerous plays throughout the scrimmage and fans brought some juice to the practice field. Big cheers could be heard throughout the afternoon and that made an impact. Stoops and his players were glad to hear it.
"It was great to see a big crowd out there," Stoops said.
Kentucky's head coach discusses all of that and more in his Q&A with the media after practice on Saturday. Smash that play button.
Subscribe to the KSR YouTube Channel for press conferences, interviews, original shows, fan features, and exclusive content.