WATCH: Mike Stoops Works with New Kentucky Linebackers Spring Practice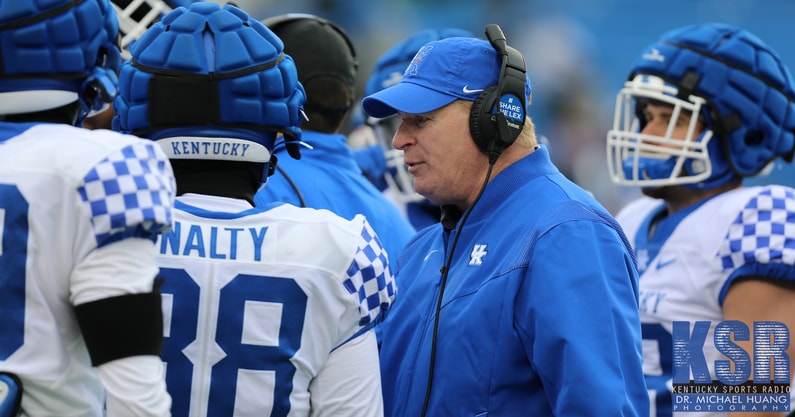 The BBN is well acquainted with Mark Stoops. Kentucky spring practice is a great time to get more acquainted with his older brother, inside linebackers coach Mike Stoops.
Similar to his brothers, Mike Stoops has his career coaching defense at various levels of football. He served as Bob Stoops' defensive coordinator for 12 years, with a 7-year tenure as Arizona's head coach in-between stops in Norman. Last year he joined Mark's Kentucky staff to coach the Cats' inside linebackers.
The wealth of knowledge he brings to the table is a valuable resource for Brad White. Similar to Greg Manusky, a former NFL defensive coordinator that worked in a quality control role for two seasons at Kentucky, Mike Stoops is a big picture thinker that White uses to bounce ideas off of while game-planning against opponents.
From a day-to-day perspective, he's working alongside former UK linebacker Courtney Love to improve the Wildcats' inside linebackers. This year Mike Stoops is replacing two starters with players that have logged a ton of snaps in a reserve role. Jacquez Jones and DeAndre Square are moving on, making room for D'Eryk Jackson and Trevin Wallace.
"It feels good. I'm learning to just be consistent everyday. That's the key, just being consistent and being a leader, being dominant all the time," Jackson told KSR last week.
"It's very different, just not having them in the meeting rooms. I'm so used to them being in there, sitting in the front two tables, I'm sitting beside them. When I first walked in there and the two seats were open. I said, 'Dang.' I told Trevin (Wallace), 'We're in those two seats now. We just gotta keep building on what they had going.'"
Even though they were not starters, Jackson and Wallace logged a ton of snaps in 2022 while Jones and Square were sidelined with injuries. Jackson actually led Kentucky in tackles with 67, while Wallace logged 54 tackles, 5.5 for loss and 2.5 sacks. A former blue chip prospect, Wallace learned how to play the position over the last two years from his veteran predecessors.
"I'm more around the ball now," Wallace said. "Me coming in, I never played linebacker coming in (to Kentucky) in my life. I feel like last year, I made a lot more plays playing as a linebacker than just playing ball."
Moving forward, consistency is key. No longer able to lean on the older players as a security blanket, Mike Stoops is using this spring practice to lay a solid foundation for Kentucky's new starting linebackers.