WATCH: Reed Sheppard explores Basketball Hall of Fame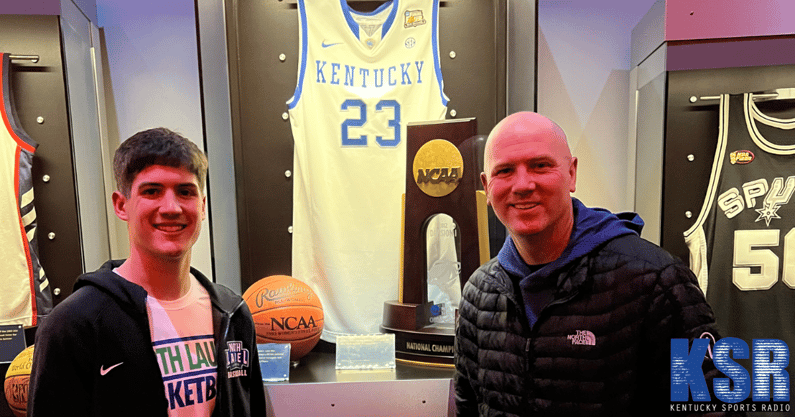 Springfield, Massachusetts is a long way from London, Kentucky. So when you make the trip like future Wildcat Reed Sheppard did this past weekend, you've got to make the most of your time on the road.
Participating in the prestigious Spalding Hoophall Classic, an annual event dedicated to bringing the best high school programs in the country to the birthplace of basketball, Sheppard had to make a quick pit stop before heading home. He, along with his parents Jeff and Stacey Sheppard — Kentucky basketball legends in their own right — toured the Naismith Basketball Hall of Fame.
There, the future and former Wildcats soaked in an endless supply of basketball history at every level. College and pro, men and women, American and international, memorabilia was represented to put a spotlight on the game they love most.
And yes, plenty of Kentucky basketball history.
KSR was there to see the Sheppards, along with the North Laurel basketball team, tour the museum a few short hours before their flight home.
Take a look at some of the footage:
It was part of a weekend in Springfield that saw Sheppard and his North Laurel squad take on a nationally-ranked Mount St. Joseph program featuring high-major Division I signees.
Their first game back healthy in over a month, North Laurel took home a hard-fought 54-48 loss that came down to the wire. Sheppard earned game MVP honors for the Jaguars, finishing with 13 points, 13 rebounds, nine assists, four blocks and three steals in 32 minutes.
"It's awesome, an unbelievable experience," Sheppard told KSR. "Being able to do this with some of my closest friends and high school teammates means a lot. It's something you don't get to do every day. Coach (Nate) Valentine has done a great job getting us the national exposure playing against the top players in the country."
Sheppard and his North Laurel squad represented the commonwealth well in Springfield.