Watch the Tape: Kentucky Wildcats Blue-White Game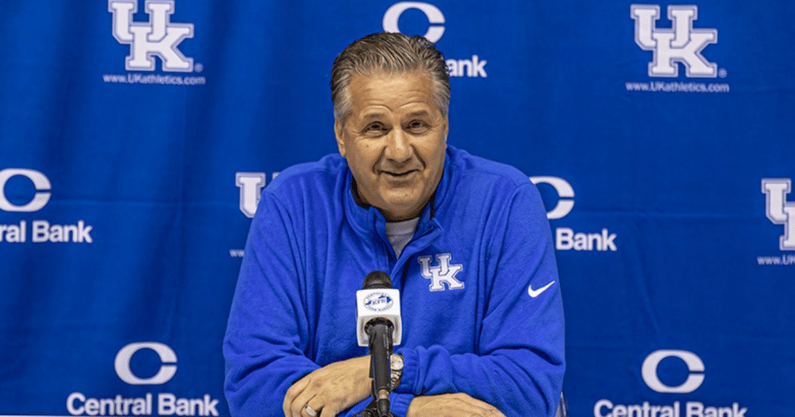 The Kentucky Wildcats are 6-1 on the football field and commanding the attention, but basketball season is here. Big Blue Nation got their first "real" look at the basketball team on Friday night with the annual Blue-White game. Pro Day and Big Blue Madness didn't give much to go off of. Now, there is some actual film to watch as players competed against each other for nearly 40 minutes. Be sure to check out what KSR has already dropped from the Blue-White game, a roundtable of Blue-White game takeaways and some additional postgame notes.
As we will after every game this season, whether it be an intrasquad scrimmage, exhibition game, or anything else, it is time to go back and watch the tape.
There was plenty to learn from the live-action at Rupp Arena on Friday evening. Some offensive scheme is starting to take shape, favorite lineups are emerging, and positional competitions are working themselves out. There are still two exhibition games to play as well, but a matchup with #9 Duke is only 16 days away. The season is coming, folks.
Here are a few plays that really stood out on Friday evening from the Blue-White game. Kentucky's offense is going to look totally different this season and that is a good thing after going 9-16. Let's break it all down.
High Middle Ballscreen
Last season, head coach John Calipari simply didn't have the personnel to run much high ballscreen action. There wasn't a "bucket-getter" on the team and nobody was comfortable playing off of a ballscreen. Now, the Wildcats are loaded with playmakers.
Early on in the Blue-White game, Kentucky went "head tap" which is their call for a high middle ballscreen. Oscar Tshiebwe sets the screen for TyTy Washington who is able to turn the corner and get a piece of the paint just beyond the right elbow. Getting paint touches was very difficult last season. It'll be easier with this group.
With Kellan Grady on his hip, Washington put Lance Ware in a tough situation as the rim protector. Does Ware stay home at the rim or step up to stop the ball? Ultimately, he steps up to contest what he believed to be a floater. However, it was actually a lob to Tshiebwe who was able to finish despite Keion Brooks cracking down on him from the weak side corner.
This five from the Blue Team is far from the best shooting lineup Kentucky can put out there. However, the spacing is perfect which was a glaring weakness last season. Both Bryce Hopkins and Daimion Collins do a good job of staying pretty deep in their respective corners. Sahvir Wheeler is spaced high and wide. Everyone is pretty close to where Coach Calipari would place them. That makes it hard to stop this two-man action off of the ballscreen. Expect to see plenty of this from the 'Cats this season.
Three-Pointer in Transition
Last season, Kentucky was 181st in tempo (according to KenPom), 172nd in three-point percentage (33.6%), and near the bottom in attempts. Coach Calipari teams rarely, if ever, play fast or shoot a bunch of threes. De'Aaron Fox is the only point guard to truly get the 'Cats to play uptempo. Sahvir Wheeler could have that type of impact on this team. Also, this will be the most shooters that Coach Cal has ever had at his disposal. Expect those tempo and three-point shooting numbers to increase this season.
This clip here is a perfect example of what Sahvir Wheeler unlocks for the offense at the point guard position. Wheeler receives the ball on the left sideline right around half court. He immediately has his eyes downcourt and spots Kellan Grady in the opposite corner. You can also see the high level of coaching that Grady has received coming from Davidson as he got all the way down to the deep corner before starting to work his way up out of it. Kentucky was terrible at that small detail last season.
As Wheeler attacks in transition, he "slices" the floor to get into the paint and improve his passing angle. This is when Grady starts to work up out of the corner to receive the pass and bang home the three-pointer. Nearly perfect execution on this play besides freshman Daimion Collins nearly getting in the way by not staying in the trail spot behind the play.
High Basketball IQ Defense
Last season I was as critical as ever about the lack of basketball IQ and scouting report execution of essentially every player on the Kentucky roster. During Friday night's Blue-White game, there were a few subtle plays that showed that shouldn't be the case this season.
Most fans don't really worry too much about ballscreen coverage and closeouts, but we cater to that niche here in these Watch the Tape breakdowns. For October 22nd, this was about as perfect as any coach could ask for.
The possession begins with Lance Ware coming up to set a high middle ball screen for Davion Mintz. Kentucky is going to play "shadow" or "drop" coverage this season with Tshiebwe just to keep the big man closer to the basket. When playing this type of ballscreen defense the on-ball defender will chase over the top of the screen as TyTy Washington does here.
The whole point of the shadow/drop coverage is to keep the ball handler between you and the basket just long enough for the on-ball defender to recover. Tshiebwe does a great job of containing Mintz. Veterans Keion Brooks and Kellan Grady both do a textbook job of cracking down on the roll man from the perimeter. They both get all the way into the paint off of their men to take away Ware on the roll.
However, the best part of the clip is seeing Sahvir Wheeler tighten up to Dontaie Allen as the ball is driven towards him. That is always a point I drive home during scouting reports. Allen just wants to catch-and-shoot, so take that away as the ball is driven towards you.
Ballscreen defense, as with all defense, is a team game. It takes five players being locked in. This clip is a coach's dream for team ballscreen coverage and it resulted in a tough 12-foot fadeaway with a hard contest. Perfection.