Watch the Tape: Alabama Crimson Tide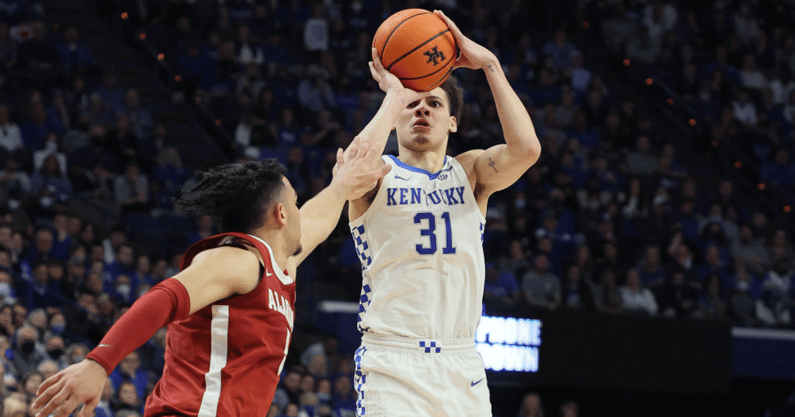 When you are missing both members of your starting backcourt it isn't supposed to be easy. It was decidedly not easy for the first 16 minutes or so for the Kentucky Wildcats on Saturday afternoon. The Alabama Crimson Tide hit nine three-pointers in the first half and led by as many as 13 points around the five minute mark. However, Kentucky just kept scoring to keep themselves in it. They were 12-15 from the free throw line and connected on three three-pointers of their own. Eventually, the 'Cats strung together some stops and finished the half on a 19-5 run to take a one point advantage.
Kentucky was even better in the second half shooting over 56% from the floor including 6-9 from beyond the arc. The Crimson Tide showed signs of life down the stretch, but never could really get over the hump to put game pressure on the Wildcats. After leading by as many as 16 points, the 'Cats would go on to win 90-81 despite the absence of Sahvir Wheeler and TyTy Washington. All things considered, this was arguably the most impressive victory of Kentucky's season.
This was a fun film to go back and watch. The Crimson Tide started off incredibly hot from beyond the arc due to poor urgency in taking them away from three. We will look at some of those early defensive miscues before focusing on the positives. During Kentucky's comeback, like we talked about in the scouting report, the 'Cats just kept scoring and made Alabama's bad shooters take more shots. Let's step inside the film room and breakdown Saturday afternoon's win over the Alabama Crimson Tide.
Lack of Urgency Guarding the Three-Point Line
It should have came at no surprise that the Alabama Crimson Tide were going to let it fly from beyond the arc. They entered Saturday's game averaging 30 three-point attempts per game and ended up taking 40 at Rupp Arena. We talked a lot about how 'Bama had a lot of shooters but only a few makers. That certainly proved to be true. However, Kentucky allowed Jaden Shackelford and Keon Ellis to get hot from three-point range early in the game. There just has to be a bigger focus and more urgency on taking elite shooters away.
This first clip is really more the fault of Jacob Toppin than it is Keion Brooks. Being willing to switch is great, but you have to come together and actually pass one guy off for another. When Toppin point-switches out to Brooks it leaves him having to guard two guys on the perimeter. Yes, it would be nice if Brooks would recognize that he should just go take #14 Ellis and leave #4 Gary unguarded, but that can be hard to process in a split second. He ends up getting screened in and allows a three to #14 Ellis. Just needed to be more worried about the shooter.
Switching is by far the best way to guard the Alabama Crimson Tide. You have to keep a guy on a guy and switching will help stay between them and the basket. It can be useful tool for guarding the three-point line as well. However, you need to actually come together to switch. The point-switch will get you beat. Switching the #14 Ellis and #5 Shackelford handoff is a great idea. When Kellen Grady just points out for Keion Brooks to take #5 Shackelford it leaves too much space. You have to be tighter to him at all times and cannot give up this much space.
This clip is a perfect example of why staying tight to your man at all times, when they are an elite shooter, is so important. When guarding #5 Shackelford you do not have any responsibilities other than taking him away from three. Dontaie Allen didn't need to be stunting and faking at #13 Quinerly. Being just one pass away, he should have been all the way out there guarding Shackelford. Then, he completely turns his head as Quinerly made his drive. That led to Grady needing to take Shackelford at the top of the key and opened up #14 Ellis on the opposite wing. Allen was just too far out of position at that point to recover and closeout to Ellis. Be MORE worried about taking your man away from three.
Just Keep Scoring
It was the mantra coming into the game against the Alabama Crimson Tide and it certainly turned out to be the key to the 'Cats staying in it in the first half. In order to withstand the hot shooting from 'Bama it was important for Kentucky to keep putting points on the board as well. That put the Wildcats in a position to be one "kill shot" away which is exactly how it played out over the final few minutes of the half. This team is really, really good offensively and the "just keep scoring" mentality saved the day against the Crimson Tide.
Getting some called post-ups for Keion Brooks could be a really effective offense for the Wildcats, especially when Sahvir Wheeler and TyTy Washington aren't available. He plays with great pace when he has his back to the basket and does a good job of playing off of two feet. Brooks came up with some really big baskets early in the game to help get points on the board for Kentucky.
Don't look now, but Jacob Toppin is becoming a very good basketball player right before our eyes. He is so much more comfortable with the ball and is keeping it simple offensively. This dribble weave type action is really effective for him. Toppin is able to cover a ton of ground with just one dribble getting from beyond the arc on the left wing to the SEC logo for a runner. When the 'Cats needed a basket in the first half, it often was Toppin who came through.
Kellan Grady certainly showed off the ability to create his own shot more on Saturday night than he has any other time this season. His unconscious three-point shooting is what will be remembered, but a couple of first half plays off the dribble really kept Kentucky in the game. This clip really shows his playmaking ability off of the dribble that probably needs to be unlocked a little bit more down the stretch of the season.
Shooters Versus Makers
Coach Nate Oats has a very simply game plan for the Alabama Crimson Tide. Shoot a bunch of three-pointers, get to the rim, and virtually eliminate everything else. A spreadsheet may tell you that is the best strategy due to effective field goal percentage, expected points, and other analytical buzz words. However, the game of basketball is played on 94 feet of hardwood and not inside of Excel software. Alabama has a lot of low-percentage three-point shooters that are not only allowed, but encouraged, to shoot as many outside shots as they want. Kentucky did a great job as the first half went on, and into the second half, of getting those "other" guys to take more and more three-pointers.
A lot of scouting is about making decisions of what puts you in the best chance to succeed. It isn't that JD Davison is a terrible shooter. However, when you look at the percentages, he is extremely effective from two and below-average from three. Even if he makes one or two, you have a better chance defensively with him shooting jump shots than laying it in. When you get him to shoot a three off the dribble with 19 seconds on the shot clock it feels like a pretty big win. Davison is now below 30% on the season with 67 attempts for the Crimson Tide.
At Christmas time you can maybe make an argument about "small sample size" and think that you will shoot your way out of a slump. However, by February, you are what your percentages say you are. Alabama's Jahvon Quinerly is now shooting 24.3% on 148 three-point attempts. That is truly mind-blowing. After an 0-4 performance on Saturday he is now 0-7 combined against the 'Cats this season. He can shoot as many 28-footers with 16 seconds on the shot clock as he wants.
James Rojas is a career 23.4% three-point shooter. Despite is very poor percentage he is still very willing to let them fly. Also, Coach Nate Oats seems content with letting the big man fire them off. That works to Kentucky's advantage. Davion Mintz helps aggressively on the drive by #13 Quinerly because he is guarding a non-shooter. Being open is enough to get #33 Rojas to shoot the 3 with 20 seconds left on the shot clock. Coach Calipari will take this shot by Alabama every single time down the floor.