Watch the Tape: Albany Great Danes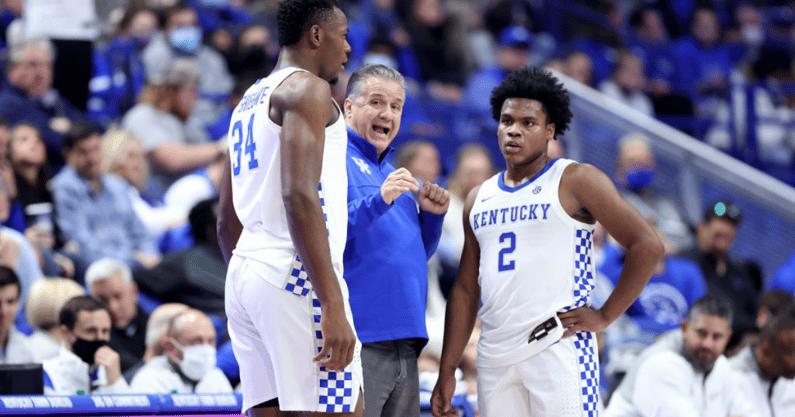 These early season non-conference games against low-major programs may not be the most exciting to fans. However, they do serve a very important purpose for the Kentucky Wildcats. Anytime you have so many new pieces, whether it be from the transfer portal or traditional high school recruiting, it takes time to become a cohesive unit. You can learn a lot from playing Albany instead of having to battle a high-major opponent every night. The Wildcats get plenty of that in conference play. One of the best parts of any game though is the ability to watch the tape and use it as a learning tool.
Kentucky was not perfect on Monday night. 17 turnovers, including nine in the first half, is too many against any opponent. The absence of Davion Mintz left a hole in the backcourt. Also, it was the second straight game that Oscar Tshiebwe battled foul trouble. However, the 'Cats were able to pull away in the second half for a convincing 86-61 victory.
In today's edition of watch the tape, we are going to focus on the offense and what makes Kentucky so good on that end of the floor. We also will address Kellan Grady's lack of three-point attempts and touch on everything that Sahvir Wheeler brings to the table.
Offensive Execution
Through five games, per KenPom, the Kentucky Wildcats are 12th in the country in adjusted offensive efficiency. That is the highest they've been since the 2017 team. We all know that the last four opponents aren't exactly a perfect measuring stick for how good of a team the 'Cats are this season. However, when you watch the tape, there are a lot of things that stand out to show that this team can be borderline elite offensively all season long.
One of the best aspects of Kentucky's offensive attack right now is that they are putting opposing defenses in situations where they have to make tough decisions. They are constantly putting pressure on their opponent. In this clip, Sahvir Wheeler gets by his defender and puts the defense in a position where they have to make a decision. Do they stay home and take away TyTy Washington and Dontaie Allen beyond the arc? If they do that then Wheeler gets a layup. Or, do you come stop the ball and give up an open catch-and-shoot three. The Albany defender chose to stop the ball and it led to an easy inside-out three-pointer by Washington.
Later on we will take a look at several three-point attempts that Kellan Grady turned down. However, in this clip, he displays his elite shooting ability and picture perfect footwork. This is a high IQ, veteran play by Grady to get himself in a position to receive the pass from Sahvir Wheeler. He has to get to his vision in order to allow Wheeler to deliver the pass. Starting in the deep right corner, Grady circles along the three-point arc all the to the left wing before getting the ball. This is a beautiful basketball play.
We all know that Sahvir Wheeler has the keys to this offense and is responsible for creating a lot for himself and his teammates. However, to reach their ceiling, Kentucky must find secondary playmakers. Over the last two games, TyTy Washington has stepped up. The freshman is getting better every game right before our eyes. Here he shakes his defender and gets into the paint drawing the help defense. Then, he kicks it out to a wide open Kellan Grady for three. This is beautiful basketball.
Grady Turning Down Threes
A common gripe among Kentucky fans online has centered around getting Kellan Grady more three-point attempts. It isn't as easy as some people think to just shoot more. He is a good enough shooter that opponents are not leaving him at all and trying to simply take him away. This has directly benefited the Wildcats offense as teams cannot help on the pick-and-roll or drives to the basket because Grady is out there. However, it still is true that the more threes that he can take the better it is for Kentucky. On Monday night, in the first half alone, he turned down multiple looks that need to be shot attempts going forward. Let's watch the tape and see where he could have gotten more attempts.
Great shooters have to get a shot up every time their defender goes under a screen. It should immediately trigger "SHOOT IT" in your brain. The Albany defender actually does a good job of quickly realizing his mistake and closing out with extreme urgency, but Grady can still squeeze this one off. He is too good of a shooter to not get them up every time he can.
Admittedly, with a more on target pass from Sahvir Wheeler, Grady probably does let this one fly. However, there is still enough space for him to get a shot attempt here. Wheeler drives, Grady circles up, and his defender loses him. What more do you want? As I always say, SHOOT 'EM ALL!!!
Just six minutes into the game and Kellan Grady should have had three more three-point attempts. The chances are he makes at least one if he takes all three. This last one is probably the worst turn down as his defender goes under the handoff once again. There was plenty of space to get this clean attempt off. SHOOT 'EM ALL!!!
How Sahvir Wheeler Changes the Game
It doesn't take a basketball genius to be able to see the impact that Sahvir Wheeler has had on this season's Kentucky Wildcats. When you watch the tape it is pretty obvious that he has completely changed the way the 'Cats play implementing a more high-tempo offense. Through five games, Kentucky is playing at their second fastest pace of the John Calipari era behind only the 2017 team. That is all because of Wheeler.
The small point guard just has a knack for making big plays. Whether it be coming up with a steal or creating a layup out of nothing, he has a way of stopping the other team's momentum as soon as it starts. That will prove to be invaluable as the schedule get's tougher next month.
Here is a perfect example of Sahvir Wheeler just making a play to get two easy points for the 'Cats. After a missed free throw he hangs out in the backcourt for a second and is able to steal the pass for a layup at the rim. His ability to see this play developing well in advance is truly special. The quickness and aggressiveness he plays with at all times has done wonders for Kentucky on both ends of the floor. Also, he just never seems to get tired despite playing so hard all of the time.
It seems to have happened at least once a game so far this season, but Sahvir Wheeler has a special ability to answer an opponent's run with a coast-to-coast layup. Even against a set defense he can just beat everyone down the floor and get to the rim for a quick two points. Albany had just hit a three to cut it to five with about 1:11 left in the first half. However, within seconds, Wheeler was laying it in to kill their momentum. Kentucky ended up taking a nine point lead into the halftime break.