WATCH: Wagner, Bradshaw, Edwards and Sheppard talk at McDAAG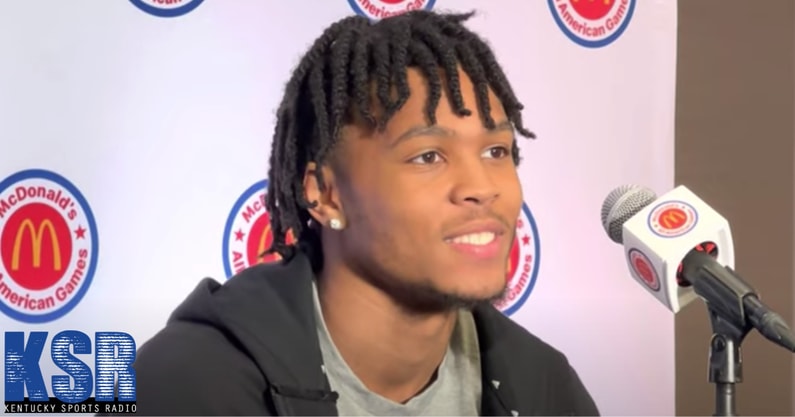 The University of Kentucky was represented well at McDonald's All-American Game Media Day on Monday, with four Wildcats taking the podium to share their thoughts on their time at the prestigious event and their expectations for year one in Lexington.
As you'd imagine, the standout recruits were asked about the pressure they expect to face at UK next season and how they plan to live up to the hype.
DJ Wagner
Five-star signee DJ Wagner broke down his status as a legacy McDonald's All-American, one of three participating players with parents who were previous Burger Boys. The 6-foot-3 guard also talked about Kentucky's recent struggles and how he expects to fix them next season in Lexington.
Aaron Bradshaw
Wagner's high school and grassroots teammate Aaron Bradshaw talked about his anticipated role next year at Kentucky, turning heads with a quote about potentially playing the three under John Calipari. The names Anthony Davis, Dennis Rodman and Dikembe Mutombo also came up, though he's a "new-time big."
Justin Edwards
Philadelphia native and five-star wing Justin Edwards talked about the importance of winning a national title at Kentucky and how the program's top-ranked recruiting class plans to make that happen.
Reed Sheppard
In-state star Reed Sheppard broke down the importance of wearing his dad's old jersey number at the event, being from Kentucky and representing the Commonwealth on high school basketball's biggest stage.
Subscribe to the KSR YouTube Channel for press conferences, interviews, original shows, fan features, and exclusive content.