Wednesday evening Kentucky Football recruiting notes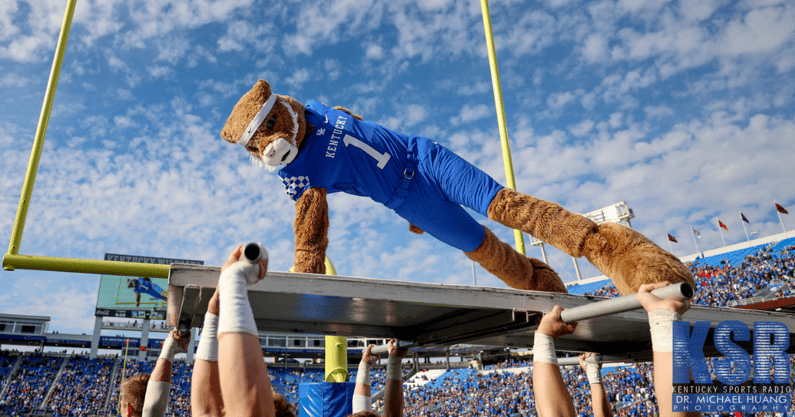 With a fresh contract extension and another potential trip to the Citrus Bowl on the horizon, Mark Stoops could have decided to take it easy over the next few weeks. But we all knew that was never going to be the case.
The Kentucky Football head coach is out Big Game Huntin' this week as he and his staff are hitting the recruiting trail with ferocity. We already covered how Stoops and company set out on Monday to visit a trio of four-star prospects: Tyreese Fearbry (committed), Davison Igbinosun, and Deone Walker. But that was just the beginning. The UK staff is spending the entire week (and the weeks to come) visiting recruits and scheduling campus trips.
The transfer portal is also in flux. KSR has learned that a player to keep an eye on is recent Alabama transfer Marcus Banks, who played cornerback for the Crimson Tide the last three seasons. The junior and former four-star recruit was recently followed on Twitter by Kentucky defensive coordinator Brad White. Banks has been mostly a backup on the Alabama defense.
KSR's Matt Jones is reporting that Florida junior defense end Khris Bogle is another name Kentucky might get involved with. Bogle was a top 100, four-star recruit out of high school before putting his name in the portal on Wednesday. He's recorded 69 tackles, 12.0 tackles for loss, 8.0 sacks, two pass breakups, and one forced fumble during his time with the Gators.
Now let's dive into which recruits the Kentucky staff is visiting this week.
DeCarlos Nicholson: 3-star CB, Petal (MS) 6-3, 200 pounds
Arguably the top JUCO cornerback in the entire country, it's no secret that nearby schools such as Ole Miss and Mississippi State are trying to pry DeCarlos Nicholson away from the 'Cats. He was once a pledge to MSU before reopening his recruitment and choosing UK in September.
Kentucky had coaches in to see Nicholson on Wednesday afternoon and plan to stop by for an in-home visit later this evening.
Jordan Anthony: 3-star WR, Tylertown (MS) 5-11, 145 pounds
One of the fastest high schoolers in the entire country, Jordan Anthony has been a Kentucky commit since late July. He's another Mississippi product who was heavily recruited by Ole Miss before landing with the 'Cats. But Anthony doesn't sound like he's going anywhere. KSR can report that UK coaches will be in to visit Anthony on Thursday before he and his family quickly turn around and head to Lexington for an official visit this weekend. Anthony later confirmed the OV on Twitter.
Josh Kattus: 3-star TE, Archbishop Moeller (OH) 6-4, 235 pounds
Brandon White: 3-star ATH, Archbishop Moeller (OH) 5-9, 165 pounds
Since Josh Kattus and Brandon White are both Moeller products, we're grouping them together. Kentucky associate head Vince Marrow was in to see Kattus, who committed to UK back in August, on Tuesday.
Marrow will then make the quick trip back up I-75 to visit White on Thursday. Kentucky has established a significant pipeline through the Moeller program in recent years.
Tomiwa Durojaiye: 3-star DL, Middletown (DE) 6-4, 255 pounds
One of the most underrated commits from Kentucky's 2022 class is the defensive lineman from the northeast, Tomiwa Durojaiye. His in-home visit from UK coaches won't come until next week, but Wildcat defensive line coach Anwar Stewart is expected to visit Durojaiye in Delaware this Saturday for his state semifinal matchup.
Quentel Jones: 3-star DL, Peach County (GA) 6-2, 260 pounds
KSR can confirm that Kentucky inside linebackers coach Jon Sumrall went to check in on uncommitted defensive lineman Quentel Jones on Tuesday. Jones then tweeted out on Wednesday afternoon that he has an official visit scheduled to visit Lexington this weekend. He's already been on official visits to Miami (FL), Tennessee, and Mississippi State, with the Bulldogs the team in front. Getting Jones on campus this weekend could be huge for Kentucky's momentum.
What about potential flips?
The coaching carousel has opened up the potential for recent targets to once again pop up on the radar, as well. Most notably, Brian Kelly leaving Notre Dame for LSU and Mike Bobo being released of his offensive coordinator duties at Auburn, are of interest to Kentucky fans.
You might remember a shocking commitment from four-star offensive tackle Aamil Wagner a few weeks back. The Dayton (OH) product kept his lips shut until the moment of his announcement, surprising everyone and choosing Notre Dame. Kentucky was at one point considered the favorite to land Wagner before he ultimately went with the Fighting Irish. Will Kelly's move out rekindle that interest?
A lot of it might depend on if Kelly brings his assistant coaching staff with him to Baton Rogue. If that's the case, Wagner exploring his options once again wouldn't be a major surprise. But if his past recruitment tells us anything, he wouldn't know what he's thinking until the last minute regardless. Either way, it's a situation to keep a close eye on moving forward.
Perhaps more pertinent though is Mike Bobo being let go after just one season at Auburn. His son, Drew Bobo, was a hot commodity before he decided to play for his father at the next level. Obviously, he won't be suiting up under his dad any longer; Kentucky will assuredly try to get back in the race. UK was right up there with Auburn in the end, as were the likes of Georgia and Virginia.
Drew Bobo was initially viewed as a valuable piece for the future of the Big Blue Wall. At 6-5, 300 pounds, he has SEC size as a high school senior. Kentucky will surely put itself in a position to flip Bobo.
Kentucky also continues its efforts in trying to flip another Auburn commit, four-star wide receiver Ja'Kobi Albert. He's been a Tiger since early August, but was in Lexington a few weeks ago for the Tennessee game with his high school teammate from the class of 2023 Adrian Griffin, who is being heavily recruited by the 'Cats as well.
Another player to keep an eye on is Florida Gators offensive line commit Jalen Farmer, who received a visit from UK offensive line coach Eric Wolford on Wednesday, KSR can report. Clocking in at 6-4, 300 pounds, Farmer is a three-star lineman who chose UF back in September. Gators head coach Dan Mullen was let go not long after the season came to a close.
Marrow traveling to Louisville
Vince Marrow tweeted out on Wednesday that he'll be in Louisville to "lock down some dudes," which KSR can confirm is to visit Aspirations Gym where he'll meet with the likes of commits Kiyaunta Goodwin and Elijah Reed.
There's also the possibility Marrow checks in on recent Louisville Cardinals wide receiver transfer, Jordan Watkins; he's been linked to Kentucky ever since putting his name in the portal earlier this week.