Wednesday's Top 10: At least the week is already halfway over?
Good morning, friends. Everyone have a happy Fourth? Being at work sucks today, doesn't it? Unfortunately, we can't all be in Estes Park, Colorado like this batch of Kentucky fans, but we'll do our best to keep you entertained on this morning after. Here's what happening in the world of UK Sports.
1. The Fourth included a big Yahtzee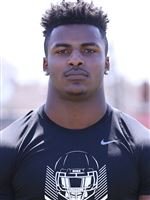 It's only fitting that just as the KSR crew stepped away from our computers to enjoy the holiday, the football program landed a massive commitment. Four-star outside linebacker Xavier Peters chose Kentucky over offers from Alabama, USC, Florida, Georgia, LSU, Oklahoma, Oregon, Mississippi State, Tennessee, Texas, South Carolina, West Virginia, and Wisconsin, becoming the 15th commitment in the 2018 class. Per 247 Sports' rankings, Peters is considered the eighth best outside linebacker in the class and the fourth best player from the state of Ohio, which I hear is pretty good at churning out football talent. Something tells me Vince Marrow celebrated with a big ole strawberry daiquiri.
2. Team USA begins the Round of 16
Calipari's U19 team easily wrapped up pool play yesterday with a 98-65 win over Italy, clinching the top spot in Group D. PJ Washington led the way with 20 points. Calipari was very, very happy with his future forward.
"Yeah, well he's been scoring the whole time," Cal said of Washington. "He's a beast and I don't know how you guard him. If he gets an angle by you, he's tough to stop. And he made his free throws today. He's playing the way we need him to play."
At 9:30 a.m., Team USA begin their run in the round of 16 with Mali. We'll have a live stream of that for you when the time comes. And yes, that's a potential matchup with Tai Wynyard and New Zealand on Friday.
3. Until then, enjoy Washington's highlights
https://youtu.be/NGpsMKyjMAo
4. Calipari and his players enjoyed the 4th at the US Embassy
At the U.S. Embassy in Egypt w/ @Diallo1Hamidou, @pjwashington_25, Louis, Karim and Antonio after our #FIBAU19 game vs. Italy earlier today. pic.twitter.com/p6s6hZV5UV

— John Calipari (@UKCoachCalipari) July 4, 2017
Being halfway across the world didn't stop Calipari and his U19 Team from getting into the spirit of the holiday. Last night, they visited the US Embassy in Egypt, where they posed for pictures and listened to this patriotic performance of the national anthem:
The national anthem from the U.S. embassy in Egypt.
Happy #July4th, everyone! pic.twitter.com/tQ9t9dXCJW

— John Calipari (@UKCoachCalipari) July 4, 2017
5. Patrick Patterson agrees to deal with the Thunder
Late last night, some big NBA news broke when Adrian Wojnarowski reported that Patrick Patterson has agreed to a three-year $16.4 million deal with the Oklahoma City Thunder. Patterson, who has been with the Toronto Raptors since 2013, will likely step in to the starting lineup in place of Taj Gibson, who left Oklahoma City for Minnesota. After all these years, Billy Donovan will finally get to coach Patterson, won't he?
6. More Summer League action!
Yesterday, all three Cats participating in the Orlando Summer League sat out their games to rest, but today is a new day, and both the Orlando and Utah Leagues will be hopping with activity. Here's the schedule, with all games airing on NBATV:
1:00 PM: Dallas vs. Oklahoma City (Dakari Johnson)
3:00 PM: Charlotte vs. Detroit (Derek Willis)
9:00 PM: Philadelphia (Alex Poythress, Aaron Harrison, Isaiah Briscoe) vs. Utah
Speaking of that last trio…
7. Alex Poythress put Aaron Harrison on blast for his golf shot
TRASH @AaronICE2 pic.twitter.com/YrxjnaXGDz

— Alex Poythress (@AlexTheGreat22) July 5, 2017
I'm horrible at golf, but even I can make fun of that shot.
8. Mohamed Bamba tried to out-do Ben Simmons
Yesterday, Simmons posted this video of a full-court, one-handed shot on Instagram:
https://www.instagram.com/p/BWJBtpDgrwU/?taken-by=bensimmons
…Which Mo Bamba tried to one-up a few hours later:
https://www.instagram.com/p/BWJwGX4FdAu/?taken-by=therealmobamba_
Who did it better, Simmons or Bamba? More importantly, which UK player should top both of them with their own video today?
9. "GLOW" is as good as everyone says
Worn out from the Thirth and early Fourth festivities, my husband and I opted to stay in last night and finish "GLOW," and it was way better than waiting on fireworks. I'm probably the 15th person to recommend the show to you, but it's a whole lot of fun and a fast and easy binge. I can't wait for season two.
10. The Football Podcast crew takes over KSR
After a few days of "Best of" shows, KSR is back on the air for real today and it'll be a fun one. The KSR Football Podcast Crew is taking over, which means plenty of football talk and plenty of non-football talk because they'll inevitably get off topic. Tune in an hour from now to let Freddie, Nick, Jared, and Drew entertain you.