Wednesday's Top 10: Monk can fly, Waters to announce, and it's SEC Media Day

It's a new day and I'm still fired up from watching the Cats practice under John Calipari yesterday. In case you missed it, take a second to read
my recap of Tuesday's practice session
, which I attended. If you're too lazy to read all of that, here are five brief takeaways from what I saw in the two-plus hours of practice at the Joe Craft Center:
-- Malik Monk can elevate unlike any human I've ever seen. He can get a shot over anyone and he is at eye level with the rim when he catches lobs.
-- Bam Adebayo is a beast. It's not the first or last time you will read that. Plenty more to come.
-- Shooting may not be too much of a concern after all. Briscoe, Hawkins, Monk and Willis shot the ball really well in Tuesday's practice.
-- Sacha Killeya-Jones is ahead of where most probably expected him to be right now. Still lots to learn, but he's a little further along than advertised.
-- Kentucky is going to be really good once they put it all together.
Speaking of basketball, today's SEC Basketball Media Day in Nashville leads off this morning's 10 things you should know...  
1. It's SEC Basketball Media Day in Nashville.
Brace yourselves for a ton of basketball stuff coming out of the Music City today, where our own Tyler Thompson is on the scene for SEC Media Day. We'll likely hold off on extensive coverage from the other schools -- because who cares? -- but there will be a wave of comments from John Calipari, Isaiah Briscoe and Isaac Humphries hitting the site when Kentucky takes the podium in the late afternoon session. The Cats are tentatively scheduled for a 4:30 pm appearance. The SEC Network will televise the day's action, beginning at 10 am.
2. D.J. Eliot's and the defense to speak after practice.
It's Coach Eliot's turn to address the media following Wednesday afternoon's practice. He and select members of the defense will be available for questions whenever the Cats break for the evening. Nick Roush will be on the scene for that one.
3. Eddie Gran on the week off: "We got a lot better."
Coach Eddie Gran likes where his team is after a week off with a bye. Boom's had good practices, Johnson is throwing the ball better and the team as a whole improved its fundamentals and techniques, he says. "Really excited. Can't wait for Saturday. Cannot wait to get out there and play again."
4. Tremont Waters to announce today.
One of Calipari's point guard targets in the Class of 2017 will announce his decision today at approximately 4 pm. Tremont Waters, who appeared to be Kentucky-bound only a couple of weeks ago, is now presumed to be heading to Indiana. Waters took official visits to Georgetown, Kentucky, Indiana and Kansas, and he will decide between those four schools later today. Indiana has assured him the starting point guard role, which will likely be the deciding factor in his decision. Kentucky had been recruiting him as a potential back-up to Trae Young.
5. Petty, Washington trim lists.
Two other UK targets from the '17 class made recruiting news when they trimmed their lists on Tuesday. First, P.J. Washington eliminated UNLV from consideration, leaving only Kentucky, North Carolina and Arizona in the mix. Kentucky is the favorite in the recruitment, but the four-star power forward still has an official visit to Arizona coming up this weekend. He's already taken his officials to UK and UNC. Then, John Petty officially announced he is down to only Kentucky and Alabama, which isn't a surprise to anyone. It's been a two-horse race since the beginning, but now he's admitted that fact and shut down calls from anyone else.
6. New KSR Football Podcast coming today.
Big in-house news today as we will be taping a new KSR Football Podcast to be released later this evening. Me and the boys are meeting up after the morning show to look ahead to Mississippi State. Freddie Maggard's Depth Chart Podcast will be recorded and released today, too.
7. NBA GMs predict Devin Booker, Karl-Anthony Towns to have breakout seasons.
Love the annual NBA GM survey that was released yesterday, showing Devin Booker as the most likely to have a breakout 2016-17, followed by Karl-Anthony Towns at second in the voting. Those same GMs also voted Towns as the player they would pick first to start a new franchise today, over Kevin Durant and LeBron James. Lots more Kentucky love in the survey, which can be found
here
.
8. More Kentucky basketball tickets on sale.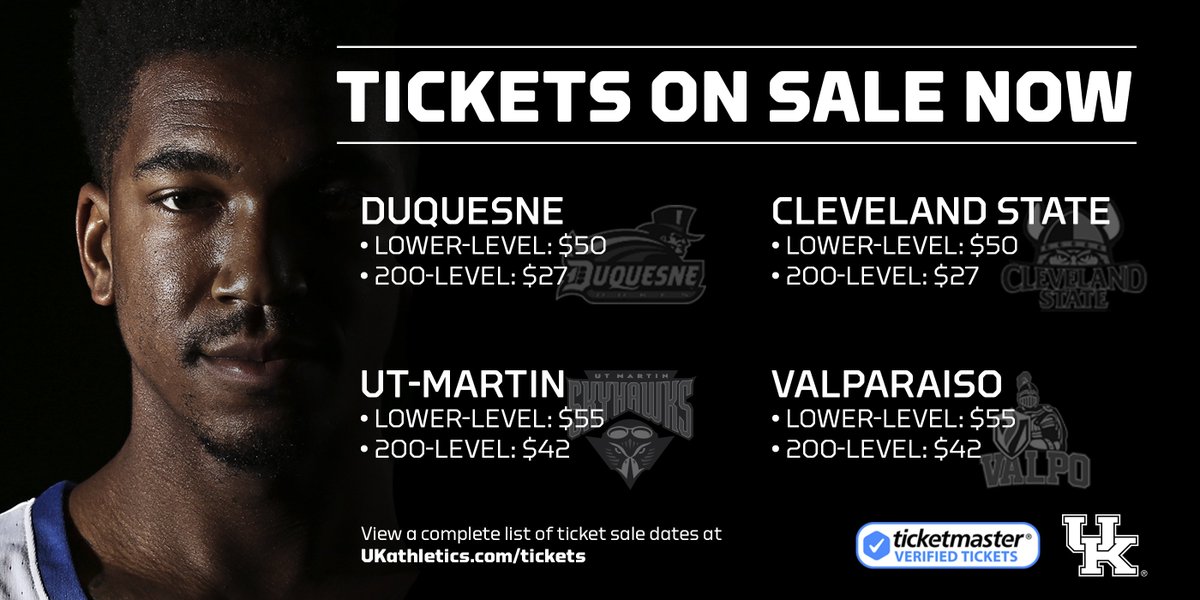 Fans can now purchase tickets to the Duquesne, Cleveland State, UT-Martin and Valparaiso games. Prices range from $27/$50 for Duquesne and Cleveland State to $42/55 for UT-Martin and Valparaiso. Purchase yours today
here
.
9. UK leads the SEC in stopping the big run.
https://twitter.com/colecubelic/status/788394588973203457?ref_src=twsrc%5Etfw So, that's pretty cool.
10. Clinton v. Trump 3 tonight!
Is there a not-so-perverted Ken Bone out there, waiting to be found at tonight's debate?