We're Kentucky, They're Florida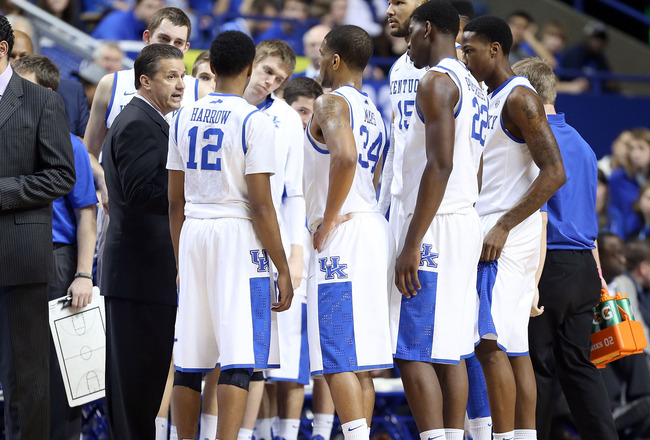 Look, I know what you're feeling. Gloom and doom. The ship has sailed. Nails are in the coffin. Game over man, game over. Kentucky has no shot of taking down the almighty Florida Gators and we might as well book our reservations at the NIT table.  At least that's what a lot of 'fans' would leave you to believe. While it's true that Kentucky limps to the finish line with a blown tire and the engine stalling a bit
this season is not over yet.
Kentucky has risen to the occasion several times this year and tomorrow's game offers them another chance to do just that. RISE.
Early this year Kentucky fought Florida on their home court where they were outmatched in every way
. In the battle we lost our best player, backs broken if you will, and were left for dead for the remainder of the SEC schedule.
Now things seem to be at their absolute worst. Florida comes into Rupp as the favorite but it isn't time to count out the Cats just yet. Here's why Kentucky is going to save the season from sheer destruction:
1. Their Backs Are Against The Wall
When your back is against the wall then there is only one option and that is to fight. The Cats have shown a bit of fight in the other two games that were considered must wins Ole Miss and Missouri.
This team just seems like it needs that extra boost to come out playing.
Ryan Harrow and Alex Poythress' greatest games as Wildcats came in the biggest games on our schedule. Hopefully tomorrow will be another one of those games as there will be the added boost of the home crowd.
2. Rupp Will Be Rocking
The team needs this game and when the team needs a game Rupp Arena comes ready to rock. There has been a few times in the past when Florida was come into Rupp as the favorite and just about every time we've sent the Gators home with a loss.
Remember back in '03 when Florida came in ranked number 1 in the land? Yeah, me too. I still have my shirt with an S on it from the white out.
You know what else I remember about that game? Florida leaving with a 15 point beatdown. I've never heard Rupp louder than that Florida game in Billy Clyde's final year. The Cats had lost three in a row going into that one and it was also a must-win. I could see a similar environment awaiting the Gators tomorrow. We're Kentucky, they're Florida. There's a natural order to the universe and it's time to set things right. The Cats can do it if they come to play and Rupp is rocking because...
3. Florida  Is Beatable On The Road
Florida has lost five games this year and all five losses have come outside of the O-Dome. They've lost at Arizona, K-State, Missouri, and Tennessee so let's go ahead and add at Kentucky to that list. Florida doesn't have much to play for in this game, they've already clenched the SEC title and
a win over UK is more about bragging rights than increasing their NCAA tournament seed.
The game means so much more to Kentucky which gives us the chance to steal this one and snatch victory from the jaws of defeat.   One game and the entire season can change. Just one. Hopefully the Cats can rise tomorrow and salvage what has been a tumultuous year. All the chips are on the table. Time to win. Go Cats.
@ACassady_KSR