The West Wins The Jordan Brand Classic; Diallo Dominates
The East
[caption id="" align="alignnone" width="303"]
(Saed Hindash | NJ Advance Media for NJ.com)[/caption]
After dominating the McDonalds all-American game a little over a month ago, Cheick Diallo was once again the best player on the court as he went for 26 points and 11 rebounds. 17 of those points came in the first half as the West couldn't find a way to stop the big man. Diallo just out-efforted his opponents for most of the game, bringing energy to nab rebounds and keep his team alive in the early goings.
The MVP, Cheick, could be exactly what Kentucky needs next season on the block. Can the Cats steal him away from our old assistant, Slice?
Skal Labissiere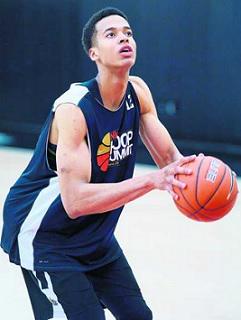 Not hard to see why Skal Labissiere is possibly the early favorite for 2016 No. 1 pick. Length, smooth release, adding muscle, blocks shots. – Jeff Borzello (@jeffborzello) April 18, 2015
The Big Haitian wasn't as dominant as he was in the Hoop Summit. He worked his way to a relatively quiet 10 points, 12 rebounds.
Isaiah Briscoe
[caption id="" align="alignnone" width="960"]
East's Isaiah Briscoe (11) dishes the ball off to Malachi Richardson (23) (Saed Hindash | NJ Advance Media for NJ.com)[/caption]
Diallo may have scored a bunch of points but it was Isaiah Briscoe who took over the game late. Showing out in front of his home state crowd Briscoe was knocking down step-back threes, finding open teammates in the lane, and leading the East back into the game after falling behind. The point guard finished with 22 points, 6 rebounds, and 5 assists to nearly win it for his team.
Briscoe is looking like an excellent compliment to Tyler Ulis. Add a couple of more players from this game and watch out.
Charles Matthews
After suffering an injury earlier this week Matthews was somewhat limited in tonight's game. Still he showed flashes of what can make him special next season. A nice drive for an and-1 and some solid defense, even in an all-star game.
Jaylen Brown
Did not play tonight due to injury.
The West
[caption id="" align="alignnone" width="960"]
Future Teammates? (Saed Hindash | NJ Advance Media for NJ.com)[/caption]
The West won the game but they didn't get much out of Malik Newman. Newman finished with 8 points, all in the first half. He didn't get to showcase all that he's capable of.
Who impressed you most tonight at the Jordan Brand Classic?