What Chris Livingston's commitment means for Kentucky basketball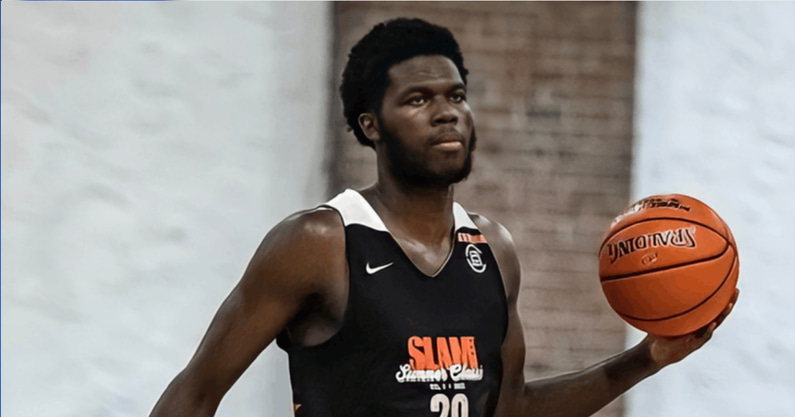 John Calipari has struck gold once again, this time landing top-five prospect Chris Livingston in the class of 2022.
Livingston, a consensus top-12 prospect in 2022, chose the Wildcats over Georgetown, Memphis, Tennessee State, and the G League on Wednesday. He joins No. 1 overall prospect Shaedon Sharpe and five-star guard Skyy Clark in Kentucky's recruiting class, pushing UK to No. 1 in the team recruiting rankings.
What does his commitment mean for the program? And what's next for Kentucky in its recruiting efforts moving forward?
Two top-five commitments
Kentucky has signed just two total top-five prospects since 2015 in Brandon Boston Jr. (2020) and Skal Labissiere (2015). Now, the program has earned commitments from two such players in eight days.
Sharpe became the consensus top-ranked prospect in the nation on Wednesday when 247Sports moved him up to No. 1 in the class of 2022. The outlet joined On3, Rivals and ESPN to give Sharpe the nod at No. 1.
As for Livingston, the five-star forward is ranked No. 4 overall by On3 and No. 5 overall by 247Sports. Rivals and ESPN list the Akron native at No. 8 and No. 12 overall, respectively.
And Clark is certainly no slouch, either. The five-star guard is seen as a consensus top-21 prospect and ranked as high as No. 16 overall by ESPN. Every other program in America would kill for a player of his caliber.
Calipari had high recruiting expectations when he decided to bring back Orlando Antigua and add Chin Coleman to the coaching staff this offseason. And in the new staff's first official recruiting cycle, they've already exceeded those expectations.
History in the making?
Three perimeter players down, one to go? And what about the frontcourt?
Kentucky has pushed all its chips in on five-star guard Cason Wallace, who is now ranked No. 7 overall in the latest 247Sports Composite. On3 and 247Sports list him at No. 7 overall, while ESPN and Rivals have him ranked No. 8 and No. 10 overall, respectively.
He currently has a commitment date scheduled for November 7, but there's growing buzz that Wallace could come off the board even sooner, with UK seen as the overwhelming favorite. As of today, there are currently eight total Crystal Ball and FutureCast predictions, all favoring Calipari and the Wildcats.
Beyond Wallace, Kentucky is making a push for Dereck Lively II and Adem Bona, the former being the consensus No. 2 prospect in the nation and the latter also ranked in the top ten by at least one recruiting service. The expectation is UK lands one of the two to round out the class – Lively being the slight preference – but it's not out of the realm of possibility for Calipari to swing for the fences in an attempt to land both.
Land just one between Lively and Bona, and you're talking five top-20 signees. A special class no matter how you look at it.
Pull off a class that includes Sharpe, Lively, Livingston, Clark and Bona, though, that would be just the second time in history one school has landed six top-20 prospects in a single recruiting class. The other? Kentucky in 2013.
Either way, Kentucky is at least halfway there, and we're still two months away from the early signing period. Calipari's got some undeniable momentum on the recruiting trail.
Small ball is coming
Beyond the recruiting rankings and numbers, Livingston's commitment also signals a transition to the small-ball era in Lexington, one Calipari discussed thoroughly in early September.
The goal? Four perimeter players with guard skills and one core frontcourt piece for a true four-out, one-in lineup.
"We're going to have four positions that are guard positions," the UK head coach said last week. "That doesn't mean I'm starting four guards, but if you want to be in one of those four positions, you're going to have guard skills. … If you don't have guard skills, you're going to be playing as one of our big guys."
"I want to play four perimeter players, basically like four guards," Calipari said in a follow-up interview with KSR. "… The reality of it is, the perimeter players have to have guard skills. If you're big and you have guard skills, that's even better. You're going to defend, you're going to have to be tough, if you do those things, you can be a perimeter player. It's where the game is going."
Insert Livingston, a versatile 6-foot-7, 220-pound forward capable of playing two through four. He thrives on mismatches with his size and strength against typical threes and his quickness and athleticism against typical fours.
The idea of playing Clark, Sharpe, Wallace and Livingston together is not only possible, but likely. All four are versatile enough to thrive at multiple positions and give UK a unique combination of speed, skill, athleticism, strength, and defense.
Calipari is a known fan of positionless basketball, and this group is setting up to be one of his strongest yet in that area.
More than a pure athlete
At the start of Livingston's rise as a basketball recruit, the five-star guard was known as a pure athlete who relied on his size and strength to get easy buckets. He was a bully-ball player with bloated numbers because he could out-jump and out-muscle his peers in the early stages of high school. As a result, there were early questions about his effectiveness at the next level.
Since then, though, the five-star prospect has worked on his jump shot and developed as a playmaker and facilitator. He's not perfectly polished and he'll need to continue to grow in these areas as a senior, but his development as an all-around player over the course of the last year is undeniable.
The size and athleticism has always been there, and now, the rest of his game is catching up.
Highlights