What Coaches and Players Had to Say Before the Final Two-A-Day
This morning Mark Stoops opened the doors to the media for the first session of the team's final two-a-day of preseason camp.  School begins Wednesday with Southern Miss prep beginning the following day.  I'll tell you what I saw later, but until then, here's what the coaches had to say about today's practice and their scrimmage from Saturday.
The Defense Needs Depth, More Depth, and Then Some More
Saturday's post scrimmage with the media wasn't the most encouraging presser, but Stoops said the film showed "some really good things" from Saturday.  His big bug-a-boo was the "D" word -- depth.
"Depth is an issue, but we're going to be just fine
.  We'll piece it all together, put everybody together and move some guys around.  We'll be in good shape," Stoops said. Three players off the top of his head that could provide help: Kash Daniel, T.J. Carter and the important defensive tackle, Alvonte Bell.
A Late Move for Laster
Ever since his arrival, coaches were unsure of where Laster should play.  Willing to play either inside or outside linebacker, his previous position in Minnesota's 4/3, Laster began camp as an outside linebacker but was moved inside last week. "It's not that bad of a deal for me," Laster said today.  "When you get moved around to so many different positions, you start understanding the whole scheme of the defense." Laster is probably best suited inside, but there's one part that's concerning --
he's playing the Mike linebacker behind Courtney Love
.  I hoped he would be alongside Love as the Will linebacker.  Even though they are both inside linebackers, which side they line up in the 4/3 is just one of many differences between the two positions. Hopefully this is Laster's last move and they can figure out a way to best utilize his ability to lower his shoulder and bring the boom against the run.
A Lot of People Didn't Practice
Jabari Greenwood and Dorian Baker were the most noticeable guys that weren't wearing pads.  Matt Elam was dressed, but in a precautionary cast.  Kendall Randolph and Jordan Jones wore red jerseys, but even guys in full attire weren't participating in every drill.  Jon Toth's absence from team period was likely for precautionary reasons, but I heard he wasn't going to practice unless Freddie Maggard was there to see it. None of these absences are worrisome following a full scrimmage from just two days ago.
KSR Never Stops
Teamwork makes the dream work.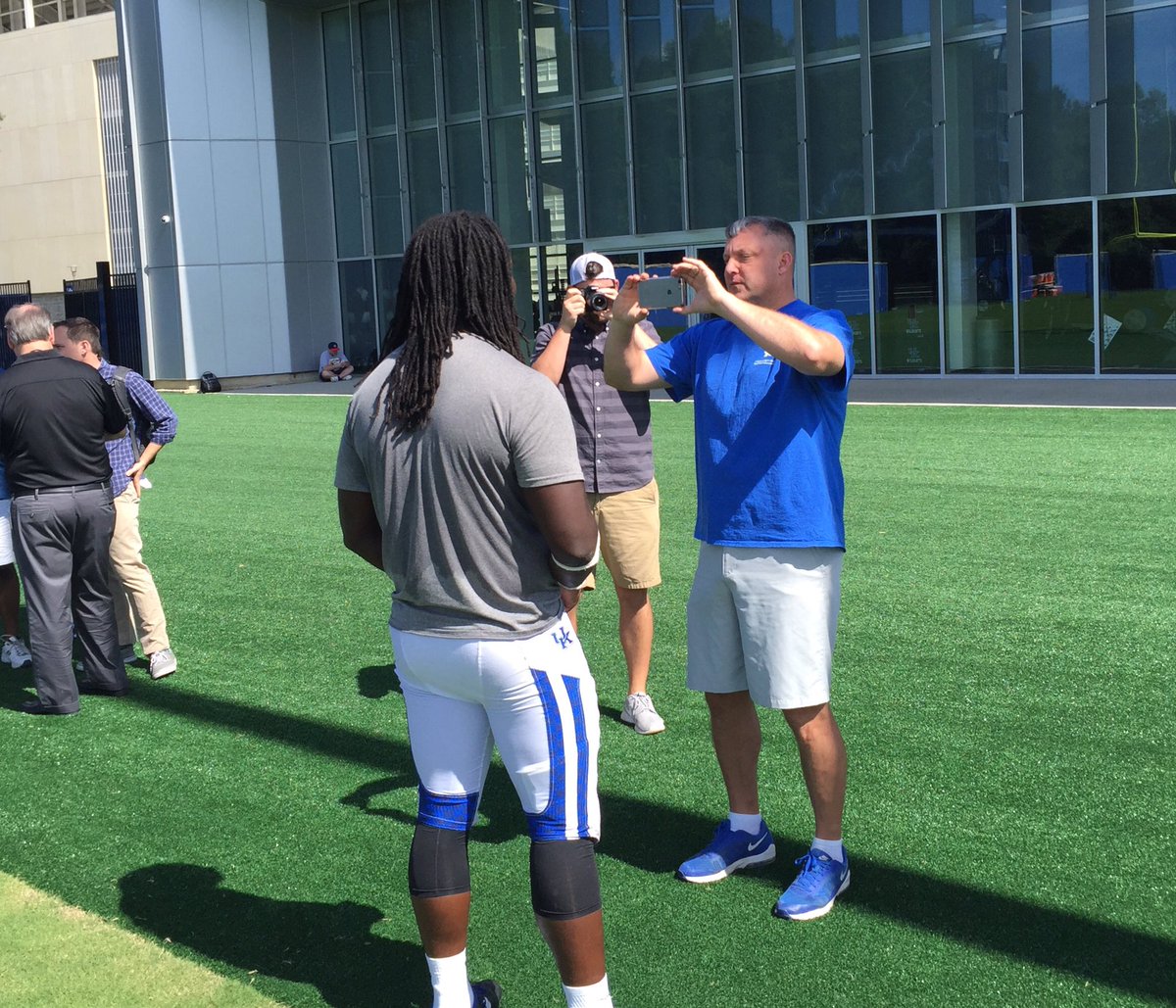 Sorry Blake Bone
Tavin Richardson and Kayaune Ross are just two who will make sure Blake doesn't see snaps.  Even with two outside receivers sidelined, Bone received few reps. Ross and Richardson are exponentially more physical.  Ross still doesn't have the playbook down pat, but his size is tough to defend near the red zone.  If you didn't
see Richardson's plays from earlier
, he was without a doubt the most impressive performer from the open portion of practice.