What does Zion Williamson's decision mean for Kentucky?
[caption id="" align="alignnone" width="1200"]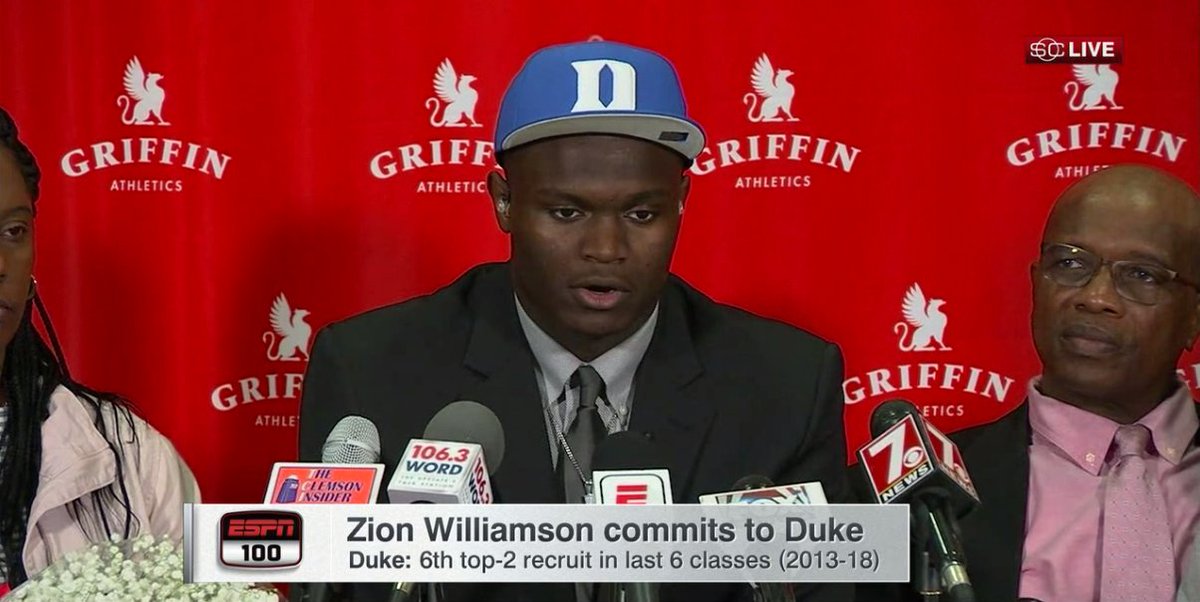 @ESPNU[/caption] Let's just get it out of the way now, last night sucked. Five-star forward Zion Williamson did the unimaginable by committing to Duke, giving the Blue Devils the No. 1, 2, and 3 prospects in the nation. Absolutely no one had Duke even remotely on their radar in this recruitment. They were "technically" on Williamson's final list, but the only perceived contenders were Kentucky, UNC, Clemson, and South Carolina. The decision shocked everyone. And for Kentucky, the ramifications are massive. Here's what Williamson's decision means for the Wildcats:
James Wiseman is a priority
The No. 1 prospect in the class of 2019, James Wiseman, is reportedly considering a move to 2018. And Kentucky desperately needs it to happen. It's no secret the talented big man favors the Wildcats, but when he eventually suits up in blue and white is extremely important. He has told reporters a reclassification isn't possible, but we've heard the same with elite prospects in the past. Marvin Bagley said he wasn't going to reclassify this summer, and just weeks later, he announced he would be suiting up for Duke this season. Despite public denial, the whispers are growing louder that a reclassification is not only possible, but likely for Wiseman. Without Williamson, Kentucky has no "it" factor guys committed for next season. Immanuel Quickley, Keldon Johnson, and Tyler Herro are all stellar prospects, but there is no superstar headliner. There is no one to single-handedly take over a game and dominate. And Kentucky has zero offers out to any remaining uncommitted prospect in the class of 2018. For Calipari's one-and-done system to thrive, you have to have superstar talent layered in with quality role players. As we're seeing this season, when you struggle to find the "guy," the team falters. According to ESPN, UK's highest-ranked signee in the class of 2017 was Kevin Knox at No. 10. In 2016, the Cats had three signees ranked in the top-ten, and five in the top-25. ESPN lists Keldon Johnson as the No. 7 prospect in 2018, Quickley at No. 12, and Herro at No. 27. Again, excellent recruiting class, but something is obviously missing. EJ Montgomery, Jordan Brown, and Moses Brown are three five-star prospects Calipari could still offer and make up ground with, but they wouldn't be game changers for the Cats next season. Barring any surprise graduate transfers or reclassifications, Wiseman is the only realistic shot at finishing the class with a truly elite prospect. Calipari needs him. Bad.
Kentucky needs some key returnees
Duke's class of RJ Barrett, Zion Williamson, Cam Reddish, and Tre Jones is easily one of the best in college basketball history.
If the Cats finish with some surprise returnees, however, Kentucky can absolutely beat them with depth.
Hamidou Diallo and Kevin Knox are near-locks to enter the NBA Draft, but beyond that, no one knows. Despite having the measurables, Nick Richards is absolutely not ready to go to the NBA. Quade Green will almost certainly return. PJ Washington is improving, but he doesn't look like an NBA player yet. Shai Gilgeous-Alexander has moved up on the draft boards, but he could return to UK and become one of the top point guards in the nation. Will Jarred Vanderbilt enter the draft after just half a year of play? Sacha Killeya-Jones, Wenyen Gabriel, Jemarl Baker, and Tai Wynyard are all likely back. If just two or three players leave, next year's team has the potential to be absolutely loaded. Add in Wiseman or another surprise, I'll take my chances on another Final Four run. If some or most of the fringe guys leave, Kentucky could be in for a very rough year while watching Duke coast to a National Championship.
UK's path to a title just got that much harder
There's no debate anymore, Coach K and the Duke Blue Devils have taken over the recruiting world. If Williamson committed to Clemson, South Carolina, or even North Carolina, fine. When Kentucky not only loses out on the star freshman, but Calipari's biggest recruiting rival snags him, it's a punch in the gut. When that same recruiting rival wins the lottery with the nation's three top recruits in an unbelievably top-heavy class, now that's brutal. When Williamson threw on that horrid Duke hat last night, it felt a bit like Kevin Durant's decision to join the Golden State Warriors two years ago. The rich got richer, and it seemed like the 2018-19 National Championship was decided before the season even began. When Kentucky desperately needed a superstar, not only did they miss out, but they lost him to the direct competition. It made Kentucky's road to a title next season unbelievably difficult. Remember, however, Calipari and Coach K have won the same number of titles in the one-and-done era. Duke has four of the top eight prospects in the nation this season, yet have lost games to Boston College and NC State. They had two of the top three recruits, and three of the top ten in 2016, yet lost in the second round to South Carolina. In just two of the last seven years, Duke has made it past the Elite Eight. In Calipari's first year at Kentucky, Duke won a title with mostly upperclassmen. It took a massive upset in 2014-15 for Duke's freshman-heavy roster to hang a banner. If there's a team that knows how to crumble in the tournament, it's the Blue Devils. But it would take a major choke job from Mike Krzyzewski to screw this up. It goes without saying, but Calipari has his work cut out for him in the next few months in both recruiting and figuring out what to do with his current team. The sky isn't falling because of Zion Williamson, but it certainly isn't sunshine and rainbows.