What each Kentucky player must do this offseason to make a leap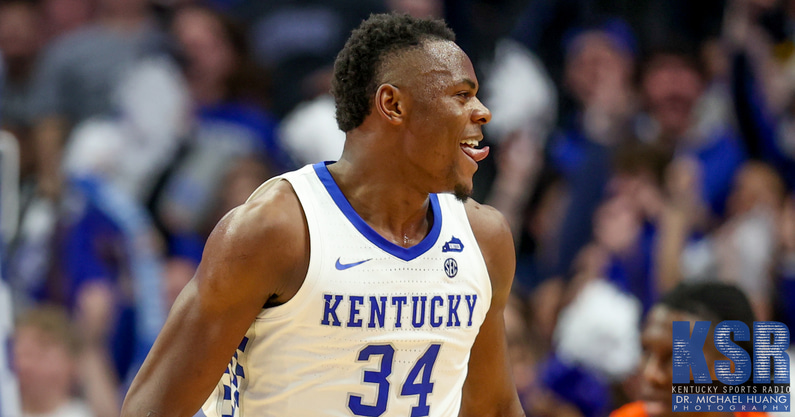 Expectations are at an all-time high for John Calipari and the Kentucky basketball program going into the 2022-23 season. With the Wildcats' last NCAA Tournament win coming in 2019, there's immediate pressure for a major run, specifically one to the Final Four.
To help make that happen, there are six returning pieces from last year's roster, along with four new faces to replace those who left the program this offseason. How can they get there? Making a leap from last year wouldn't hurt.
What must each player on the team work on this offseason to make that jump? KSR went Wildcat by Wildcat, breaking down each of their biggest potential areas of growth going into next year.
---
How does the reigning consensus National Player of the Year make a leap the following year? He shattered just about every single-season record the school had to offer, dominating as a scorer and rebounder while also thriving defensively. Tshiebwe returned to Kentucky in hopes of winning a national championship while also establishing himself as a potential lottery pick in 2023. Two significant leaps both individually and as a team.
The team goals are difficult to control — he finished with 30 points and 16 rebounds in Kentucky's opening-round loss to Saint Peter's in the NCAA Tournament. It's a steep individual goal, as well, considering he was seen as a likely second-round pick had he declared for the draft. That's where your leap comes from.
What would it take to become a lottery pick? Seen as a primary low-post threat with solid touch in the mid-range, expanding his shot to the perimeter is one way to make the jump. He knocked down jumpers with consistency last season, now it's about showing he can step back a few feet further and hit the occasional 3-pointer.
Tshiebwe was the most dominant player in college basketball last season, so it's a little unfair to ask for or expect more out of the 6-foot-9 superstar. But if he puts it upon himself to make the leap, who's going to tell him no?
Sahvir Wheeler — Shooting efficiency and ball security
The 5-foot-9 point guard's biggest area of improvement going into the 2022-23 season is the same one he dealt with when he arrived in Lexington last summer. He showed up as a career 26.2% 3-point shooter over two seasons at Georgia, then shot 30.8% from three on 1.7 attempts per game as a junior at Kentucky. Wheeler did, however, finish the year shooting 41.4% from deep (12-29) over his last 16 games, good for over half the year (30 games played). That's after starting the year shooting 17.4% (4-23).
The veteran point guard doesn't necessarily have to shoot 41% from three all season, but the lows can't be so low. A year-long mark of 35%-plus from deep is a fine place to start, especially considering he was able to hit 32% of his attempts as a freshman at Georgia. Finding that middle ground will be crucial.
Ball security is also a clear point of emphasis after averaging 3.0 turnovers per contest, including ten games of at least four turnovers. As things stand today, Cason Wallace and Antonio Reeves are the only guards on the roster seen as secondary ball-handlers, replacing TyTy Washington and Davion Mintz from a year before.
Wheeler was a Bob Cousy Award finalist in 2022 for a reason. He's an elite playmaker who can push the pace unlike just about anyone in the country. As a senior, though, decision-making will need to improve.
Jacob Toppin — Develop as a stretch four
Playing behind Keion Brooks Jr. as a junior, Jacob Toppin's role and overall playing time was inconsistent throughout the year. Averaging 6.2 points and 3.2 rebounds in 17.7 minutes per game, he served as the backup four and shared the floor at times with Brooks. With Brooks hitting the transfer portal and likely leaving Kentucky, Toppin is expected to take over that role as the starting four.
Toppin had spurts of brilliance, effectively guarding multiple positions, scoring in transition and even developing a nice mid-range pull-up jumper he hit on occasion late in the season. His biggest highlights came on baseline line-drive dunks and alley-oop finishes. He was, however, limited as a shooter, taking just ten total 3-pointers on the year and making four.
Perimeter shooting was essentially non-existent from the four spot this past season, with Brooks hitting just seven threes on the year for a combined 11 makes between the two. That can't be a non-shooting position again this season, especially with the game moving toward having shot-makers at multiple — if not all — spots on the floor.
Pushing 6-10, 200-plus pounds with a 42.5-inch vertical, the physical tools are there for Toppin. Add a consistent 3-point jumper to the mix in an expanded stretch-four role as a senior? That's a first-round pick.
Potential has always been the name of the game with Daimion Collins. He didn't start playing organized basketball until he was 16 years old and never lifted a weight before arriving at Kentucky. He's still growing — his father tells KSR he's now 6-10 and doctors think he'll reach 7-0 before long — while already boasting a 7-foot-5 wingspan and a 42-inch vertical. Listed at 202 pounds, UK had him eating 5,000 calories per day to help add weight as a freshman while also lifting three to four times per week.
New to the sport and behind physically, Collins was always going to be a work in progress in year one. He had some jaw-dropping dunks and ferocious blocks, but he struggled to establish space in the post and finish through contact. New head strength and conditioning coach Brady Welsh will be tasked with fixing that moving forward, a perfect project piece to work with immediately upon his arrival on campus.
Collins will always be more finesse than brute strength, but he's got plenty to work with in terms of filling out. Now is when the potential starts shifting over to production, and it begins with bulking up.
Lance Ware — Consistency at the line
An enforcer of sorts off the bench this past season, Lance Ware averaged 1.5 points and 1.9 rebounds in 6.3 minutes per contest as a sophomore. Playing time was scarce, but John Calipari seemed to praise his play every time a microphone was put in front of his face throughout the season. He fought for tough rebounds and came up with clean-up buckets in the paint.
An area of struggle, though, came at the free-throw line, where Ware knocked down just 43.5% of his attempts. He hit over 50% in just one game all year, a random 5-6 FT finish against Missouri in December. Take out that game, and Ware was 5-17 from the line on the year, good for just 29.4% overall.
Expected to back up Oscar Tshiebwe again next season, Ware will be asked to come in and provide tough minutes off the bench, where further opportunities at the line will follow. Consistently knocking down those shots is an easy way to see the floor for longer stretches of time. It may not be the prettiest way to make a jump, but it's a path.
It should be noted that Ware has put up stat lines of 39 points, 10 rebounds and eight steals, 20 points and 10 rebounds and 31 points, five rebounds, four steals and four assists in three games on a ten-day outreach trip in Brazil, with a fourth game to come. Maybe we shouldn't discount a bigger junior leap for the former four-star recruit?
This one is a gimme, the most obvious on the list. Transferring from Iowa last offseason, CJ Fredrick entered the year as the nation's leading returner in career 3-point percentage (46.6%) with a minimum of 150 attempts. He knocked down 47.4% of his attempts in 2020-21 across 27 total games.
He's a coin-flip 3-point shooter, an incredibly valuable piece to have on any roster. The issue, though, is that Fredrick has played just 52 games in four years of college, redshirting at Iowa in 2018-19 and then missing the entire 2021-22 season at Kentucky after undergoing surgery to repair a left hamstring injury. He also battled plantar fasciitis and had a minor clean-up surgery done last July, which took him out the entire summer and preseason before the hamstring issue.
When he's been on the floor, Fredrick has been a major weapon at the collegiate level. Now it's about getting him back out on the floor and keeping him there. Kentucky needs a replacement for Kellan Grady and the major shooting impact he made in his lone season in Lexington, and Fredrick — when healthy — is that guy. UK's new strength and conditioning coach will help in this regard, as well.
The opportunity is there for Fredrick to be a game-changer for the Wildcats.
The Illinois State transfer has improved in almost every statistical category each year in college. His minutes, field goal percentage, free-throw percentage, points, rebounds, assists, steals and blocks all went up from year one to year two, then year two to year three. Reeves averaged 20.1 points on 46.9% shooting, 39.0% from three and 81.8% from the line to go with 3.5 rebounds, 1.8 assists, 1.1 steals and 0.5 blocks per contest, all career highs.
He's not going to average over 20 points a game on 50/40/90 splits at Kentucky — the jump from the Missouri Valley Conference to the SEC is significant, and he won't be the go-to scoring option like he was at Illinois State. That's not to say, though, continued growth in shooting efficiency and all-around play can't remain. He thrived as an on-ball creator while also coming off screens and finding open looks as an off-ball scoring threat. This time around, he'll have a cast of other high-level talent opening the floor and taking the weight off his shoulders to run the show.
Cason Wallace — Tighten up ball-handling
Sahvir Wheeler will run the show for Kentucky at the one, with Cason Wallace expected to step in and share the backcourt from day one. Similar to TyTy Washington, Wallace is comfortable playing both on- and off-ball, versatile enough on both ends to play one through three.
The prized recruit is strong as a primary ball-handler, but not perfect. He's got the court vision, passing and pace down, but he's not immune from losing the ball under tight pressure. As John Calipari leans on him more throughout the season and his role expands, ball security will be important for the freshman guard.
Wallace is a terror defensively, and the offense is growing by the day. His jumper has improved exponentially over the course of the last year, with his playmaking abilities also doing the same. He's a top-five prospect in the senior class for a reason.
Chris Livingston — Embrace versatility (and find consistency as a shooter)
Standing 6-7, 220 pounds, Chris Livingston is a mismatch nightmare. He's too strong and athletic for guards to defend, but too quick and skilled for bigs to stop. Officially listed as a small forward, the five-star freshman is capable of playing two through four, and likely will play spot minutes at each of the three positions during his time in Lexington.
Livingston is at his best, though, when he's playing downhill and looking to finish through contact around the basket. When he's locked in and looking to take a game over, he's unstoppable, hence why he was ranked in the top five at various points throughout his junior and senior campaigns. The problem is that's not always a consistent mindset he plays with.
He prefers to play the two, settling for deep 3-point attempts and showing off his guard skills. The future Wildcat is growing as a shooter and his shot is mechanically sound, but it remains a work in progress. He's more dominant as a slasher at the three and four who can mix things up with the occasional jumper, not the other way around.
It will be interesting to see how the Kentucky staff utilizes his abilities. Will they play to his strengths primarily or focus on working on his weaknesses?
Adou Thiero — Carve out a role in year one
Kentucky's newest signee Adou Thiero, one who just earned four-star status, is a late bloomer physically. Growing six inches over the past year-plus — and he's still expected to reach 6-8 before it's all said and done — he's still finding his identity as a basketball player. An under-the-radar combo guard, Thiero averaged 23.3 points, 10.3 rebounds, 5.9 assists, 3.9 steals and 2.3 blocks per game as a senior at Quaker Valley, leading his team to the Pennsylvania Class 4A title game.
He thrives defensively, a chase-down block artist who also feasts in the passing lanes. If there's an immediate way to get on John Calipari's good side, it's by making an impact on that end of the floor.
A late addition and Kentucky's lowest-ranked signee, expectations aren't high regarding a day-one impact. He'll likely start the year at the bottom of the rotation, fighting for spot minutes here and there. In terms of a leap, that's where he can make one: scratching and clawing for the opportunity to play, similar to Dominique Hawkins in year one back in 2013-14.