What Kentucky is getting in five-star C Ugonna Kingsley Onyenso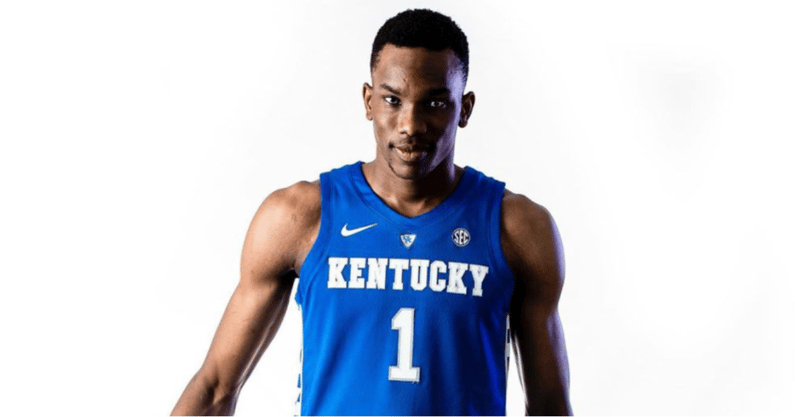 Ugonna Kingsley Onyenso is a Kentucky Wildcat. The recently reclassified 6-foot-11 center announced his commitment to Kentucky on Monday afternoon and will join the program for the upcoming 2022-23 season. A native of Nigeria, Kingsley Onyenso is coming off an official visit to UK that went incredibly well, leading to the decision that many had expected for weeks.
Now considered a five-star recruit and the No. 18 overall player from the '22 class, per the On3 Consensus, Kingsley Onyenso is arguably the top overall shot-blocker in all of high school basketball. He's not expected to play with Kentucky on the team's upcoming trip to the Bahamas in mid-August, but he could still see the floor this season if the staff elects not to redshirt him. He adds depth in the frontcourt and will have the opportunity to train against reigning National Player of the Year Oscar Tshiebwe every day in practice.
So what exactly is Kentucky getting in Kingsley Onyenso? For starters, a major project on offense, but a proven force on the other end in the paint and someone with a higher ceiling than most in his situation. One major question will loom over him throughout the season though: will he see the court or take a redshirt?
As things currently stand, it could go either way and a case can be made for both scenarios.
Kingsley Onyenso isn't a prospect we've been able to see as often as other Kentucky commits such as Robert Dillingham or Justin Edwards from the '23 class, but it doesn't take long to notice his rim-protecting abilities. His instincts in that area are second-to-none. He appears closer to seven feet tall than the listed 6-foot-11 and possesses a 7-foot-5 wingspan that extends down to the top of his knees. Rim-running will be the name of his game early on.
This year's frontcourt is loaded with Tshiebwe, Jacob Toppin, Lance Ware, and Daimion Collins holding down the fort. It's likely one of Ware or Collins won't receive the minutes they might deserve, either. With that in mind, getting Kingsley Onyenso onto the floor as a rookie could be challenging for head coach John Calipari.
It still wouldn't be much of a shock to see the staff toss Kingsley Onyenso into the fire early on in the season, but unless he shows clear signs of steady production, any playing time would likely tail off into the SEC portion of the schedule. Kingsley Onyenso can score effectively right around the rim but doesn't have much of an offensive game outside of five feet.
Let's be clear with something too: this is no Shaedon Sharpe situation. Kingsley Onyenso has no intention of leaving after the '22-23 season (he likely wouldn't be a first-round NBA pick anyways) and intends to develop this year in order to assume more responsibilities in '23-24.
At least for the upcoming season, Kentucky is getting a major project in Kingsley Onyenso. If anything, his defensive skills will help the likes of Tshiebwe and others finish more effectively at the rim. Practicing against a 7-foot-5 wingspan isn't going to be an easy challenge even for someone as skilled as Tshiebwe.
The best-case scenario in year one is Kingsley Onyenso steps right in and adapts to the college game immediately while showing the capability to score around the rim. Yes, it would create rotation "issues" at the big man spot, but that's something the coaching staff will gladly deal with. Worst-case scenario is Kingsley Onyenso isn't ready for immediate playing time, develops behind Tshiebwe throughout the year, and sits out the season with intentions of upping his usage in year two.
Unfortunately, this addition might hurt Kentucky's ability to bring in another elite center for next season. Five-star seven-footer Aaron Bradshaw was once viewed as a heavy Wildcat lean but recently backed off making a final decision in order to evaluate all options — coincidentally around the same time that rumors of Kingsley Onyenso possibly committing to UK were swirling.
In all, Kentucky snagged a top-tier recruit who has the potential to one day morph into an NBA lottery pick. Whether or not he'll play this coming season is yet to be seen, but regardless, Kingsley Onyenso is a piece the 'Cats can count on as a reliable starter down the road.