What Kentucky must do to defeat South Carolina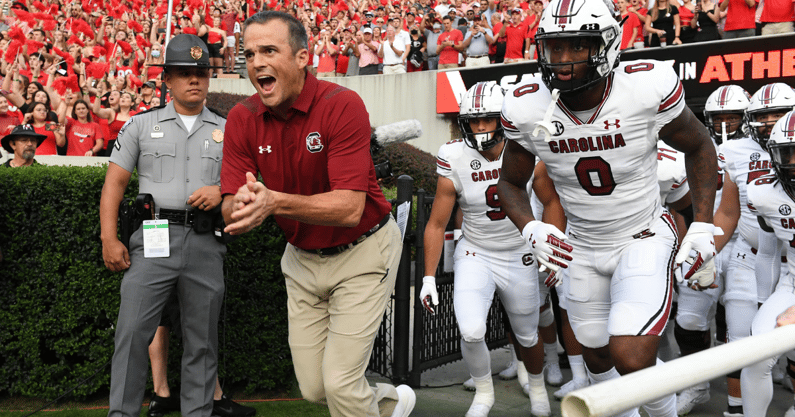 That place is crazy. Kentucky travels to Columbia, South Carolina on Saturday to take on Shane Beamer's Gamecocks. No matter the win/loss record, Williams-Brice Stadium generates a raucous environment that can be overwhelming for an unprepared foe. Mark Stoops' team will face a hostile crowd for the first time since playing between the hedges at Georgia on October 19, 2019. 
The Cats are 3-0 and coming off a wobbly performance against Chattanooga. USC was drummed by Georgia last week but enters the contest with a 2-1 record. Saturday night will be a defining moment with both programs vying for a rise up SEC East standings. The Cats are favored. Carolina is in year-one of a rebuild but has some serious "Dudes" on its two-deep depth chart. Let's dive into what UK must do in order to depart from Columbia with a victory. 
OFFENSE 
Kentucky's latest offensive performance can accurately be described as inconsistent, unbalanced, and underwhelming. The Cats played down to its competition vs. Chattanooga and was challenged to manufacture a fourth quarter scoring drive to secure a win. While the negatives have been the focus of postgame narratives, UK actually did some good vs. the Mocs. 
Liam Coen's intent was to throw the football a week ago. This resolve was successful and a thing of beauty on UK's opening drive. But, UTC's game plan of taking away deep shots and playing games up front mostly worked. The Wildcat offense is at its best when the run sets up the pass. Not in reverse. Establishing and maintaining its rushing attack will be a priority on Saturday night. 
South Carolina's defensive front seven is the best that UK's faced in 2021. Edge defender Kingsley Enagbare is ranked as the nation's second most effective pass rusher. The 6'4, 265-pound "Buck" linebacker is an All-SEC performer that will test offensive tackles Darian Kinnard and Dare Rosenthal. Defensive tackle Jabari Ellis is joined by Aaron Sterling and Zacch Pickens to construct a formidable front. Its impact on pressuring opposing quarterbacks has led to a SEC leading 6 interceptions including two pick-6's. Here are some goals for UK's offense vs. USC.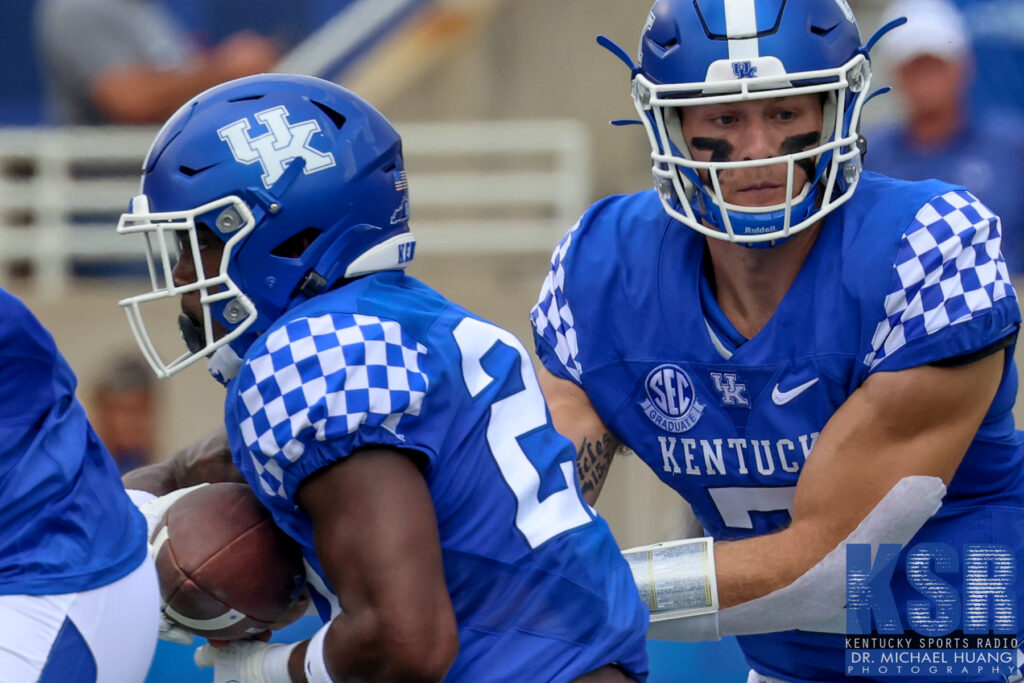 Rush for 230 yards
This game will feature two of the best running backs in the Southeastern Conference. Carolina's Kevin Harris went for over 200 yards vs. the Cats last season. UK's Chris Rodriguez Jr. is the league's top rusher after running for 378 yards and 3 scores in 2021. Rodriguez Jr. was surprisingly limited by UTC a week ago. That can't happen against South Carolina. Establishing and maintaining an effective run game will allow Liam Coen the freedom to call vertical shots via the play-action pass. Kentucky will need to be the most physical team on the field. That's UK's bread and butter. 
The Cats have to be balanced in order to win the football game. Balance starts with the run. The Big Blue Wall played its worst game in recent memory vs. UTC. There will be plenty of motivation for a bounce back performance in an important road, conference game. Rushing for 230 yards is not an excessive goal. The Wildcat's are averaging 196 per contest. Carolina is allowing just 110 yards and a 3.6 yards per carry a game. The team with the most rushing yards will win. 
Pass Block
Communication is going to be difficult. This can lead to pass blocking errors. As mentioned above, Williams-Brice Stadium is going to be extremely loud. The Gamecocks have produced eight QB sacks and pose a clear and present danger for the Wildcat's passing attack. "Buck" linebacker Kingsley Enagbare, defensive end Aaron Sterling, and LB Brad Johnson have wreaked havoc for opposing QBs. Kentucky cannot afford to surrender more than two sacks against USC. The offensive line was stumped by up front games last week. Expect the Gamecocks to twist, stunt, shift, and pull every other trick in the D-line book. 
NO TURNOVERS
Kentucky's -6 turnover margin ranks dead last in the FBS. UK has lost four fumbles and thrown four interceptions. In order to win on the road in the SEC, the Cats must win the game's turnover margin. This starts with the offense protecting the football. South Carolina leads the SEC after forcing seven turnovers this season. It's recovered one fumble and picked off six passes. Simply stated, UK will not win if it loses the turnover margin.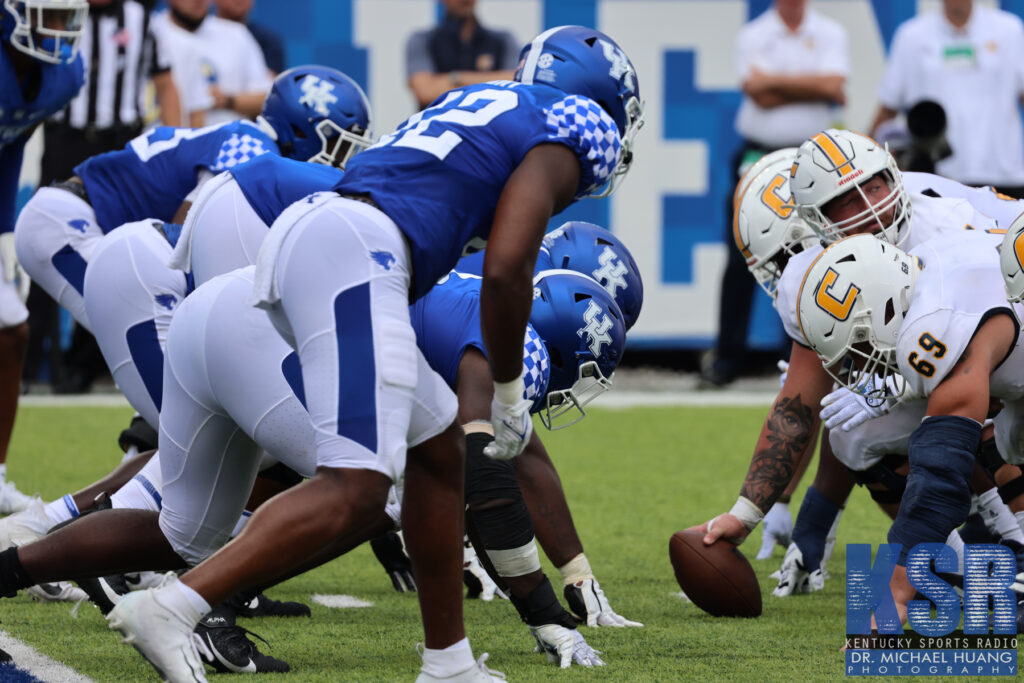 DEFENSE 
It's never as good as it seems, nor is it as bad as it appears. Chattanooga dominated the line of scrimmage on its way to accumulating 339 yards including 171 on the ground. While concerning, the Wildcats' accumulative season statistics portray a defense that bends but does not break. UK is giving up 274 total yards per game, including 97 on the ground and 177 through the pass. But, there are specific areas that Brad White's unit must improve upon to make serious noise in the SEC East. 
UK's third down defense has not been ideal. Opponents' conversion rate is 45%, the second worst in the SEC. The Cats are struggling to get off the field. It's also been ineffective in the Red Zone. Opposing offenses have scored on 10/10 trips inside the twenty with 7/10 resulting in touchdowns. Another concern revolves around forcing the issue beyond the line of scrimmage. The Wildcats did not register a QB sack vs. Chattanooga after recording just one against Missouri. It managed 14 tackles for loss against ULM but averaged four per game against UTC and Mizzou. Here are some goals for the Cats. 
Stop the Run
South Carolina has yet to display potency in its rushing attack. Running back Kevin Harris is an All-SEC performer but has battled an injury. He's played in two of the Gamecocks' three games. Harris is averaging 2.4 yards per carry thus far. Don't expect those numbers to stay low in 2021. I presume USC to focus on the run against the Wildcats. Expect a heavy dose of Kevin Harris. I can foresee an offensive game plan that mirrors Chattanooga's. Move the chains on 3rd down, run the football, take an opportunistic vertical shot, and influence the flats via the short pass will be in the cards. 
Carolina features four backs that are more than capable to cause damage to opposing defenses. ZaQuandre White leads the way with a 7.6 yards per carry average. He's joined by Juju McDowell's 4.9 and MarShawn Lloyd's 3.7 yards per carry. In all, USC is averaging 3.8 yards per carry and 150 yards per game. In order to win, UK has to rediscover its run defense after giving up 128 to UTC's Ailym Ford. Kentucky must limit Carolina to less than 4 yards per carry and 140 yards for the game. 
Don't Give up the Vert
Receiver Josh Vann is Carolina's go-to pass catcher when stretching the football field. Vann has six receptions of 25+ yards in three games including a three-catch performance for 128 yards and one touchdown vs. Georgia last week. USC will rely on play-action passes and go up top against a Wildcat secondary that has very little depth at cornerback. The Cats cannot allow Vann to average more than 12 yards per reception and limit South Carolina's vertical passing attack. UK is surrendering 4.9 yards per pass attempt and 177 through the air. 
Quarterback Luke Doty will start on Saturday night. Doty ended 2020 as the Gamecock's primary signal caller. He came off the bench against Georgia to finish the contest 13/26 for 153 yards, 1 touchdown and 1 interception. Doty is at his best when on the run. He can extend plays with his legs and is an athletic quarterback.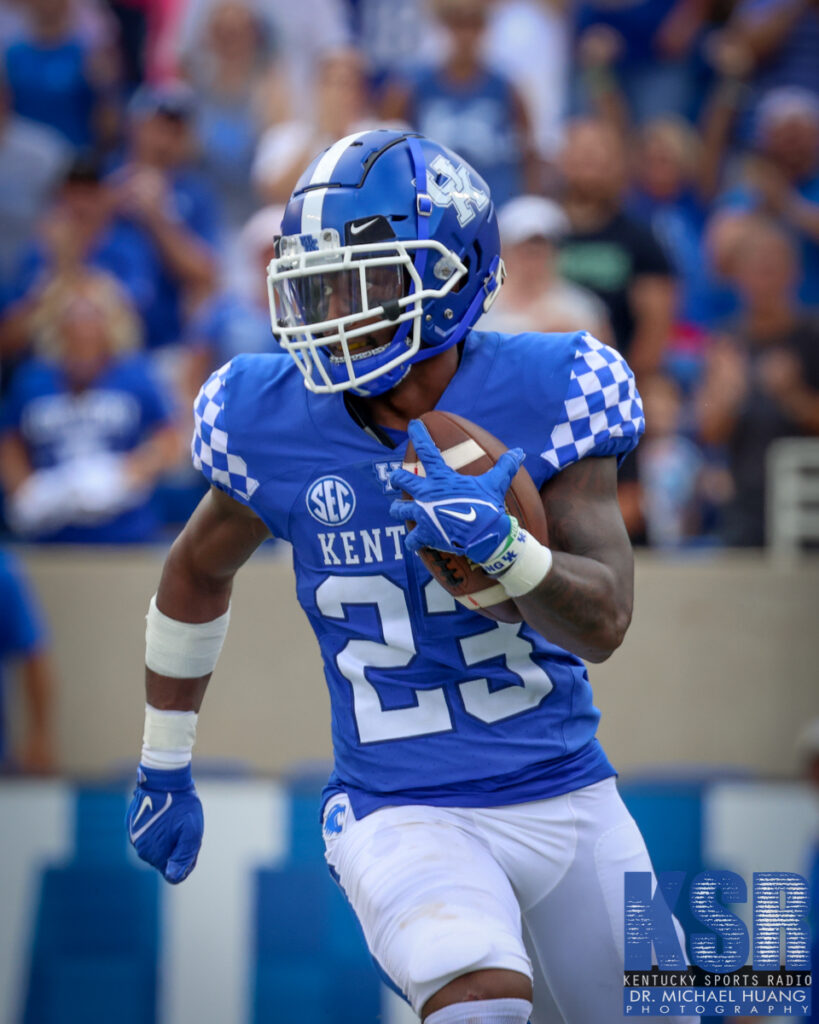 Up the Havoc
Watching South Carolina vs. Georgia was a fruitless experience. The Dawgs are downright nasty and had their way against the Gamecocks. This mainly applied to plays across or at the line of scrimmage. UK registered six QB sacks against ULM in its opener. The Wildcats have produced one in its past two outings. Furthermore, the Cat's defense accumulated 14 tackles for loss on week one. Its past two games have manufactured eight. Havoc numbers have significantly dropped after its week-one outing. 
Road games are largely based on momentum. Tackles for loss and quarterback sacks can suck the wind out of offensive sails and quiet a rowdy crowd in a hurry. Kentucky will need to register 5 tackles for loss and two QB sacks on Saturday night. Luke Doty cannot be given the luxury of an unthreatened pocket on a consistent basis. 
SPECIAL TEAMS
South Carolina presents two dangers in the third phase. WR Josh Vann is the team's punt returner. He's the offense's home run hitter and the Cats must be cognizant of his presence in the return game. Kicker Parker White is one of the best in the SEC. White is climbing up program record books and will likely be USC's all-time leading scorer by the end of the season. 
For the Cats, they must play a clean game. Kentucky had two more special teams' penalties against Chattanooga. The punt return team gave up hidden yards that impacted field position. This week's goal is to not have a third phase play that results in a game-changing moment. Vague wording, again. I know. But remains the same. 
THE BOTTOM LINE
Winning in the SEC on the road requires an unshakable state of mind and sincere confidence. False bravado won't cut it. South Carolina is going to land some punches. How the Cats face down adversity will be one of the game's deciding factors. We've not seen the best version of the Kentucky Wildcats in the season's first three games. Saturday will require its best effort in order to have a 4-0 record going into Florida week. UK played "Hero-ball" against UTC which led to missed assignments and multiple losses in one-on-one scenarios. That can't happen vs. the Gamecocks. Same can be said about turnovers. A -6 seasonal margin is worrisome. 
How good is Kentucky? I honestly don't know. Saturday will provide an assessment that could declutter the Cat's 2021 path. South Carolina is better than I thought during the preseason. While Shane Beamer is in year-one of a rebuild, he has defenders and offensive skill players that are threatening. UK has to win this one in order to make October count. All games are must wins. If UK is as good as most think, this one is mandatory. Expect a wild ride on Saturday.