What people are saying about Mark Stoops and Oklahoma, LSU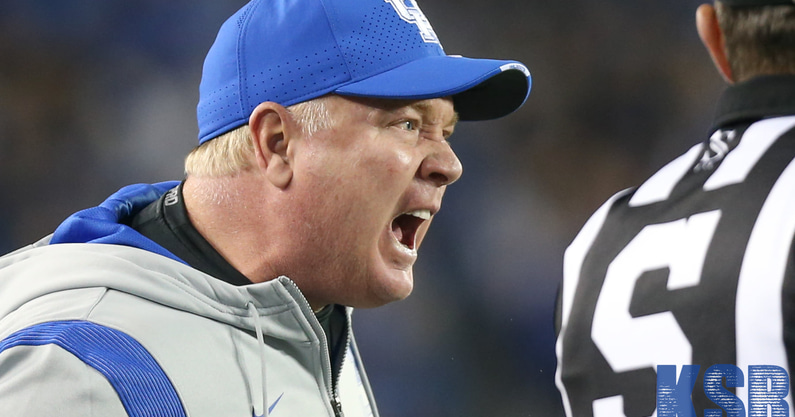 The coaching carousel is spinning out of control just two days after most of the college football world wrapped up the regular season. After being linked to the LSU vacancy for weeks, Lincoln Riley left Sooner heads spinning when he bolted for USC. Adam Luckett has all of the details on where the LSU and Oklahoma coaching searches currently stand. Now let's look around the college football landscape to see where Mark Stoops falls in the pecking order of each high-profile search.
The Athletic's Bruce Feldman
Arguably the biggest coaching search newsbreaker, Feldman listed Stoops as the fourth option for Oklahoma among active head coaches, trailing Iowa State's Matt Campbell, Mississippi State's Mike Leach and Ole Miss' Lane Kiffin. He also noted that Oklahoma AD Joe Castiglione went to the coordinator well for his last two hires, Bob Stoops (Florida defensive coordinator) and Lincoln Riley (Oklahoma offensive coordinator). If Castiglione wants another coordinator, Clemson's Brent Venables makes the most sense.
Kentucky's Mark Stoops is the younger brother of Bob and he's done a great job turning around Kentucky football. A program that had only won more than eight games four times in the previous century before he arrived now has won at least nine games twice in the past four years. He is currently 32-17 at Kentucky. The younger Stoops has gotten some interest this hiring cycle, but he is very happy with the direction of things in Lexington and he has kept elevating the program. We suspect he wouldn't be able to turn down LSU if that job was offered to him. The same might be said for him with Oklahoma, although the prospect of working at his older brother's program, where Bob has a strong presence, might not be an ideal dynamic.

The Athletic
Paul Finebaum
Paul Finebaum is a Mark Stoops fan, make no mistake about it. However, the face of the SEC Network is unsure that Stoops will fit in at either LSU or Oklahoma. He discussed Stoops and the former late Saturday night on The ESPN College Football Podcast.
"Scott Woodward is on the clock right now because he needs a coach, and he needs one within 24 hours," Finebaum said. "You can't waste much time.

"You still hear Dave Aranda's name, even though he's reportedly getting a new deal, who isn't getting a new deal, and beyond that I don't know if there's a surprise, because you don't know if he can go back to someone who maybe we thought was off the board," Finebaum said. "But I thought it was interesting … Mark Stoops' name was out there as well, but with all due respect to Mark Stoops, I don't think that's the whale that we all gave Scott Woodward credit for bringing in, is it?"

The ESPN College Football Podcast
Monday morning Finebaum appeared on Keyshawn, JWill & Max to discuss the Oklahoma vacancy. He mentioned Mark Stoops, but was unwilling to say with any certainty that he will be a legitimate candidate.
"The pool is not very large right now. A bunch of names are being thrown up there. I'd be hesitant to jump on one. It was funny, somebody suggested Mark Stoops, Bob's brother. He's a very good coach at Kentucky right now and his name has been linked to many jobs, but the reason I brought that up is I think Bob Stoops will play a role here. He's going to be the interim coach of the bowl game. He still carries tremendous influence. I know some are suggesting, why doesn't Bob come back? I doubt that will happen, but you don't know after sitting around for a couple of years. I know he dabbled in pro football in that league that folded. I think Joe Castiglione, one of the best athletic directors in the country, has to be thinking, this guy is about to dive into the SEC. We can't just pluck somebody out of the YellowPages."

Keyshawn, JWill & Max
ESPN's Adam Rittenberg
The first lengthy piece on ESPN.com used Mark Stoops as the featured image on the story highlighting Riley's potential replacement in Norman. The first candidate mentioned, Adam Rittenberg notes that if Stoops wants to make one more big move in his career, the time is now.
The Stoops name very much resonates in Norman, and Mark seems ready for a move after stabilizing and elevating the Kentucky program. He has guided UK to eight or more wins in three of the past four seasons, and the Wildcats will be making their sixth consecutive bowl appearance. At 54, Stoops likely has one big move left. His SEC experience would help Oklahoma in its upcoming transition. Bob Stoops' influence on the Oklahoma search will be an interesting subplot, and he likely will advocate for his younger brother. One thing working against Mark is Riley's historic success on offense and whether he could come close to matching it, given the style Kentucky typically uses. But Stoops is a proven winner and a strong recruiter who would fit in well with the Oklahoma program.