What the National Media is saying about Kentucky vs. Florida
J.D. PicKell Previews and Predicts Florida vs. Kentucky
We are less than 24 hours away from Kentucky's top 25 matchup against the Florida Gators. Before the folks at SEC Nation and College GameDay provide their picks, let's see what other analysts across the college football landscape are saying about Saturday's game at Kroger Field.
It's rare to see the CBS Sports analysts riding with the Wildcats, but six out of seven believe Kentucky will take down Florida.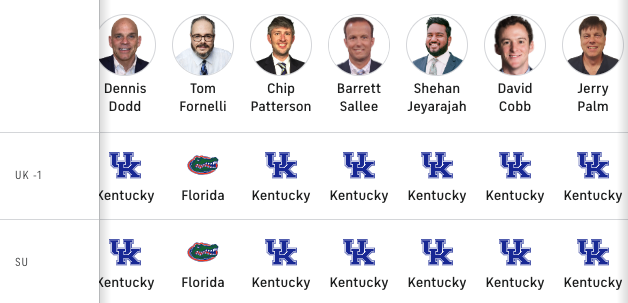 The Athletic
The Athletic's Austin Mock has created a computer projection for every single college football game and it calls for a 4.5-point margin of victory for the Kentucky Wildcats. Here's what the humans believe will happen when these two teams meet.
Bruce Feldman: Kentucky 23, Florida 20
The Gators didn't look crisp against Charlotte at home last week and now go on the road in the SEC against a UK squad that is 4-0 but hasn't been as explosive as expected so far on offense. The hunch here is that the Wildcats' passing game gets it cranked up against a big test from the Gators defense.
Stewart Mandel: Kentucky 24, Florida 17
We have a good sense of Florida's identity thanks to its Tennessee win, but Kentucky largely remains an unknown due to playing four cupcakes thus far. Quarterback Devin Leary has been inconsistent, but not to the point of mass concern. Florida will live and die with its rushing attack, and the Wildcats have been stout against the run so far.
On3
Th KSR crew is all in on a big Kentucky football win, but we can't say the same about our colleagues at National Headquarters. JD PicKell is backing the Gators an so is Andy Staples, but the latter's guest picker this week, Ralph Russo, isn't picking up what Andy is putting down.
Late Kick with Josh Pate
"I'm terrified for Florida this Saturday. You know why? First off they gotta play Mark Stoops and Kentucky at home. Secondly, you know Florida's an underdog in this game, right? Kentucky is favored by 2.5 (now 1.5). Just a little FYI for the rest of the casual college football world that thinks this would be an upset if Kentucky won."
Pate believes Devin Leary can be a better passer than Joe Milton, the Tennessee quarterback that struggled against the Gators, but he's yet to reach his potential in Lexington. The 247 Sports analyst is predicting Florida to win a close one on the road, just Billy Napier's second road win in his first two years as the Gators' head coach.
FWIW: During my research I discovered Pate picked the Gators last fall too, and we all know how that ended.
Like many other college football analysts, Dan Rubenstein is worried about Devin Leary's interceptions. That's why he's taking the Gators. His co-host, Ty Hildenbrandt, isn't so confident in Florida's ability to score against Brad White's defense.
Discuss This Article
Comments have moved.
Join the conversation and talk about this article and all things Kentucky Sports in the new KSR Message Board.
KSBoard